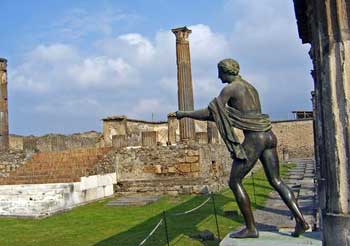 Italy
by Chris Millikan
August 23, 79AD was just a regular day in flourishing Pompeii. Toga-robed citizens traded their goods, discussed politics, exchanged gossip and visited places of worship. Just three days later everything suddenly changed when she vanished completely! Entombed for 1500 years by the catastrophic eruption of Mt. Vesuvius, Pompeii is now one of Europe's best-preserved archaeological sites. We join an excited group of history buffs on a day trip from Naples and explore this sophisticated Roman city frozen in time under six meters of volcanic ash and pumice.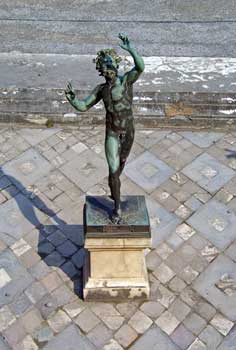 Entering ancient Porta Marina's pedestrians-only passage, our guide introduces Pompeii. "Just like now, thousands of visitors traveled here," Massimillio informs us. "And many different languages were spoken."
Via Marina leads us through the marble-paved Forum patronized by the bakers, merchants and aristocrats living in nearby neighborhoods. This main square had been surrounded with several lavish temples, law courts and the exchange as well as bustling shops and eateries in a portico-covered market. A fenced shelter alongside the forum holds fragments of friezes and pottery; petrified bodies cast in desperate poses command the most attention.
Past the sparse and deserted Temple of Venus, at one time the town's most magnificent structure, we pause at the Temple of Apollo, the oldest. Twenty-eight massive columns had once defined this glorious religious building; nowadays a single statue dominates one end. Also prominent, the Temple of Jupiter towered above; arches on both sides of its wide staircase remain intact.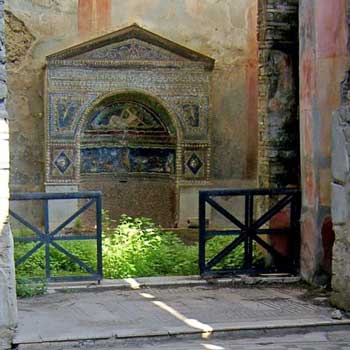 Wealthy nobles lived along via de la Fortuna where elegant homes covered with bright-white ground-marble stucco stood next door to smaller houses. At House of the Faun, an undamaged mosaic displaying the original sign HAVE meaning 'hail-to-you,' welcomes us into the entrance hall and open courtyards. Then covering an entire block, its forty stylish rooms included magnificent dining rooms, one for each season. Carved columns had lined two immense gardens filled with marble and bronze statuary and beautiful fountains.
Exiting, we spy a 2000-year-old lead pipe. "From a huge aqueduct-fed tank, three separate systems supplied water to the baths, homes and fountains," reports Massimillio. "During droughts, the last pipe rationed was to these fountains where everyone got their drinking water."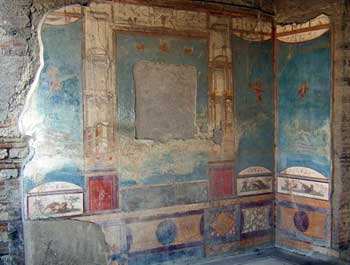 Nearby, the House of the Vetti belonged to bachelor brothers, prosperous wine-merchants. This patrician villa retains original mosaics in green jade, white Carrera marble and indigo-blue onyx; vibrantly colored frescoes decorate well-preserved entertainment rooms. At a smaller house next door, we linger over frescoes in rich earthen tones depicting delicate flowers and winged cherubs, among my favorites for their simple whimsy.
At the next intersection a public fountain prompts explanation. "This, and 43 similar fountains throughout the city, were very busy places where locals met daily," Massimillio reveals. "They continuously overflowed, cleverly flushing streets and gutters into the sea; elevated stones in the intersections allowed pedestrians to cross the flooding streets. Those spaces you see between the steppingstones allowed cartwheels to pass easily."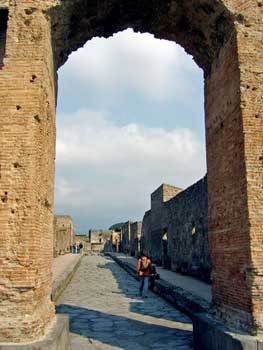 Raised sidewalks wind along the street to one of the 34 bakeries needed to feed Pompeii's population of over 20,000. "Those squat towers made of volcanic stones milled flour on-site," reports our guide. Amazed that the well-built ovens so closely resemble today's brick pizza ovens, we imagine tantalizing aromas floating on the air. During excavations, centuries-old loaves of blackened breads were found inside many ovens.
Beyond the bakery we spy another 'welcome' mosaic, this time with a bear holding its head announcing Taberna Hedones, a tavern for high living and self-indulgence. The marble table that kept buffet foods hot still stands in front. Illegal gambling such as cock fighting took place in the back. Stalls selling wine, cakes, nuts, figs and breads lined busy streets; we can see where their sliding doors left grooves in the marble street.
Trying out the steppingstones, we cross to the red light district's top lupanare. Here, lineups of curious tourists like us wait to view the faded erotic frescoes inside, illustrations which had helped foreigners choose their pleasure. "Prostitutes were called lupas," the guide explains, "she-wolves loudly calling their wares from the brothel balconies."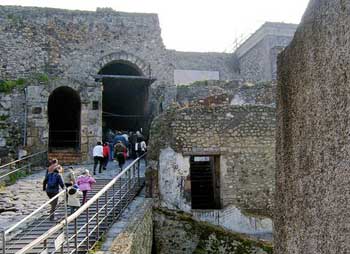 Inside, surprisingly small cells held stone beds once covered by mattresses. Using a separate entrance, wealthier clients had used the more private second-story rooms bedecked with rich frescoes leaving little to the imagination.
Few families had owned private baths; most Pompeians enjoyed the public baths and welcomed the socialization. Of Pompeii's three significant thermal baths, the oldest were situated on the edge of the Theater District.
At Stabian Thermae, citizens relaxed in luxury, playing endless games of knucklebones amid erotic frescoes in bright reds, greens and gold. Rooms decorated with elaborate mosaics and bawdy sculptures had been warmed by heated water running through wall cavities. Separate sections for women and men offered lavish change rooms; cold, warm and hot baths and latrines. This bathhouse also had an indoor waterfall; others provided swimming pools or gymnasiums, sometimes, lovely gardens.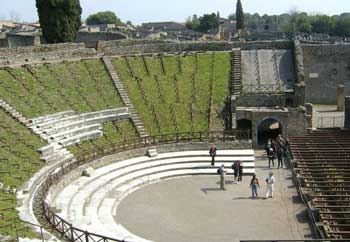 Onward past a former Temple of popular Egyptian goddess Isis, we pause among columns remaining in a second public Forum. This is where theatergoers had mingled in bars and cafes before open-air performances at their Grande Theater. First built in the 2nd-century BC, this theater seated over 5000 citizens in three price ranges. Its smaller semi-circular neighbor, the Odeon staged more intimate mime, plays and musical events.
And Pompeiians adored their theater! Archaeologists discovered pictures of theaters and scenes from plays painted on walls inside houses, sculptures of theatrical masks in gardens and graffiti praising actors adorning walls throughout the city.
From the topmost hillside seats in the theater, we can glimpse the old gladiator barracks, a colonnaded courtyard beyond. They'd trained in the Gymnasium of the Gladiators. "Gladiator-slave extraordinaire, Spartacus himself trained there years before," mentions Massimillio, "fighting with a round shield and a short sword in the 12,000-seat amphitheater ten minutes away from here." A heroic figure, ancient graffiti had idealized his strength.
With two-thirds of the buried city now excavated, a glorious early civilization has re-emerged. Pompeii still entices thousands of visitors annually, just like in days of old.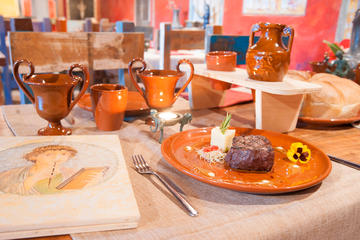 Pompeii Guided Tour with Ancient Roman Food and Wine Tasting
If You Go:
The Site:
A great walking site, Pompeii is historically fascinating with much to see and only 30 or 40 minutes away from Naples. Comfortable footwear is recommended since the old roman cobblestone stone roads, some with cart grooves and uneven ground can be challenging. Take water, sunscreen and hats as summer temperatures can reach 22-25c.
Pompeii visitors information website
Getting There:
By train: Use the Circumvesuviana Napoli-Sorrento line; get off at Pompeii Scavi station. By Bus: SITA runs buses from Naples. By Ship: From a cruise ship, shore excursions include the coach, entry tickets and tour.
About the author:
A much-traveled freelance writer/photographer, Chris Millikan is a retired Elementary School Principal living in Delta, near Vancouver, BC. She enjoys traveling the province and beyond, sharing her tales with others in various local newspapers and magazines. Experiencing zany, off the beaten track, historical and cultural adventures for many years with writer/photographer partner and hubby Rick, she looks forward to introducing first grandchild Willamina to the wonders of travel. A member in good standing & Vice President of the BC Association of Travel Writers, Chris is a 2009 Kalama Award winner, acknowledged for stories that reflect the culture and history of Maui Nui: Maui, Molokai & Lanai.
All photos by Rick Millikan.