by Sally Charette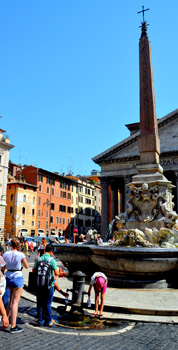 My husband and I arrived in Rome during the heat wave that broke records all across Europe in the summer of 2015. After a week of sweltering in temperatures up to 36.7 (99.68 F) in London and 39.7 C (103 F) in Paris, we were resigned to buying bottled water at every possible opportunity. We were about to learn that Rome is actually better prepared to handle thirsty tourists than most major cities, and that it has been for centuries.
During a visit to the Colosseum on our first day, I rounded a corner to find a stream of water spouting from what looked like nothing more than a hole in the wall into a drain in the cobbled floor. A handwritten note indicated that the fountain was under repair. It looked like a piece of unfinished plumbing left uncapped for emergency purposes, so I presumed a U.S. style fountain was missing.
Coming from drought-stricken Southern California, I was shocked that there was no off switch, but I was also impressed that they thought it was important enough to provide us water that they just left it on. Any hesitation faded as I finished off the last drops of warm water in my bottle and took my place in line. Person after person quickly drank from cupped hands or filled containers and stepped aside. A couple of boys took a moment to let the liquid pour over their scalps and behind their ears. I expected tepid water at best.
I was surprised to find the water clear and cold, the perfect temperature for drinking. I filled my bottle, guzzled half while standing there—it had been a long wait in the strong Mediterranean sun to get into the Colosseum — and refilled it again.
I later found that what was missing was one of the cylindrical cast iron fountains nicknamed "nasoni" meaning "big noses" for the drooping spigots that protrude from them. I was late to the table. This has been going on for some time. When you drink from the public water system in Rome, you're not just getting refreshed, you're drinking history.
Rome has been importing and distributing water for over 2,000 years. Though the current structure in the Piazza Santa Maria in Trastavere dates only to 1873, it is believed that the first of Rome's fountains was established here in the 8th Century. Early fountains were built to service horses as well as humans. Some of the trough-like basins found in the city today are actually beautifully carved sarcophagi bought from churches in the middle-ages after they'd lain unused for centuries.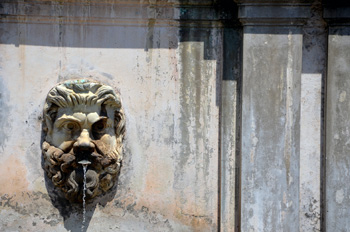 The apparent wastefulness of all that water flowing 24/7 isn't lost on the city. During the 1980s the city added taps to the fountains, requiring that thirsty Romans operate a nob or button in order to drink. The results were far from satisfying. On hot days, water standing in the pipes heated up, making it less than appealing. Vandals broke the new taps, freeing the flow of the water, and officials gave up on the project. The water doesn't go entirely to waste. It's recycled to grow gardens, flush sewers and in industrial cleaning.
Once you use one of Rome's fountains you will begin to spot them everywhere. There are more than 200 in the ancient walled city, and approximately 2500 spread through the entire municipality.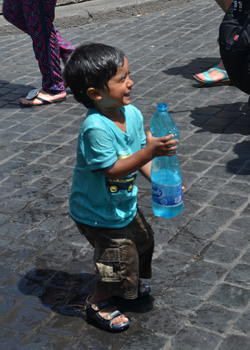 I found one that wasn't in use on a side street as my husband and I walked back to our hotel from Trevi Fountain on a very hot afternoon. I wondered for a second if it was functional, but as I stepped around it I found a stream of fresh cool water splashing into a grate at my feet. I splashed my face and filled my bottle. By the time I was done, a couple of people had queued up behind me. I felt as much like a native as a brief visitor can feel.
The drinking fountains and public fountains of Rome aren't just for viewing. Citizens and visitors alike are encouraged to use the city's abundant water to rehydrate and refresh. We found a small gathering of people splashing and filling containers at Fontana Barcaccia at the base of the Spanish Steps. It's a good way to beat the summer heat.
It's fun to stumble upon a nasone, but help is available! You can download a free drinking fountain finding app called Drink in Italy from GooglePlay or I Nasoni di Roma at iTunes, or you can navigate to the Free Water in Rome website for an interactive online map.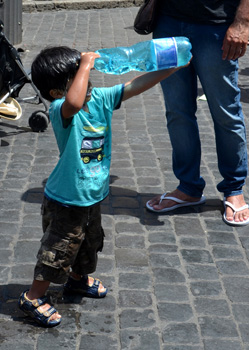 Do give the nasoni of Rome a try while you're there. Your first time may feel a bit daunting, but once you try it, I'll bet you're sold on this delicious free resource.
Drinking as Romans have drunk down through the centuries made me feel connected to the people and the place. I even felt cared for and protected by a state that is willing to invest so much effort and expense into providing its citizens and visitors with this vital service. I imagine this has been true since the tradition began more than two thousand years ago, and it just keeps getting better. The utility company ACEA is about to launch a new network of large octagonal water houses that will offer still or sparkling water, and provide charging stations for electronic devices, bringing the nasoni into the 21st Century in style.
If You Go:
♦ Watch ACEA's website for updates on the newest iteration of public water fountains: Water Houses that will offer not only free fresh water—either still or sparkling!—but will also feature free phone and tablet charging stations.
♦ Find nasoni while you're on the go: download Drink in Italy from GooglePlay
♦ Or I Nasoni de Roma from iTunes
♦ If apps aren't your thing, try the interactive map at Free Water in Rome.
About the author:
Sally Charette enjoys micro-travel day trips around Southern California almost as much as exploring other parts of the globe. She's a genre-hopping writer working in nonfiction, fiction, and poetry. Her work has appeared in The Sun, ZYZZYVA, Weber: The Contemporary West, Ocean, etc. She blogs at www.anygivensundrytoo.wordpress.com. Stop by!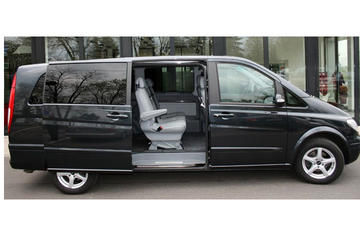 Rome Private Half-Day Tour with Private Minivan and English Speaking Driver
Photo credits:
Fontana di piazza della Rotonda by Galzu / Public domain
All other photos are by Sally Charette:
The fountain in the Piazza della Rotunda (in front of the Pantheon) is one of the oldest of the cylindrical style still in use
Dragon-headed spigots in use in the Piazza de la Rotunda. If you block its mouth, water will rise drinking-fountain-style from the hole in its forehead
Some of the older fountains emerge from the sides of buildings and flow into basins, drains or troughs below
Not just for drinking! A young traveler enjoys water from the Fontanella della Barcaccia (Fountain of the Ugly Boat) in the Piazza di Spagna at the base of the Spanish Steps
Cold, but refreshing on a hot day