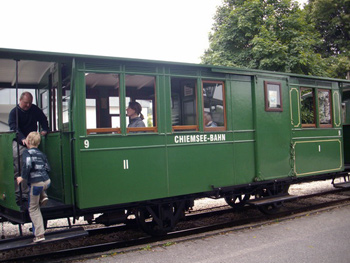 Prien, Germany
by Inka Piegsa-Quischotte 
I came to Prien am Chiemsee in the south of Bavaria, half way between Munich and Salzburg, by accident. Or rather because of these spur of the moment decisions, only born travelers are capable of.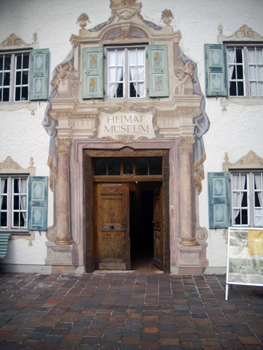 It was the second week of December and I sat on the train from Munich to Salzburg with the intention to visit the Austrian Christmas market and to do some shopping. The sky was blue, snowflakes were falling softly, dusting the dense pine forest on both sides of the line.
Then, the train went around a bend and I was greeted with – forgive the cliché but there is no other expression for it – a picture postcard perfect scene. The vast expanse of the Chiemsee glittering in the sun and partly covered with ice, spread out on my left and a small utterly romantic town nestled on its shore. Some signs read: Prien am Chiemsee, visit our Christmas Market. You guessed correctly. Salzburg can wait, I thought, this looks much more promising. I grabbed my bag and got off at the next stop.
On the forecourt of the small train station I was greeted by the green cars of the Priensee Bahn, as it turned out, the world's oldest steam operated tramway continuously in use since 1887.
History in Prien starts as soon as you get off the train and continues with many more aspects. The Priensee Bahn operates only in the summer months, so the snow covered cars were stationary and I made my way on foot towards the town center, which, of course is around the market square, following a rather modest sign indicating the Christmas Market.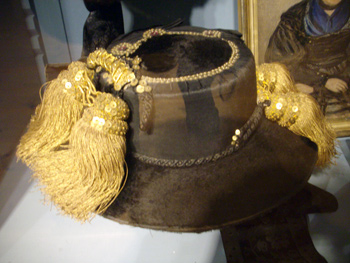 Actually, no sign was needed. I only had to follow the wafting scents of Gluehwein and Bratwurst and the sounds of Bavarian horns and German Christmas carols to find the market.
It must be one of the tiniest Christmas markets in the world. About 15 stalls were cozily arranged between the church and, as I notice with delight, a colorful Heimatmuseum. The museum was my first port of call to learn more about this lovely place and its traditions.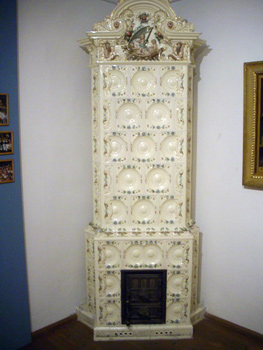 I got lucky insofar as I was the only visitor, the majority of people were enjoying the market and its delights, something which I reserved for later. The lady who sold me the ticket and acted as curator was so pleased to have something other to do other than sit at her desk, that she personally lead me around and told me story after story about the customs and traditions of this part of Bavaria.
Prien, it turned out, has always been famous for its skilled artisans and craftsmen. In centuries past, people mostly made a living from fishing, but otherwise, they were (and are) carpenters and wood sculptors as well as the makers of the most gorgeous often hand painted tiles which decorate massive Kacheloefen, many of which found their way into castles such as King Ludwig's nearby Herrenchiemsee.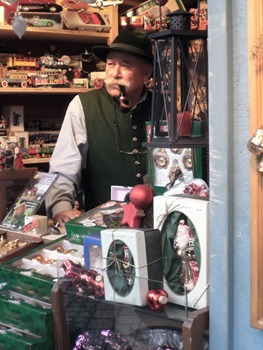 The 16th century wardrobes, carved with the finest details, are called Chavari and were used to store a bride's trousseau. One such chavari is kept in the museum and filled with traditional clothing as well as examples of another art: gold embroidery. Bridal headgear and lace is made from real gold thread, an art which my friendly guide herself is skilled in, as proven by a growing strip of gold lace which she was working on whilst waiting for visitors.
"Today, there are only four women left who know how to work real gold thread, my grandmother is one of them and she taught me", she explained.
"Will I be able to buy a piece of gold lace outside in the market?" I asked. "I doubt it," she replied. "The pieces we make are all to order, often from museums and collectors and they are very expensive. But, look out for the Rauschgoldengel. You won't find more beautiful anywhere and the dresses of some of them are embroidered with silver thread" .
Then, I was allowed to have a close look at the exhibits and she even took some of the valuable hats out of the showcases for me to try on. Finally, she made me a cup of hot chocolate and then sent me on my way to explore the Christmas market.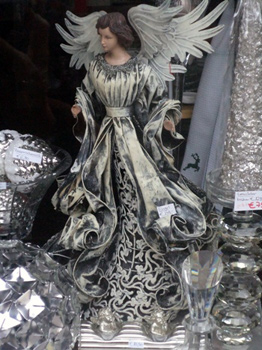 Plenty of visitors were around, but it felt rather like a huge family. Everybody seemed to know everybody else and as soon as they noticed that I wasn't 'einheimisch', they explained the specialties to me and directed me to the stalls with the Rauschgoldengel and other beautiful Christmas decorations.
Naturally, I couldn't resist a particular angel and that went into my bag together with hand knitted woolen slippers, bee wax candles and glittering baubles to hang on my tree. Food and drink are a big part of any Christmas Market and Prien was no different. As I don't drink alcohol, I was delighted to discover a stall selling Childrens' Gluehwein, which tastes just the same but without alcohol.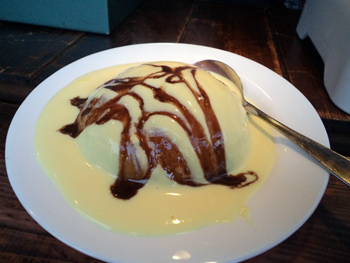 Next was Dampfnudel, which literally translated means steam nudel but has nothing to do with pasta or steam. It's a huge lump of sweet dough, covered with vanilla custard, whipped cream and chocolate sauce. I could never have managed one on my own, but my new best friends from Prien, standing next to me and putting the sweet away in incredible amounts, gave me a spoon and let me have a few mouthfuls.
With the exception of a few modern touches and the clothes, I could well imagine that the atmosphere and the people would have been much the same 100 years or more ago. Tradition is highly valued in Prien am Chiemsee and commerce plays second fiddle. I was very glad to have followed my whim and got off the train where and when I did. The angel will be with me for many Christmases to come.
If You Go:
♦ Prien is a sought after destination in summer as well as in winter. Boat trips on the Chiemsee with stops at Herreninsel and King Ludwig's castle as well as the famous convent on Fraueninsel make a great day trip from Munich.
♦ In winter there is skiing in and around Prien. It's easily reached from Munich or Salzburg by train or motorway, the train runs every hour and takes 1 ½ hours from each end.
♦ If you want to stay in Prien there are several good hotels as well as self catering apartments.
About the author:
Born in Germany, Inka Piegsa-Quischotte trained as an international lawyer and ran offices in Marbella/Spain and London for over 20 years. A few years ago, she turned novelist and travel writer. Her second novel, The Househusbands' Club
won Reader's Favorite Award 2009 in its category in the USA in 2009. Her travel articles have been published in literary traveler, GoNomad, travel with a challenge, Smithsonian magazine, Europe up close, Europe a la carte, Lighthouse Digest, Off Beat Travel, and BBC/Travel. Her blog is called: www.glamourgrannytravels.com. After several years in Turkey, she now lives near Alicante on Spain's Costa Blanca.
All photos are by Inka Piegsa-Quischotte.