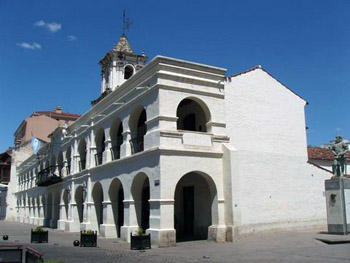 Ascent into the Clouds from the Andes
by Diane Chouinard
It's siesta time and the stores are closed until 4pm. As I sit across the central plaza of Salta, Argentina, I sip on a cool drink of Pomelo. A jacaranda tree's purple blooms sway in the breeze, as nonchalantly as the few locals crossing Plaza 9 de Julio in the scorching sun. The sweet aroma of candied almonds, roasting at a corner stand, wafts by.
"Muy barato", shout vendors and shoe shine boys as they do the rounds of the side cafes. Like most tourists, I'm in Salta because it's the meeting point for tours of the surrounding areas, but I'm impressed at what a charming town it is and can see why it's called 'la linda'.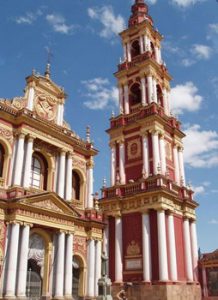 Across the square, the two steeples of a candy pink cathedral stand out. On the opposite side, the eighteenth century Cabildo, built to house the town council, with its two story rows of arches, is characteristic of the hispanic architecture around the Plaza. At more than one thousand kilometers northwest of Buenos Aires, Salta is the best preserved colonial city in Argentina. With a half a million inhabitants, it sits at the foothills of the Andes and is the capital of the Province of Salta. Founded by the Spaniards in 1582, it became a strategic commercial and military outpost between Lima in Perú and Buenos Aires. The debilitating economic decline following the War of Independence in the nineteeth century was eventually overcome. It's now one of Argentina's favorite tourist destinations.
I walk one block along calle Caseros, up to Iglesia San Francisco. Rebuilt a few times over the last four centuries following wars and earthquakes, its ornate terracotta and gold colored walls and high bell tower make it a landmark. From there, I go on to Parque San Martin, where the teleférico brings me to the top of Cerro San Bernardo. The paths around the lush gardens and fountains are refreshing and offer spectacular views of Salta.
I spend the rest of the afternoon at the Mercado Artesanal, where artisans sell fine handicraft, ranging from leather and silver goods to ceramics, colorful ponchos and tapestries, carved cactus bowls, sikus, multi-reed pan flutes, charangos, small guitars and other typical Andean musical instruments.
El Solar del Convento is the perfect restaurant to enjoy a relaxing dinner after sightseeing. The smell of barbecued meat, grilling on a large parrilla, fills the air as I walk in. Classical background music suits the atmosphere of the old Spanish convent. I sample some complementary paté and bubbly wine, in anticipation of tasting the legendary Argentinian beef. I'm not disappointed and glad I'm not a vegetarian. It's so tender, that I can cut it with my fork.
Life starts at eleven in the evening in Argentina. After dinner, I mingle with the crowd at the central plaza. It looks like all the Salteños are out having a good time as they listen to the live band.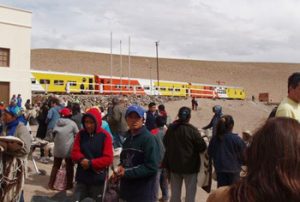 The next day, I go on the most popular tour, El Tren a las Nubes. Inaugurated in 1948, the railway was built to connect Salta to Antofagasta, Chile, for economic reasons. No longer used commercially, it has been open to tourism since the late seventies. I soon get into the atmosphere, with the pan flute Andean music flowing from the onboard speakers.
For the next fourteen hours, the train's ascension through multiple bridges, tunnels and spirals brings me higher than the clouds. The yellow and orange wagons contrast with the clear blue sky, as they zigzag through the unspoiled valleys of cardones, cacti taller than men and along multicolored canyons rich in silver, iron, lead and manganese. In the middle of this serene countryside, the sound of a helicopter as the train comes to a stop, creates some havoc. We are told that the altitude caused a passenger to faint and is brought to Buenos Aires. Once the climb resumes and calm is restored, we reach the Puna, high plateaus where herds of llamas roam. At La Polvorilla, close to the Chilean border, is where the train crosses the last viaduct, a sixty-four meter high metal structure. It's the trip's highlight and the altitude is 4,220 meters above sea level. Despite being out of breath due to the lack of oxygen, I'm grateful to have made it this high, so that I can enjoy the breathtaking view of the desert canyon below.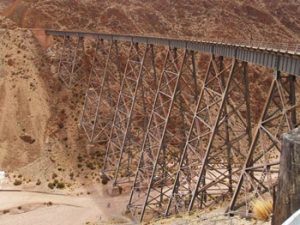 On the way back, we stop at the isolated mining town, San Antonio de los Cobres, named after the surrounding copper-rich sierra. Outside the train station is a colorful market. Weather-beaten by the gusting winds and dust, prevalent in the Puna, the natives' dark skin looks as thick as leather. Like their ancestors, the Incas, their crafts designs mirror the four star constellation Cruz del Sur, while the colors are inspired by nature. Back on the train, the sight of the Tastil pre-hispanic ruins, a deserted settlement, completes this memorable journey.
My next destination is the one hundred and fifty-five kilometer long Quebrada de Humahuaca. For ten thousand years, this canyon, a Unesco World Heritage site, has been part of a cultural and trade corridor, which stretches from the Atlantic beaches of Brazil, through the high Andes plains, all the way to the Pacific coast of Chile. The Quebrada's sedimentary origin is about 65 million years old.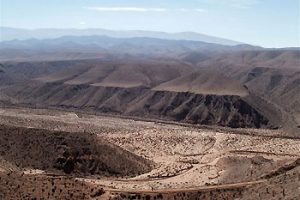 Instead of driving along the highway, Federico, our private guide, takes my friend and I on a narrow road though the selva, a lush sub-tropical green forest. He explains that the region around Salta is fertile because they still use the Incas' irrigation system. From the summits, the melting snow flows down to the valleys through stone canals.
Federico points at some red blooms, "they're Argentina's national flowers, from ceibo trees." As we reach the national road, he informs us that we are in the Province of Jujuy, which borders Bolivia. The Quebrada's unusual rock formations along the narrow valley come into view and are a prelude to the stunning Cerro de los Siete Colores. Like a gigantic fresco, the hillside's seven colors, ranging from deep purple to orange, dwarf the picturesque hamlet of Purmamarca. "It means Town of the Virgin Land in Aymara," Federico says. His four-by-four bounces on narrow, dusty streets, lined by adobe houses with cactus roofs, most from the pre-Hispanic era. Once at the central plaza, I buy a beautiful, modestly priced alpaca sweater and scarf, at the crafts fair.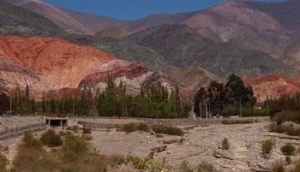 Reluctant at first, Federico convinces me to eat llama meat at the cosy restaurant Rincon de Fuego in Tilcara. "I eat it all the time. It's cholesterol-free," he says. It has a delicate taste, although I find it a bit dry.
After lunch, we go to the Museo Arqueologico Dr. Eduardo Casanova. "It's a crash course about the history of the whole Inca Empire," Federico says. The artifacts and archeological finds are from Peru, Bolivia, northern Chile and Argentina. They vary from a well preserved mummy, to ceramic vases with geometric designs and feline figures, bronze and silver objects and jewels, many in the shape of disks. The price of admission includes a visit at El Pucara, at the top of the mountain just outside Tilcara. The pre-Columbian reconstructed fortress is the most impressive archeological site of the region. Its location must have been strategically excellent to spot enemies. As I hike along the low stone houses and walls, I get an eagle-eyed view of the valleys and mountains.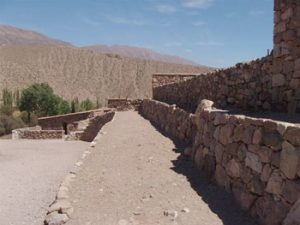 At Huacalera, a few kilometers north, we stop to take pictures of the monolith that marks the Tropic of Capricorn. Soon after, we reach the last city on today's itinary, Humahuaca, which used to be an important trade center of the high plateaus. At an altitude of 3,000 meters, I have to stop often to avoid getting dizzy, as I climb up the broad flight of stone steps that lead to the Monument of Independence. Looking down on the adobes and the twin towers of the seventeenth century church, I try to envision the narrow cobblestone streets, filled with colorful costumes and masks, worn by natives every year, to celebrate Pachamama, an old cult to Mother Earth.
This tour along the Quebrada de Humahuaca, where pagan and Christian beliefs coexist, has transported me into a mysterious ancient world. I can imagine our dark skinned, handsome guide's ancestors, trekking along this grandiose valley, where the Rio Grande flows.
My excursions through the sierras of northern Argentina have shown me, that by clinging to their traditions, the people of the Andes ensure the conservation of a pristine environment. In our effort to save planet earth, we could all learn something from the Inca way.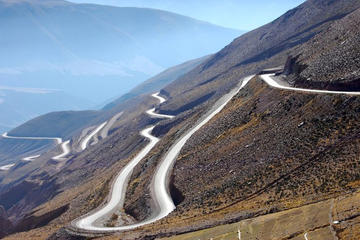 Safari to the Clouds Tour of Northwest Argentina from Salta
If You Go:
Summer (December, January & February) can be very hot. It's better to go in Spring or Fall. There are no direct flights from Salta to other cities of Argentina, except Buenos Aires, so if you intend to visit other regions like Mendosa, I suggest to fly one way from or to Buenos Aires and take a bus from Salta to or from Mendosa, with stop-overs in Cafayate, Cordoba and/or San Juan. You save time, money and tour costs. There are many good bus companies. I used Cata Internacional. It has excellent service. For long-distances, a royal suite is best; seats convert into births, meals & drinks are included. Bus tickets can only be bought in Argentina, so do it as early as possible.
SALTA – Check www.saltainfo.com for information about museums, excursions & hotels. I stayed at the modern 3 star Wilson Hotel, Alvarado 950. It has reasonable prices, includes full breakfast, impeccably clean, excellent service, only 3 blocks from main Plaza 9 de Julio. www.wilsonhotel.com.ar Among the many hotels, some 4-5 star ones caught my attention: Alejandro 1, elegant & modern; Hotel Solar de la Plaza, beautifully decorated colonial mansion, quiet; Portezuelo Hotel, fantastic view of Salta. Most tours last at least 12 hours, so give yourself enough time for some sightseeing in Salta. Plan to stay at least 4 full days. Tours can be booked at your hotel or from a local travel agency. Booking ahead of time is better in high season. I used Nordic Travel, Buenos Aires 45, Salta. Tel/Fax 387/421-1313 or 422-0450, www.nordic-travel.com.ar
QUEBRADA DE HUMAHUACA – You'll want to take many pictures; hire a private guide or if you rent a car, follow Highway 9 north, from Salta. Many tours are also available.
TREN A LAS NUBES – only runs on Wednesday, Friday & Sunday, therefore you should book ahead of time at your travel agent, or online: www.trenalasnubes.com.ar Includes breakfast, lunch. Has bar & dining room. $120 USD low season, $140 USD high season. El Solar del Convento, Caseros 444, Salta. Tel. 421-5124. Best beef I've had, cheap, great atmosphere, excellent service. Mercado Artesanal, Av. San Martin 2555. Tel. 387/434-2808. Open daily, 9 to 21 hrs.
TILCARA – Rincon de Fuego, Pasaje Ambrosetti 445, Tilcara. Tel: 388/495-5130 – Hotel & restaurant. Quiet, charming, excellent food. www.rincondefuego.com Museo Arqueologico Dr. Eduardo Casanova, Belgrano 445. Open daily, 9 to 19 hrs.
About the author:
Born in Montreal, Canada, Diane Chouinard is a composer and world traveller. Her fascinating experiences have led to her becoming a writer. Her music, which is performed in different countries and her interest in history transcend in her travel writing. She has been living in Vancouver since 1998.
All photos are by Diane Chouinard.