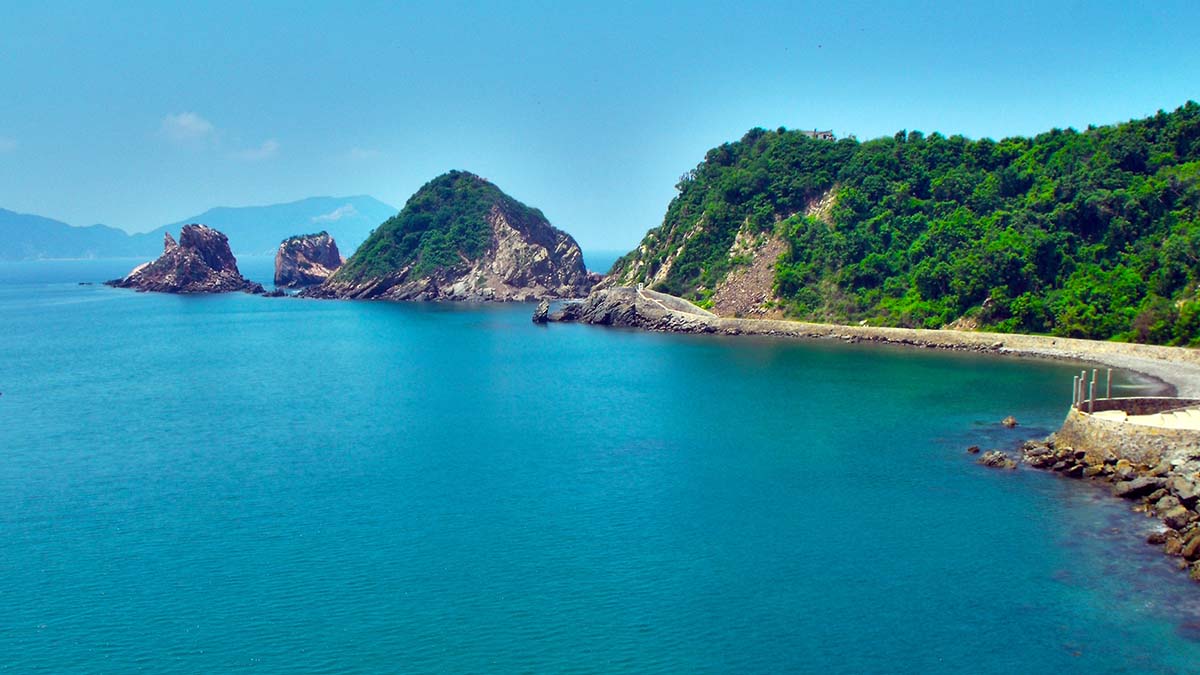 by Janey Volden
Oscar bound the hind legs of a long-horned Brahma cow, poured 100%-proof sugarcane alcohol and Ibarra Mexican chocolate into a tin mug, shoved it under the cow's teat and began milking. Offering us a round of steaming frothy mixture, the farmer chuckled and said: "Good latte! Si?"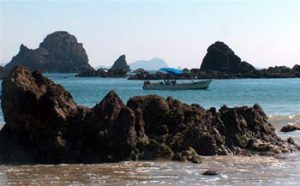 From that moment, I knew our vacation would be memorable. My husband Bruce and I had many discussions over a bottle of tequila with our friends Ken and Lee about San Patricio – Melaque, the little place in Mexico where they had spent the last several winters.
"But if you're looking for a Five-star hotel in Melaque, you'll be disappointed," they warned us.
Taking up the challenge, we left behind the frigid chill of British Columbia, and landed at Manzanillo airport, delighted that Lee and Ken—with a sticker on his forehead marked "HEAVY BAGGAGE"—were there to welcome us.
After an hour's ride north, we arrived at the quiet little village of Melaque (San Patricio), where the streets were mostly cobblestones. Like excited kids, we ran down the beach and threw ourselves into the warm Pacific Ocean, yelping when small fish bumped against our legs.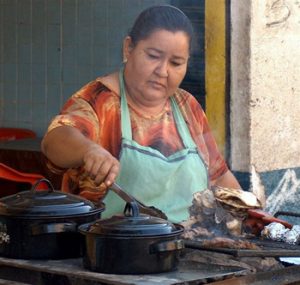 We found many great Mexican restaurants during our stay there, but our favourite meal was a toss-up between the acidic and piquant flavours of fresh-caught Dorado fish fried in garlic and cilantro, doused with tangy mango salsa, and the unforgettable Chicken Alcatraz baked in a lava-rock bowl.
"Muy caliente! Very hot!" warned the waiter. He was right – I watched it bubble for 30 minutes.
The next morning, searching for a place to eat our breakfast, we watched the local people eating food they cooked on little stoves. A smiling Mexican woman offered delicious fajitas oozing with "pulled" pork, and a glass of fresh-squeezed orange juice. Further along the street, we noticed shop owners hosing the street down in order to settle the dust before pushing up metal garage doors, revealing shelves of beach attire and touristy trinkets.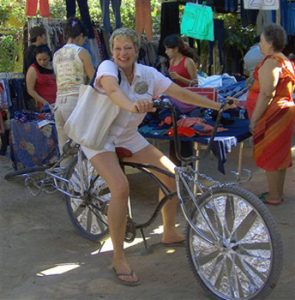 Wednesday's tianguis (indigenous people's market) offered hand-made pottery, silver jewelry, myriad padded bras, and brilliant coloured purses and blankets made by Highland Maya Indians. I was captivated by a boy who poked his head out between the Mexican blankets that were on display to hear his father playing the saxophone. Then I saw it: A gleaming silver bicycle, straight out of Star Wars, wrapped from handlebar to spoke in tin foil, with room at the back for spare tire, and a small passenger. I just had to ride it.
Later, Ray, our unforgettable tour guide, took us on a short drive north of Melaque. After telling us what fascinating fish we expected to see while snorkeling around the coral reef at Tenacatita's Playa Mora, he pulled a straw hat over his head and snored under a shady palapa. Attracted by a steep hill nearby, I scrambled up a rough track between agave and organ-pipe cacti and was rewarded with a view of whales in the open Pacific Ocean, and a turkey vulture soaring above me.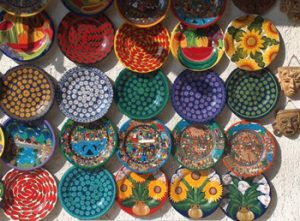 I joined the "March of the Gringos," as we linked arms and walked down the sandy road to a fresh seafood restaurant in Tenacatita. We wiggled our toes in soft sand, as we enjoyed margaritas and octopus salad. Then we heard loud honking outside, and gulped down our octopi and continued the tour to Boca de Iguanas where Ray taught us how to boogie-board.
"Stand in racer's position, left foot back, right foot forward. Hold board to waist. Wait; let wave take you. And no hop like bunny!"
"Crocodile-hunting" at La Manzanilla was next on the itinerary. Ray, producing a plastic bag of leftovers he had scrounged from his fridge, threw the contents into the sun-dappled river. A pair of mean-looking croc eyes scrutinized as pieces of Tandoori chicken flew through the air over the wire netting into the water. Obviously it wasn't hungry, and ignored the appetizers as it floated off downstream. Ray made a wry comment about a smorgasbord of pooches that had mysteriously disappeared from the nearby trailer park.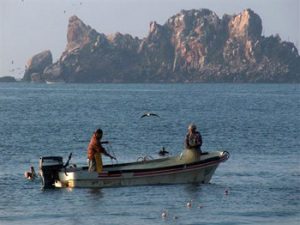 Sunday was Day Seven of our two-week holiday. Mexican families, happy to be away from the City, carried chairs to the shore to wait for sunrise. Meanwhile waves pounded onto the beach as fishermen dragged in their homemade nets filled with tuna and silver fish. A young boy stood in the water up to his waist, hauling in an eight-inch Toro fish with his weighted nylon line and hook. He wound the line around a plastic bottle, flashed a smile at me, and threw the fish into a bucket with the rest of his morning's catch.
When Ken jabbed his finger excitedly toward the ocean, I finally understood what he meant by "The Boil." Frigate birds hovered over a bubbling mass of silver fish that leapt in the air, jostling underwater to escape the tuna, Pacific Sierra and Toro fish that "herded" them into shore. Droves of pelicans, reminiscent of old sea planes, left their resting rock and flew to where the fishermen had thrown out their nets. Scanning the shore line, they dove like synchronized swimmers intent on filling their fish-tank bills. A couple of bold pelicans flapped clumsily into the fishermen's boat, snapping at the nets as the fish jumped with the Toro. When the fishing frenzy was over, a flotilla of well-fed pelicans and frigate birds rode the crest of an enormous wave, while timid egrets and herons tip-toed along the water's edge in search of pickings.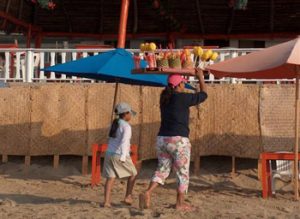 I stopped for a snack and Antonio, the beaming fruit vendor peeled a mango for me, cutting the fruit at angles for ease of eating, hammered a stick through the bottom, adding cayenne pepper and a squeeze of lime. Antonio had been up since dawn, digging holes in the sand and dragging chairs out for hotel guests. He shoved an umbrella pole into each hole, while his son Freddy filled the holes with sand, firmly securing the poles. When Freddy raced off with his backpack for afternoon school, his younger sister Anna arrived for "beach duty." Her job was to arrange mangos on a stick, wedges of watermelon, pineapple, coconut and cucumber onto a tray. Balancing it carefully on her head, she walked down the beach toward her regular customers. Her dog, Princessa, dug a hole, climbed in, curled up and went to sleep.
The crescent-shaped beach stretches five kilometers from Melaque to Barra de Navidad; to the west lays Punta Melaque, an outcrop of lava rock that shelters the bay and many visiting yachts from the open sea. I learned how adept Mexican fishermen were when, walking in the direction of the rocky point, I stumbled upon a home-made three-wheeler tricycle that held a can of gas, nets, fishing rods, Evinrude engine, water bottles and spare tire.
I splashed through an ankle-deep stream that had a sign sticking out of the sand: "BEWARE OF CROCS" and watched a green heron and snowy egret admiring their reflections, as Monarch butterflies sipped nectar from fragrant orange flowers. Hundreds of black frigate birds slept in the trees beside the national reserve park. As I climbed to the mirador, lookout point, I spotted a spiny-tailed iguana basking on a rock, and a white-tailed coatimundi (raccoon) hiding in the bushes. Climbing carefully over curious-shaped rocks, I found a Mexican gentleman meditating beside a white cross and wreath of flowers on top of a lava island. Out of respect I left him to his Sunday prayer.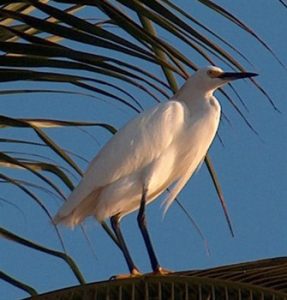 When I returned to our condo later that day, I realized it was the end of what had been a long day for the little Mexican girl, Anna. She had done well, selling all the fruit except for one lone piece, which she had saved especially for me. It was a rewarding experience to sit on the beach with my mango on a stick and judge an "Olympian" display of a pelican's prowess in the Diving Event. Wings tight, head tucked: "TEN! A PERFECT SCORE!"
That evening we found a lineup at the door of Ava's Restaurant. Bruce said not only did they make the best burgers in Mexico, but it was a great hangout for Canadians to watch hockey and football on TV. The proprietor, was known as "Handless" Jack because he had been electrocuted in a hydro accident, resulting in the loss of both his arms. He raised funds for "Ayuda a Los Ninos" (Help the Kids) by holding dinner-dance events to pay for medical and educational needs of Costa Alegra's Mexican children.
On the last morning of our amazing vacation, we walked to the Brahma corral, just to see if Oscar was still serving those special chocolate lattes. It was time to leave, and we vowed we would return to Melaque, one of the best-kept secret beach retreats on the Mexican Pacific.
If You Go:
Online guide to Melaque and Barra de Navidad
Barra de Navidad Tourism Office
Frommer's Things to Do in Mexico
Lonely Planet Online Mexico Guide
Barra de Navidad Tropical Tour from Manzanillo
San Patricio – Melaque, on the southern area of the Pacific Ocean between Manzanillo and Puerto Vallarta, shares the crescent-shaped Bay (Bahia de la Navidad) with Barra de Navidad. Melaque is 30 minutes north of Manzanillo's international airport (100 km from downtown Manzanillo) by first class bus or taxi. Buses from Manzanillo frequently run up the coast along Hwy 200. It is an ideal winter vacation destination from November to April when there is little or no rain. (Low season is any time except Christmas and Easter weekends).
There are local 2nd and 3rd class buses that travel between Barra de Navidad and San Patricio – Melaque (20 minutes) every 15 minutes from 6 a.m. to 8:30 p.m.
The Tourism Office for both villages of San Patricio – Melaque and Barra de Navidad is at Jalisco 67, Barra.
Melaque (aka San Patricio) is a 5 km walk down the beach from Barra. Or take a local bus marked "Cihuatlan" (to Barra) from the Melaque bus station in the middle of town, a block from the beach.
The Tianguis (Indiginous People's Market) is held every Wednesday, downtown Melaque.
Save Up To 50% On Your Mexico Hotel Bookings
About the author:
Janey Volden is a writer and avid photo-journalist. She grew up in Kenya, East Africa. Her love of travel, especially into the remote area of Northern Kenya, gave her the inspiration to write a young adult novel, "Gabbra's Song" She resides with her husband Bruce in Okanagan Falls, British Columbia. She has two sons, Oliver and Casey. She has traveled to Costa Rica, Mexico, Britain, Italy (Tuscany), South Africa, Lesotho and Ethiopia.
www.janeyvolden.com
janeyvolden@shaw.ca
Photo Credits:
First San Patricio – Melaque photo by Alejandro Ags / CC BY
All other photos are by Janey Volden.