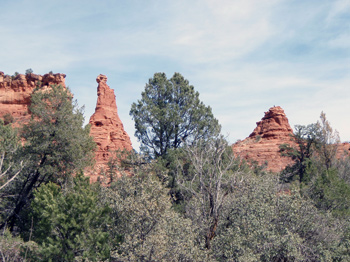 by Darlene Foster 
I searched for an ideal location for a three generation get-away, a place where could we go that would cater to a thirty something daughter, a seventy something mom and me, somewhere in between. I had heard good things about Sedona, Arizona and since it was on my list of places to visit, I decided to take my two favourite women there for a week. It proved to be the perfect choice.
Upon arrival, we are mesmerized by the magical red rock formations everywhere we look. Sedona, named after the first post mistress, is nestled in the Oak Creek Valley surrounded by sandstone shapes resembling their names. Monikers such as Cathedral Rock, Bell Rock, and Coffee Pot Rock. There is even a Snoopy Rock; a configuration that looks like the adorable cartoon character lying on top of his doghouse, with Woodstock perched on his nose.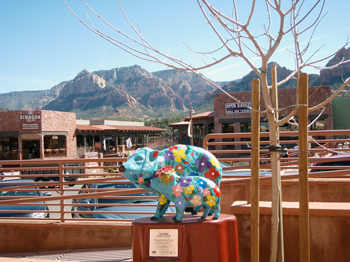 The town provides a relaxed atmosphere with a creative flair. The soothing terracotta buildings blend in perfectly with the surroundings. The town centre displays samples of local paintings, sculptures and carvings. We enjoy the delightful mama javalina (a wild pig-like animal) sculptures in colourful print dresses, with their babies beside them. Wandering the streets of Sedona is like walking through an outdoor art gallery. There are many impressive inside galleries to visit, such as the Sedona Arts Centre. The numerous shops make it difficult not to come away with a special treasure to take home. I can´t resist purchasing a Snoopy Rock T-shirt for my grandson.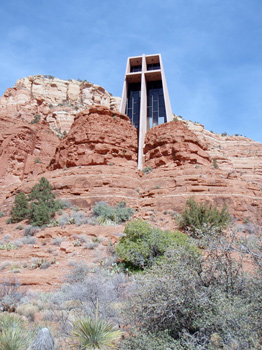 The Church of the Holly Cross built high amongst the bluffs overlooking Sedona is a remarkable work of art. Designed by architect and sculptor Marguerite Brunswig Staude in memory of her parents, it was completed in 1956 and is open to people of all faiths. The view through the picture window, divided in four by an enormous cross, is spectacular. Outside the chapel are perfect photographic opportunities of the area's stunning rock formations and the valley 200 feet below. An appropriate configuration nearby resembles the Madonna and child and surrounding it are three rock figures that remind you of praying nuns.
We take an inexpensive trolley tour to search out places not easily accessible by foot. The tour takes us to Boynton Canyon, a place sacred to the Native Indians. As we drive through the Coconino National Forest, our informative guide, Jack, points out the plant life of the harsh high desert terrain including agave, sycamore trees, ponderosa pines, alligator juniper, Utah juniper, and pinion pines (from which pine nuts come). He brings our attention to a high flat topped area called the Doe Mesa where female dear go to have their babies; the high mesa providing natural protection for the mothers and newborn. He cautions walking around as there are over 20 varieties of rattle snakes in the area. When we stop to take pictures, only a few of us are brave enough to get off the bus.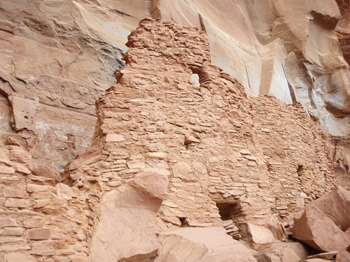 On another day we visit the Palatki Red Cliffs Heritage Site to view pictographs and visit cliff dwellings built by the Sinagua Indians 900 years ago. Walking sticks are provided to get to the sites situated on the steep sides of the cliffs. Due to their location, the well preserved dwellings have not been touched by rain. The masonry blends well with the red sandstone providing security to the dwellers. No one knows what eventually happened to the inhabitants, but the sense of family can be felt as we peer into the rooms where people carried out their day to day activities. The finger prints remain, if not to the human eye. This is not a place to wear white as I soon learn. The iron oxide that makes the sandstone red leaves evidence of your visit. We are also careful to dodge the Costco sized prickly-pear cacti that are everywhere.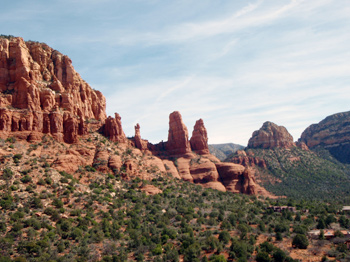 Sedona has a unique blend of history and new ageism. The area is well known for the energy originating from its many vortexes. My daughter finds the vortex sights fascinating. She visits the Boynton Canyon vortex and discovers a positive magnetic energy near a tall majestic rock called Kachina Woman. She comes away feeling energized and contented. There are many vortex tours available, but you can wander the sites yourself as well.
A pleasant afternoon is spent at Tlaquepaque Square, a maze of galleries and stores designed to look like a Mexican village with unique sculptures scattered around the site. It´s a wonderful place to shop, eat and relax. When Mom gets tired of shopping, she finds a nice bench where she can sit in the sun and read her book.
Great food is in abundance, at reasonable prices and within pleasant settings at places such as the Oak Creek Brewery, The Barking Frog Grill and Oaxaca Restaurant where we try bright pink, prickly-pear cactus juice drinks that taste as good as they look.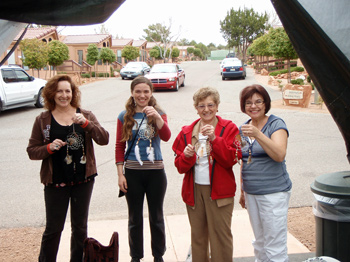 A short drive takes us to Jerome, an old mining town built on a hill. Home to many brothels in its day, these former houses of ill repute now house unique shops displaying artists' wares, next to clothing and odds and ends. We chat with a nonchalant painter perched by her easel on the sidewalk, painting a gnarled old tree overlooking the russet cliffs.
We find much to do, but sometimes we just lay by the pool, watch a stunning sunset or create sun catchers. This proves to be the perfect get-away as all three generations find something of interest and everyone returns home energized, relaxed and happy.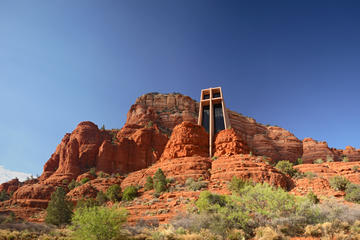 Sedona Red Rock Adventure including Jeep Tour
If You Go:
Sedona is located 113 miles/182 kilometers from Phoenix and 29 miles/46 kilometers from Flagstaff. There is a small airport in Sedona as well.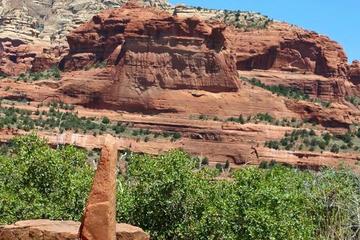 Sedona Spirit Journey and Vortex Tours
About the author:
Darlene Foster is a dedicated writer and traveler. She is the author of a series of books featuring Amanda, a spunky young girl who loves to travel to interesting places such as the United Arab Emirates, Spain, England and Alberta, where she always has an adventure. Darlene divides her time between the west coast of Canada and the Costa Blanca of Spain. www.darlenefoster.ca
All photos by Darlene Foster.