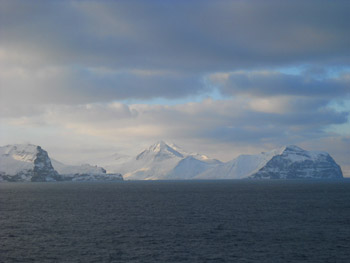 Freighter Travel Across the North Pacific
by Barry Truter
Within six hours of boarding the massive freighter that would carry me and four other passengers – along with 5,500 containers – from Vancouver to Hong Kong, I knew I'd made the right choice of travel plans. Standing on the dimly lit navigation deck of the French flag container ship CMA CGM Tosca, docked at Deltaport at midnight, I had a brief, blissful moment when the licensed pilot, just coming aboard, mistook me for the captain.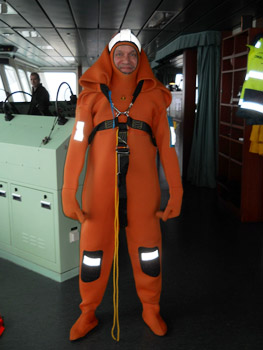 Alas, I had not achieved my boyhood dream of becoming master and commander of my very own ship. But the 21-day trip that followed provided not only spectacular sights and unusual experiences, but also satisfied more personal reasons for choosing such an adventure. It meant I could channel my first career as an 18-year-old indentured navigating cadet on a tramp freighter in the British merchant marine. It allowed me to sail across the North Pacific for the first time. And it dropped me off in Hong Kong, where I had lived as a boy. Too many touchpoints to ignore.
Friends had raised concerns about pirates, seagoing accidents and other dangers, but weighing up the risks just added to my excitement. Recently divorced, newly laid off from work, and in the process of re-inventing my life, this was a journey in more ways than one.
Travelling aboard a freighter proved to be an Open Sesame to the inner workings of ship life, perfect for someone rediscovering that fascinating world. I haunted the navigation bridge after Captain Jean-Michel Serra said passengers were welcome there, I climbed 15 decks down into the bowels of the ship for a tour of the engine room, and watched as huge cranes descended on the ship to unload it at four harbours.
The Trip
The journey began Dec. 10, 2012 up the coasts of British Columbia and Alaska. Then we headed through the Aleutians, west across the international dateline, south past the Kamchatka peninsula and Kuril Islands, and along the Japanese islands of Hokkaido and Honshu to Yokohama. From there we sailed the China Seas to the ports of Shanghai, Ningbo and Hong Kong, where I disembarked on New Year's Eve.
From my privileged position as a passenger on the navigation bridge, I saw some unforgettable sights. Five days into the journey, travelling through Unimak Passage in the Aleutian Islands, we sailed between Unimak and Ugamak islands, each of them rocky cliffs covered with snow and ice and glacier. The weather was clear, the sea calm, the vista stunning. Periodically the sun peeped out. From the inside warmth and comfort of the bridge, it didn't look cold until I walked out on the wing and caught a blast of icy wind, a reminder that once through this passage we would be in the Bering Sea. Whales spouted as a pod swam. It was magical.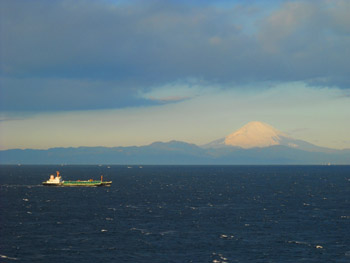 Another memorable morning, as we sailed up the channel leading to Tokyo Bay, I got a magnificent view of the volcanic peak of Mount Fuji in all its snow-sloped splendour. Normally gossamer-garbed in cloud or mist, it was resplendently naked as we motored past, our huge vessel dwarfed by the mountain.
The spectacular sights outside the ship were matched inside by the warmth and hospitality of its 28 officers and crew, mostly French and Romanian, who adopted the passengers as part of the ship's family. So much so that they held their Christmas celebration – including a tree, presents and a festive dinner – three days early because some passengers were disembarking before Dec. 25.
Besides myself, the passengers included Nicholas, a retired Brit who divides his time between England and Thailand to make his pension stretch; Hiroki, a 27-year-old taking the slow boat home to Japan after studying English in Canada; and Tony and Liz, a recently retired Australian couple homeward bound after making their way around the world. Liz, witty and vivacious, had no trouble being the only woman on board. She participated in all the activities and said she had a great time – a comment I've heard from other women who have travelled aboard freighters, either singly or with a companion.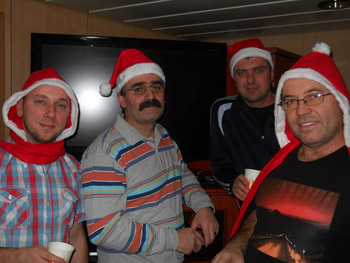 Our little band of passengers got along so well that we put together a Christmas concert with songs from our varied backgrounds for captain and crew. And with no cruise director to coddle us, we made our own entertainment – ping pong tournaments, card games, movie nights. We had our own passenger lounge, with couches, card table, DVD player, and a hodgepodge of pirated DVDs – the closest we got to anything piratical on this trip. On Sundays and special occasions we were invited for a drink in the officers' lounge, with the captain and the chief mate hosting the bar.
The Christmas feast was sumptuous, but throughout the trip, the food exceeded my expectations. Simon Pascal, the chief cook, was a French chef who served five-course gourmet meals for lunch and dinner complete with wine and cheese board. There was even a small gym with weights to help us work it off.
As for accommodations, for 90 Euros a day – about $120 Cdn in today's dollars – I had a double cabin to myself high up in the midships tower, just two decks below the bridge. There were two beds, a large desk, a three-seater couch, two armchairs, a coffee table, and an attached bathroom. Three big windows provided dramatic sea views forward and starboard.
The Ship
But for me, the best part of the trip was the chance to indulge my fascination with the workings of the ship, the biggest ocean-going vessel I've ever sailed on. The Tosca was 334 metres long (the length of three football fields), 42 metres wide, and 94,410 gross tons in weight.
Early in the trip, chief engineer Nicolas Le Scornet led a 90-minute tour of his department, an amazingly clean basement world of surreal lighting and sound. The engine control room, the brain of this nether world, was a universe of control panels with lights and levers, dials and displays, switches and gauges. We went up and down ladders, across gratings, through doorways. Always there was noise, sometimes there was heat. We wore ear plugs, making it doubly difficult to hear over the racket of the pounding engines. At one point, we walked along a narrow outer corridor to see an emergency control panel that can operate the steering gear manually. We were below sea level and the cold clamminess of the steel hull signaled the freezing waters of the North Pacific on the other side.
Watching the ship unload, especially at Yokohama, was another high point. After picking up the channel pilot, we moved in slow procession with other ships along a channel marked with buoys. Outbound vessels passed us in line to port, and we overtook a cluster of small motorized fishing vessels, each with a coloured lateen sail keeping its head to the wind.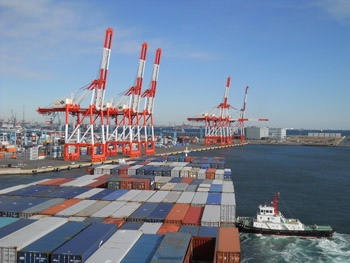 Docking a ship the size of the Tosca is an extremely delicate dance choreographed between the pilot, the two tugs, our forward and aft docking parties, and the dockside gang. The tugs nudged us gently toward the pier. A heaving line thrown to the dock was attached to a four-inch-thick nylon mooring line, one of four that would eventually secure us forward. The same process was conducted aft. The gangway went down, was quickly secured and before you can say banzai, the dockside cranes were cranking up, flatbed trucks were lining up, and containers were swinging through the air on their way from ship to land.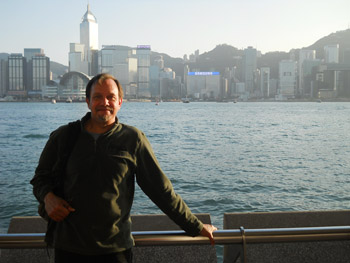 We carried 5,500 containers, although our capacity was 8,500 TEUs (twenty-foot equivalent units), stacked nine deep in the hold with a further eight tiers on deck. It's a logistical nightmare carefully managed by the head office planners in Marseilles, the chief mate on board, and the port agent and dockside crew, with the help of automated systems that ensure a balanced load fore and aft. It's important to get this right. Can you imagine the chaos of having to unload 16 stacked containers to get at the misplaced 17th one in the bottom of the hold!
At my last stop, Hong Kong – where I lived from 1952-55 – my heart beat a little faster as the tugs warped us into our Modern Terminals container dock. It was a clear day and the skyscrapers of Victoria harbour were in plain view to starboard.
As I prepared to leave the ship, deck officer Romica Apostol paid me a big compliment. He said, "After three weeks it's like you are part of the crew." I thanked him – and started plotting my next freighter trip.
If You Go:
There are a few freighters that accommodate a handful of passengers, and a small number of travel companies that can make the necessary arrangements. Google "freighter travel" to find out. The main requirements are a medical certificate from your doctor, travel insurance that includes emergency air evacuation, and visas for ports of call. Cost for my trip was €90 per day not including insurance and visas. Length of the voyage segment depends on your inclination and the vessel's availability.
About the author:
Barry Truter is a musician and writer based in Vancouver, Canada. He has been a traveller all his life, having lived in India, Hong Kong, Fiji, USA, Pakistan, England and Canada, as well as a spell at sea working on a freighter. His most recent articles have appeared in Vancouver's The Province newspaper and in the Canadian Folk Music Journal. As a musician, he performs solo and with his band, Fraser Union. His latest CD, Traveller, consists of originals and carefully selected covers reflecting his journeys, and is available online through www.fraserunion.com.
All photographs by Barry Truter except #1 by Elizabeth Wood and #6 by a passerby:
The author models an "abandon ship" survival suit
The stark beauty of the Aleutian Islands
Sailing to Yokohama past the snow-capped splendour of Mount Fuji
Crew members dressed up for the Christmas party
Tugs gently nudge the ship towards the Yokohama dock
The author at the Kowloon-side Star Ferry terminal with Hong Kong island in the background