by Alex Dragas 
One of the jewels on the Adriatic coast is Sibenik, a city nestled along the coastline and surrounded by fortresses. It is a spot unique for many things, not only as far as strategic significance is concerned, but historical effect too. Its view, together with its fortresses and the surrounding town testify of its tumultuous past and continuous resistance for centuries. But even with all the wars, Sibenik has remained firm in all its magnificence. I visited this city once a couple of years ago and it really stuck with me, its architecture, people, food and overall atmosphere of the town are really welcoming and it is a city you can easily feel like you are at home.
EARLY HISTORY
Unlike other Croatian cities on the Adriatic coast, which were established by Romans, Greeks and Illyrians, Sibenik was instituted by Croats. Created as an ancient encampment base, at the foot of St Michael's Fortress, Sibenik was first cited in a document issued by the then Croatian ruler Peter Kresimir IV in 1066. However, it did not gain the status of a native town until the year 1290 when the Diocese of Sibenik was built.
LEADERSHIP STRIFE
Sibenik's rule changed hands several times from the 12th to the 15th century. It was a battle of Croatian, Byzantine, Hungarian, Venetian, Herzegovinian and Bosnian reign until 1409 when Venice took the crown. However, there was a back and forth wrench for about three years before it was finally brought under the radar. In the 17th century, the Turks attempted their luck with the town but were not successful due to the strengthened fortresses. It was not until 1797 that the Venice fell, and the city was taken over by the Austrians.
ELECTRIC STRONGHOLD
Sibenik was the first Dalmatian town to have electricity thanks to an engineer Vjekoslav Meichner and the then mayor of the city. In 1895, they built the first transmission of generating and distributing alternating current. They say that the Forbes hydropower plant in USA's Niagara Falls started operating in the year 1895, but the town got electricity almost a year later. So with that said, it can only be safe to assume that Sibenik got public electric lighting before any other capital in the world.
GENERAL FEATURES OF THE TOWN
Sibenik is a small town of about 35000 inhabitants. It is situated in a picturesque bay at the mouth of Krka, one of the most stunning rivers in Croatia which also encloses a national park that goes by the same name. What sets Sibenik apart, is its superbly manicured appearance featuring limitless sights that attract tourists from all corners of the world year on year.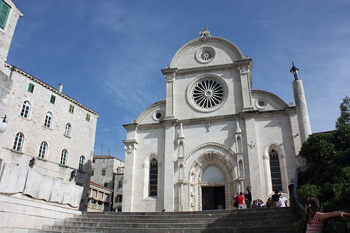 The cathedral of St James is by far the most impressive achievement in the city and it defies comparison due to its excellent construction. This three-nave Gothic Renaissance is the brainchild of Juraj Dalamanatic and was built during a period of Turkish attacks. What you see today actually took more than a century to build. Interestingly, there are 72 stone heads around the cathedral which represent locals who did not care to give a hand in the construction of the cathedral. I read a lot about this cathedral before visiting it and my friends told me that I should definitely go and check this building out when I visited Sibenik so of course I did. It is a massive building that towers over you but every piece of it contains a different kind of beauty that you just cannot stop looking at. I spent a couple of hours there just enjoying the view and learning a bit about this marvelous building, completely mesmerized.
Neighboring the cathedral is the Duke's palace, a major defensive system in the 13th and 14th century. What remains of it today is the part where the Duke stayed. The rest of it has been taken up by three beautiful museums- Archeological, Historical, and Ethnographic. On the wall, there is a coat of arms representing St Michael, the patron of the city.
In the center of the city, sits one of the most valuable buildings, Renaissance Town Hall built in the 16th century and the Bunari (four wells) dug to supply drinking water to the town during the 17th century. The wells were also another masterpiece created by Juraj Dalmatinac, the inventor of all important buildings in Sibenik. Today, the locality has been turned into a museum where various cultural manifestations are showcased.
REAL ESTATE
Real estate in Sibenik continues to be popular among foreign buyers. This is partly attributed to the fact that it is only an hour drive from the second largest city in Croatia-Split. Additionally, the prices are generally cheaper compared to other touristy towns in the country. Its real estate is in its prime, with deep-rooted stone houses, nestled in picturesque bay overlooking the cool azure waters, it gives you a nice historical feeling that you crave for. Due to its rich history this town is very popular with the tourists and visitors thus giving this city a big spotlight, that is one of many reasons why Sibenik is one of the most sought after cities for tourists plus due to its position it is close to everything you could possibly want.
Sibenik may be historically one of the richest cities in Croatia but modern Sibenik provides you with plenty of activities, sights, happenings and much more so visiting this town is a no-brainer. No matter how young or old you might be, in this city you can find something that will peak your interest. I visited this city when it was summer and there were a couple of festivals and fairs going on that were really unique and fun to be a part of. Go and see for yourself and enjoy everything this marvelous city has to offer.
If You Go:
♦ Cathedral St. James and Bunari are all accessible by bus or if you are an explorer who do not want to be limited by time and schedule just rent a car and go explore yourself.
♦ Since Sibenik is a small town you can pretty much go by bus everywhere.
♦ For National Park Krka you can book a bus.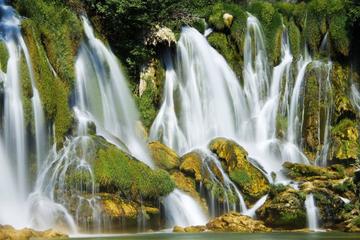 Adriatic Coast Nature: Sibenik and Krka National Park Private Day from Split
About the author:
Alex Dragas enjoys researching and learning new things, eating foreign food and visiting places. Traveling and writing are his passion and he tries to combine those as much as he can.
Photographs are from Pixabay