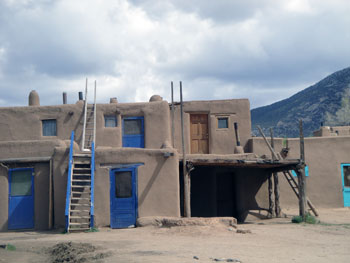 by Darlene Foster 
I am greeted by a chilly, high-desert wind as I enter the Taos Pueblo. I find it astonishing that this ancient site has been lived in continuously for over 1000 years. Currently approximately 150 people live within the Pueblo full time. The buildings are made entirely out of traditional adobe, with no electricity or running water in many homes. The russet sand coloured buildings blend in with the landscape; the bright blue doors creating a contrast and ladders to the roofs adding effect. I learn that originally the only way into the home was through the roof. Doors were added later.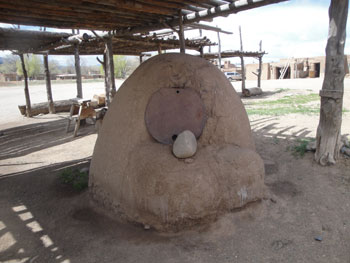 We are invited into one of the homes to warm ourselves in front of the fire. Wood stoves and fireplaces heat the houses and are used for cooking. Bread and pastries are baked in hornos, outdoor adobe ovens scattered around the site. We purchase delicious cookies and pies made in a horno, which warm us from the inside out. We also sample fry bread in another home, made in front of us and drizzled with honey. So tasty.
The Pueblo is situated on both sides of the Red Willow Creek, the source of drinking water for the inhabitants. One resident explains that a legend tells of an eagle that dropped two feathers, one on each side of the river which was a sign for the ancient people to build the Pueblo at that spot.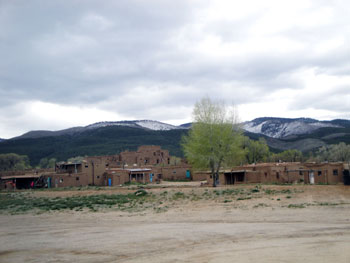 Many of the homes are inhabited by native artists who welcome visitors to enter, view their art work, chat and make purchases. We buy a number of handmade items to take home as gifts, and a couple of pieces for ourselves. At a shop called "Morning Talk", I buy a fabulous piece of pottery for my potter daughter, knowing she will appreciate the work put into it. Everyone is so hospitable and willing to take time to talk to us. We soon forget about being cold.
One friendly resident we chat with is Jeralyn Lujan Lucero. She is a painter, potter, soap maker and entrepreneur; to name a few of her many talents. But she tells us her most important job is that of mom to her three children. Jeralyn and her husband are raising their children in their ancestral home, living a traditional Pueblo life. I consider her children very fortunate indeed. I take the spirit of Taos with me in an art card signed by this talented woman, to hang in my home in Canada.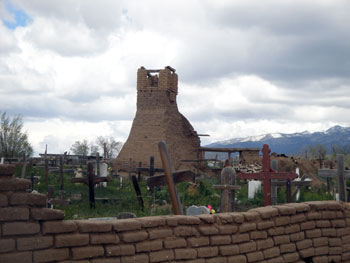 We explore the modern day San Geronimo Church, built in 1850, a Registered National Historic Landmark and still used by the mostly Catholic inhabitants of Taos Pueblo. The thick adobe walls, keep it cool in summer and warm in winter.
The ruins of the original San Geronimo Church built in 1619 and destroyed in 1847 during an uprising, are now part of the cemetery. All that remains is the bell tower in memory of those whose lives were lost. A feeling of sadness fills me as I look upon the graveyard and think of the lives cut short.
I reflect on the rich history, culture and spirit of this high desert oasis; derived from the past and continuing to this day. I leave with a feeling of peace and tranquillity and much respect for the native people who have lived here for so long and who welcome us with open arms.
The Taos Pueblo, located at the base of the picturesque Sangre de Cristo Mountain Range, is considered to be the oldest continuously inhabited community in the USA and has been designated a UNESCO World Heritage site and a National Historic Landmark.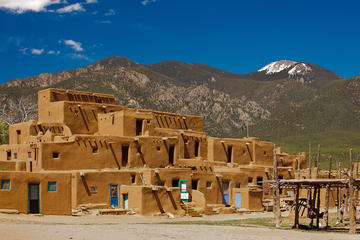 Guided Walking Tour of Taos Pueblo
If You Go:
♦ Taos Pueblo is located about one mile (1.6 km) north of Taos, New Mexico at 120 Veterans Highway
♦ Check the website for seasonal hours and cost of admission www.taospueblo.com
♦ More about Jeralyn Lujan Lucero jeralynlujanlucero.wordpress.com
About the author:
Darlene Foster is a dedicated writer and traveler. She is the author of a series featuring a young girl who loves to travel to interesting places such as the United Arab Emirates, Spain, England and Alberta, where she always has an adventure. Darlene divides her time between the west coast of Canada and the Costa Blanca of Spain. www.darlenefoster.ca
All photos are by Darlene Foster.