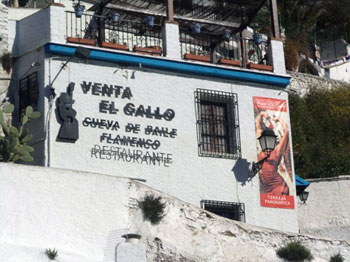 Granada, Spain
by Inka Piegsa-Quischotte
When I recently took up residence in Benalmadena Costa on Spain's Costa del Sol some 30 minutes by car from Malaga, I had not only the fabulous beaches and warm climate in mind but also the fact that some of the best destinations in the south of Spain were within easy reach.
Sure enough, I discovered a travel agency just across the road from my condo which offered day trips at extremely reasonable prices. So, I didn't hesitate to book the first of several, my destination of choice being Granada.
When we arrived, I told the tour guide that I would now make my own way and meet the coach in time for the return trip. "Where do you want to go?" he asked, apparently a bit miffed that I shunned his tour of the Alhambra which is of course the main attraction of Granada. But I had something else in mind. "I want to go to Sacromonte, visit the caves and follow the roots of Flamenco,`I replied.
"Tourist traps," `he sniffed," and anyway the performances are only at night". Little did he know what I found.
Leaving the guide and my fellow passengers to explore the Alhambra, I asked a friendly policeman if there was a local bus to take me up one of the seven hills of Granada, Sacromonte, just opposite the Alhambra. There was, I hopped on and off we went, up and up through ever narrower streets until the driver told me to get off and continue on foot as the bus couldn't go any further.
Granada, also known as the City of Music or the City of Guitars, is the place where the wild and passionate dance of Flamenco originates from. Or to be exact, the part called Sacromonte. A few hundred years ago, the Romani during their migrations from Eastern Europe, settled there and took up residence in the countless caves which dot the mountain side with the river Genil flowing at their feet and the majestic silhouette of the Alhambra in front. They created their own music and dance, Flamenco in its purest and most captivating form.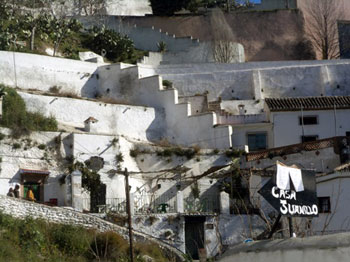 Many of these caves, warm in winter, cool in the summer, are still inhabited today, well appointed and furnished. Climbing white washed stairs from one level to the next, I came past many tablaos, the venues where nightly performances of Flamenco take place and which earned Sacromonte the byword of tourist trap. Up to a point this is justified, but if you know what to do and where to look you get to experience the real thing.
As soon as I climbed the first set of stairs, I heard a guitar and clapping hands. The door to a tablao was open and I peeked inside. Seven dancers and musicians were rehearsing and generally playing for their own entertainment and simply because the music runs in their blood.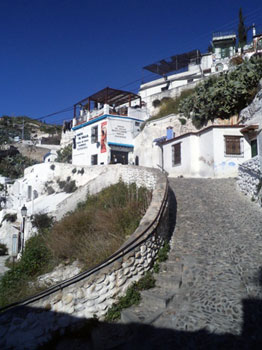 They waved me inside and I was the recipient of a performance just for me and definitely a spell bound spectator to the real thing.
Another way of enjoying Flamenco at its best is to make the way to Sacromonte very late at night or, depending on your point of view, early in the morning at around 3 or 4 pm. The tourist performances are over and the musicians and dancers indulge in new compositions and guitar music, relaxing in tiny bars with (undiluted) red wine and maybe a slice of the famous tortilla Sacromonte, a specialty not for the faint hearted because it contains not only eggs, peppers and onions but also chopped bull´s testicles!
Any foreigner who visits at that late hour is automatically welcomed as an insider, regaled with stories of the Romani history and the best flamenco they will ever hear and see.
After my morning visit to the hill, I enjoyed the walk down along the river Guanil with the Alhambra on my left and ending up in the heart of Granada, the very pretty Plaza Nueva.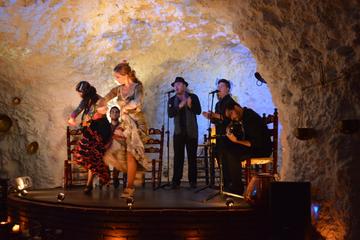 1.5 Hour Flamenco Show in a Cave-Restaurant in Granada
If You Go:
Granada has continental climate which means often snow and very cold in winter, hot in summer.
♦ If you want to visit the Alhambra as well, avoid the summer months when there are too many tourists. Most pleasant is early spring or late fall. Wear comfortable shoes whether you explore Sacromonte or the Alhambra.
♦ There is plenty of public transport in Granada. Take the local buses.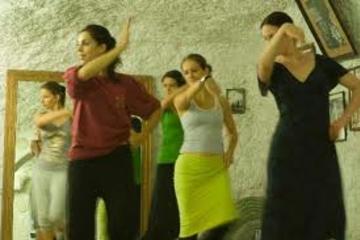 Private Tour: Flamenco Dance Lesson in a Granada Sacromonte Cave
About the author:
Born in Germany, Inka Piegsa-Quischotte has lived in Switzerland, the UK, Spain and South Africa and worked as an international attorney for over 30 years. Having traveled the world during her profession and seen nothing, she dropped everything three years ago and became a free lance travel writer, photographer and novelist and started her blog www.glamourgrannytravels.com . Her articles have appeared in GoNomad, offbeattravel, lighthouse digest, bootsnall, neos kosmos, literary traveler, Smithsonian magazine and many more. She continues to travel the world in style and luxury, seeking out unusual destinations, historical sites and beauty where ever she can find it. When not traveling she used to live between Istanbul and Miami but has recently relocated to the Costa Blanca near Alicante in Spain.
All photos by Inka Piegsa-Quischotte.