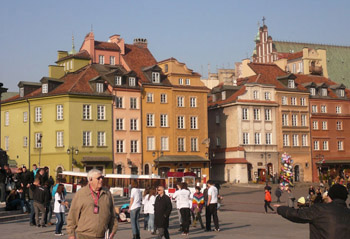 Poland
by Wynne Crombie
The cool November sun shone off the buildings. The burnished yellows and reds of the Renaissance, and Baroque structures had been carefully replicated. Seventy five years ago, the Square had been reduced to a pile of rubble by the German Luftwaffe. First, during the invasion of 1939 and then, after the 1944 Warsaw Uprising.
The Square was reconstructed mainly in the 1950's from old photographs and 700-year-old drawings, (some of the narrow multi-storied buildings lean into the Square as they did centuries of ago.) Here, the town's elite had lived.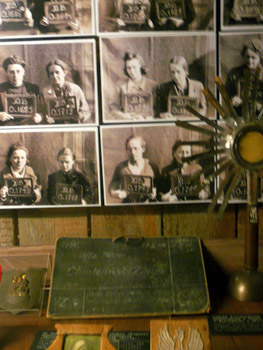 As my husband Kent and I strolled on the cobblestones ringing Warsaw's Old Town Square Square, we bumped into a young man, briefcase slung over his shoulder, reading aloud in Polish. I was intrigued; he was either religious or political. Quite by surprise he was an American from Los Angeles and had come to evangelize the Poles. (Poland is 90% Catholic) Next to him an elderly lady, seemingly unaware of his readings, was selling homemade hats. A few feet away three nuns in full habits walked by without a glance.
It was almost noon. We had been told not to miss the showing of a twenty- minute movie on the destruction of Warsaw during World War II. Unfortunately, it is shown in English only at noon from Tuesday through Sunday. Look for the Historical Museum sign. It's at 28-42 Rynek Starego. (south side of the Square) The theater is right inside the entryway and well worth the 6 zlotys admission. It is in black and white.
Back on the Square, we came across "Wario Wojciech" (the so-called keeper of the Square) in his red Tartar uniform brandishing a curved sword. He offered to smile for our camera. He took off his fur hat and plunked it on Kent's head. click. Then the curved sword was placed on Kent's throat. click. We gave him a few zlotys for his trouble. We also spotted a middle-aged Robin Hood look alike wearing a mesh helmet and carrying a quiver of bows and arrows. Another, click.
Part of the charm of the Rynek Starego Miasta is sitting on one of the many stone benches and watching what goes on. There is virtually no trash or graffiti. Mimes, violinists and accordionists are almost constantly performing.
The outdoor cafes are for beer and people watching. When it gets cold, heat lamps are turned on. Blankets appear when it gets very cold. Each restaurant usually has a young man in front handing out cards with the menu printed on them.
Beer and pretzels were just the snack to fuel our exploration of the venders and shops. An artist was sitting in a chair reading a newspaper waiting for customers. His "portraits" were really caricatures. Next to him a balloon seller was waiting for customers while across the cobblestones horses and buggies waited for fares. There is not much in the way of signs in English or any other language except Polish, but most people speak English.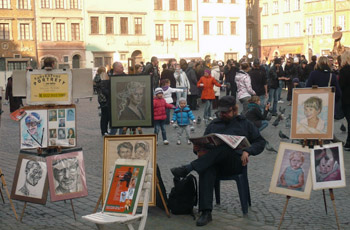 If you're looking for souvenirs, there are many venders and shops on the Old Town Market Square. For example, PolArt is three rooms of Polish folk art, including folk costumes, paper art, textiles, dolls, and traditionally decorated eggs.
Potted flowers were everywhere…mostly mums and small potted firs. Flower venders had many bouquets for sale as it was near the Feasts of All Souls when everyone brings flowers to the gravesites.
The Mermaid Fountain statue (the syrenka) had been in the middle of the Square since 1855. Destroyed during World War II, it too was replaced. A WWII Polish paramedic served as a model. This mythical symbol of Warsaw is also on the city's coat of arms. Supposedly she lives in the Vistula River and protects the townspeople.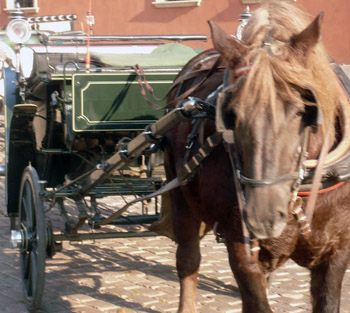 In the fountain's shadows, an unsmiling accordionist sat playing on a bench. Across the square a violinist was doing the same. See if you can come across a, Chopin bench. Each button plays a different Chopin melody.
In the market for a sit-down meal? There is the Stacja Rynek just off the Square at #15. This eatery offers music and a good dinner menu. The Rybak, # 1 on the southeast corner, sports a nautical theme and menu. The Kamienne Schodki at #26 was average, nothing special. Note: most restaurants on the Square are more expensive than ones off the Square.
What's on a Polish menu? Most restaurants we visited offered an appetizer, salad, soup, hot starter (such as mushrooms in cream sauce), followed by the entrée and dessert. Hearty indeed. The morning coffee is most like American; it gets progressively stronger as the day rolls on. Our personal favorites: pancakes with orange sauce, stuffed cabbage rolls and a shot of cherry vodka. Ah yes, and then there's the marvelous variations of cabbage and sausage soup.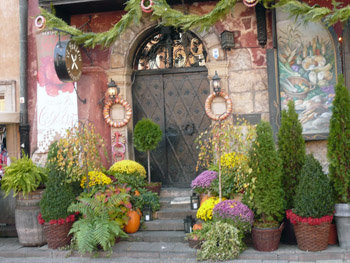 After fortifying ourselves with a late lunch, we headed for the Square's book store. Very few books are in English. Even current American best sellers like, "Steve Jobs' are exclusively in Polish.
As we turned to stroll back to our hotel, we were met by a line of school children wearing fluorescent safety vests. We stepped in behind them and followed them out of the Square.
This year Warsaw will be part of the venue for the 2012 Soccer championships. The Old Town Square is ready.
If You Go:
TRANSPORTATION: You can fly into Warsaw from most European cities. We recommend taking the train from Berlin to Warsaw. It's a great afternoon watching the countryside roll by.
LODGING: We stayed at the Westin. It's a great location within walking distance of the 1944 Uprising Museum, the piece of the Ghetto Wall still standing and the Old Town Square.
Browse Warsaw hotels.
RESTAURANTS: Eating in the Square is more expensive, but well worth it. Even in cold weather the outdoor cafes provide heating lamps.
About the author:
Wynne Crombie has a master's degree in adult education and teaches ESL at a community college outside Chicago. She met her husband of forty-four years in Berlin while both were working for the U.S. Air Force. They have been traveling ever since. They have four grown daughters and three granddaughters.
All photos are by Wynne Crombie:
1. Entering the Square
2. Photos in the Ghetto Museum just outside the Square
3. Reconstruction of Warsaw's Old Town Square
4. Artist waiting for customers in Warsaw's Old Town Square
5. Horse and buggy waiting for a customer
6. One of the many restaurants on the Square