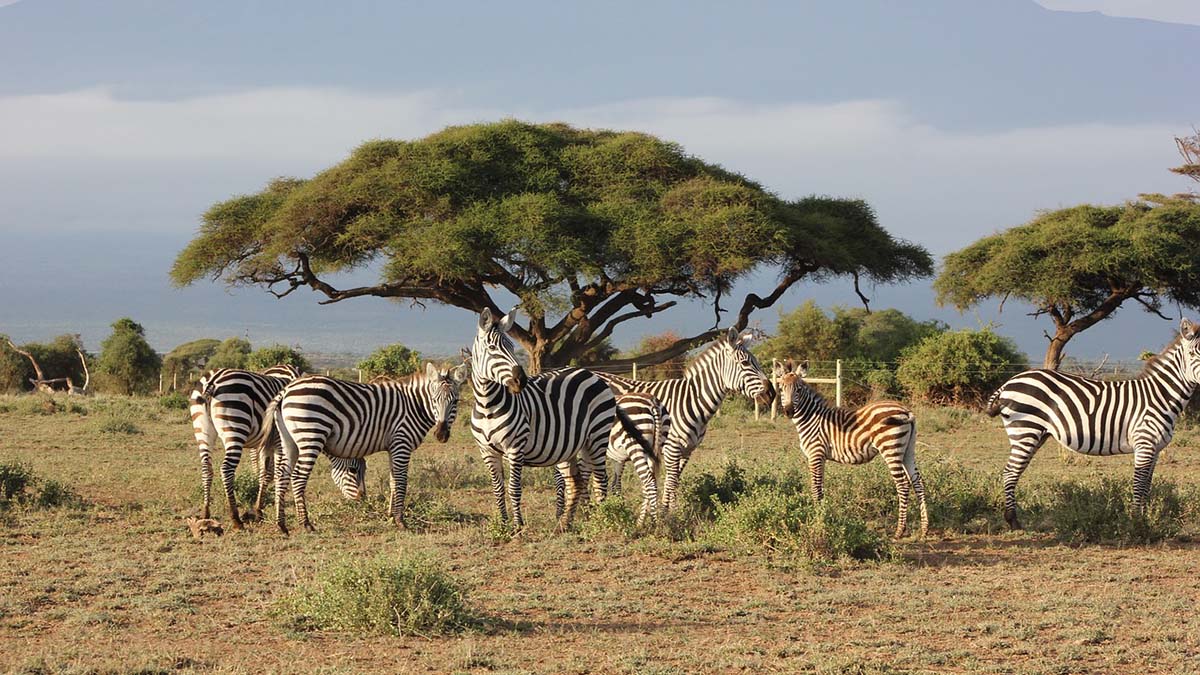 Kenya, East Africa
by Margaret Ann Hayes
Mention the word "Africa" to almost anyone in the western world, and you will receive a big smile. Wide-eyed people invariably tell you they have always wanted to go there. I answer, " Then do it, while there's still time!"
As photo -journalists, my husband and I lived in Kenya, East Africa, for almost 25 years before leaving to retire in Canada. These days, although enjoying life in our new country, I still think about our times spent on safari (meaning a journey, in the Swahili language); evenings in the bush beside a huge log fire; listening at dusk to a lion's roar echo across a warm grassy plain; hippos wallowing noisily from the depths of wide rivers and lakes. Even in my dreams I sometimes see a giraffe flickering its long eyelashes at us as it peers over the top of an Acacia tree, known as an umbrella tree because of its flat, leafy shade.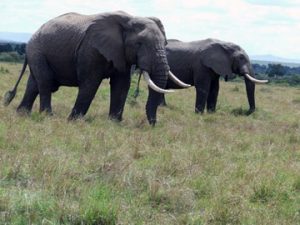 Last November I was invited to spend an extended holiday in Kenya. With a grin on my face, I stepped aboard the cozy KLM plane and was soon on my way to tropical Africa again. Ready to stop dreaming of the past, I was going to renew wonderful memories and maybe experience new adventures.
A day later, at 7 am (saa moja), a huge saffron- orange sun slipped gently over giant mountain tops, bringing to life Kenya's part of Africa's Great Rift Valley below; a land that was split asunder so many millions of years ago. I looked down from the plane's window with awe; dry red earth, massive escarpments and deep rocky outcrops all touched by Africa's early morning glow which brought the Rift Valley into an unexpected wonderment of unexpected shapes and configurations. With mounting excitement, I felt the plane making its slow, steady decent into Nairobi's Jomo Kenyatta Airport.
Later, sitting beside the swim pool in a Nairobi garden, gin and tonic in hand, I watched seeds from the Nandi Flame tree float through the air like a thousand tiny butterflies, each heart-shaped seed set into two see-thru 'wings' which helped them land gently on soft earth where little brown birds waited to eat their manna from heaven. Huge Hadada Ibis, black beaks poking enquiringly in all directions, shouted their greetings from the roof top.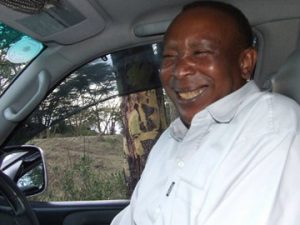 Within a day or two, my friends and I were driven to Lake Naivasha, a 100-square-mile of water about 60 miles west of Nairobi, where over 400 fresh water bird species have been registered. Boats may be ordered for bird watchers to visit famous Crescent Island, a 600-acre volcanic rim in the Lake. Driven by Land Rover to a nearby grass airstrip, we were soon in the air again, comfortably seated in a 12-seater plane, thanks to award winning Bunsons Travel and Safari company, who will arrange any type of safari one could wish for. It was planned we would visit the Masai Mara Game Reserve. An hour later and we were sitting in a safari vehicle looking at elephants!
Moving slowly toward Kitchwa Tembo (meaning Elephant Head), an area in the Mara,there are thousands of plains game to watch and photograph. Herds of buffalo, vast numbers of shy water buck, usually seen peering from behind tall grasses. Lions are often sighted in their prides of about six, rolling about or sleeping under the Acacia trees, resting until the sun goes down when they go hunting. Hippos stay in the river puffing and bellowing until after 7 p.m. when they lumber out of the water to munch grass and bushes for most of the night.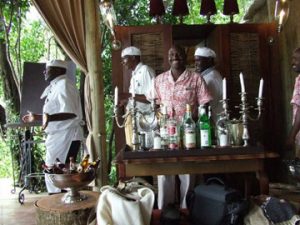 By midday, we were driven through a cool riverine forest to the Bataleur Eagle restaurant where flutes of chilled Champagne were offered and African chefs served exquisite foods. We watched, from the open-sided restaurant, herds of elephants and giraffe wandering over the plains.
In the air again, and flying low at 300 feet, we counted 32 elephants within the first few minutes. Passing over Lake Nakuru, a soda lake, the water was full of flamingoes – one huge pink blush. More photo opportunities.
Coming in to land, in Naivasha, we could see red-bummed baboons at the edge of the forest and Colobus monkeys, their black and white furry capes and tails flowing, staring up at us from tree tops. They looked as if they were laughing.
Just as we were preparing to land, our pilot suddenly rose again over the lake.
"What now?" I thought.
"Oh dear," chuckled the pilot, "warthogs on the runway again!"
From the plane we watched a very old African peddling along the runway on a rusty bicycle shooing the warthogs back to the forest. He was laughing fit to bust.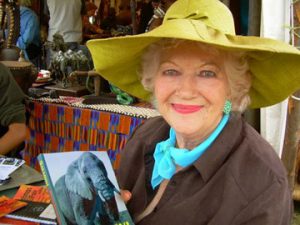 A few days later, and we were enjoying deep- sea fishing in the clear Indian Ocean at Kilifi. A few nights spent at the Driftwood Club, where we lounged in the sun on the long silver beach, was the rest we needed. The Club serves fresh fish, lobsters, giant prawns, sailfish and other exotic sea food brought in each early morning by local fishermen and cooked by African chefs.
There are so many beautiful places to visit in Kenya, from sea level to mountain tops which can reach up to 10,000 feet or more; and of course there is always Mount Kenya at 17,058 feet, Africa's highest peak with its famous Club and golf course set on the lower shoulder. Warmer months are between November and February which makes Christmas a favourite time for booking. The Africans you will meet go out of their way to be helpful and friendly. Most of them speak English as well as their national language, Swahili. Don't wait too long before travelling to this wordly paradise.
If You Go:
For More Information:
Masai Mara Tours Available:
3-Day Masai Mara Safari from Nairobi
1 Day Masai Mara flying Safari
About the author:

Margaret Hayes, born in England, went to live in East Africa in 1958. She became a photo journalist in Kenya during the 'winds of change' period of the 1960s recording stirring events and meeting many of the leaders who took Kenya, Uganda and Tanzania into nationhood. She also lived in Ethiopia for several years before the reign of Emperor Haile Selassie was ended in revolution. She is the author of a book about her Kenya adventures, Safarini: Many Journeys
. Now widowed, Margaret Hayes lives in British Columbia, Canada. She has five children.
Photo credits:
Masai Mara zebras by Vimal Kaul from Pixabay
All other photos are by Margaret Hayes.