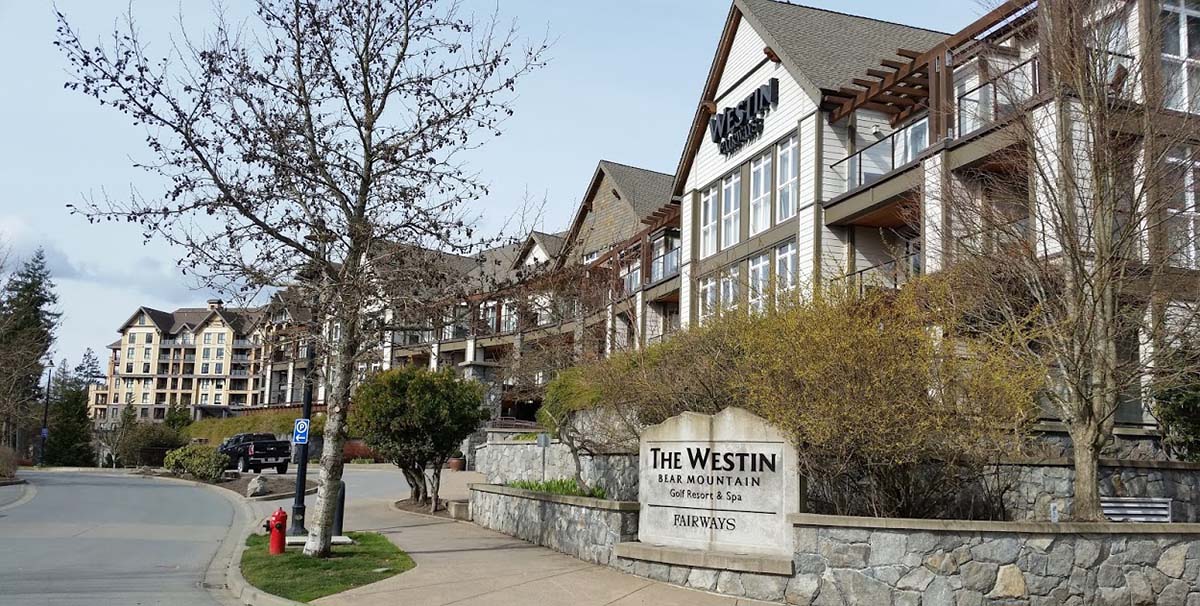 by W. Ruth Kozak 
What better way to celebrate spring than at an idyllic spa resort? A year ago I was fortunate to win a door prize at the BC Travel Writer's Assoc. annual symposium. The prize was a two-day stay at the Westin Bear Mountain spa/golf course part of a resort community on Vancouver Island.
The community of Bear Mountain, located just 20 kms north of Victoria, began as golf resort but has developed into a multi dimensional urban resort community for people who desire a quiet and heathy lifestyle. Built on the slopes of a rugged yet pristine mountain area the resort not only includes the two par Nicklaus Design golf course, but also offers other amenities to the visitor.
 The Westin Bear Mountain Golf Resort Spa is a luxury five-star hotel set in the midst of the urban resort development of Langford. It features spacious newly renovated rooms with expansive views of the golf course fairways and the surrounding mountains. The hotel has a private wine cellar, unique outdoor recreation areas including tennis courts, a Fire Lounge and free access to the North Langford Recreation Centre which is located between the two hotel buildings. Besides the hotel amenities and spa there are biking/walking trails and a golf practice facility. The golf courses features 36 holes providing a perfect experience for year round golfing with panoramic mountain and ocean views.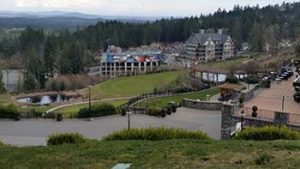 I'm not a golfer but I was excited about going to visit Westin Bear Mountain to enjoy a Spring break. I arranged for a friend to come along, and then much to my delight I found out that the rooms accommodated four people. So I invited two other friends to join us. Because the invitation had to be used by the end of March 2018, I arranged for us to visit mid-March, a perfect Spring get-away after our long wet, west-coast winter.
We packed into one car and got the ferry to Swartz Bay and from there it was an easy drive up Island north-west through Langford to Bear Mountain. When we arrived and were given the room keys, imagine our delight when we found out that our "room" was actually a condo sized suite with a full kitchen, living room with a fireplace and balcony view of the golf greens, a large bedroom with a king-sized bed, and two bathrooms. The couch in the living room pulled out to make a double bed and the hotel provided us with an extra twin-sized cot for the fourth visitor.
The Bear Mountain village is a family friendly location with a Mountain Market nearby for shopping needs and Jack's Place, a restaurant where we enjoyed several meals and entertainment. The Langford Recreation centre located between the two Westin hotel buildings, has a heated outdoor pool and offers year-round aqua-fit classes. The hotel's award-winning spa services offer massages, body treatments and facials drawing from elements of nature to enhance your well-being, offering a full array of spa treatments, relaxation and renewal.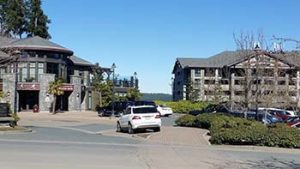 While one of my friend indulged in a full spa treatment at the hotel, we others swam in the warm pool at the Rec Centre, enjoying the lush ambience surrounding the outdoors, and a soak in the hot tub.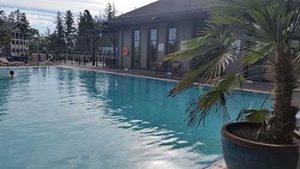 The area surrounding the resort is popular for bikers and hikers and the Rec centre provides bike rentals. We walked around the quiet trails that overlook the lush greens of the golf course, enjoying the quiet solitude of the woodland. One afternoon two of us decided to drive to Victoria to visit the museum, a quick and easy jaunt from the resort.
We couldn't have enjoyed our weekend stay more. The Westin Bear Mountain Resort is an excellent get-away for all the family whether you're a golfer or just want to relax and enjoy nature.
If You Go: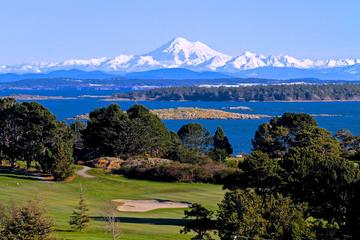 Victoria City Sightseeing Tour with Craigdarroch Castle
The Westin Bear Mountain Golf Resort & Spa, Victoria
1999 Country Club Way, Victoria BC  V9B 6R3
Toll-Free: 1 -800-WESTIN-1
Victoria: (250) 391-7160
North Langford Recreation Centre
Tel: 250-391-3758
Rec@bearmountain.ca
www.bearmountain.ca
On special holidays there is entertainment such as Bear Mountain Music, Halloween Festivals, Canada Day BBQ and the Bear Mountain Run, held for times a year.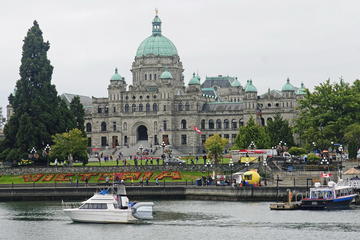 Private Sightseeing Tour: Victoria & Butchart Gardens (13 hrs)
About the author:
W. Ruth Kozak has been an adventurer and travel writer for many years. She enjoys outdoor adventure experiences and travel to places like Greece and England but sometimes local trips are equally as enjoyable especially in the beautiful Canadian province where she lives, British Columbia, on the west coast of Canada.  Read Ruth's blog.
Photos by W. Ruth Kozak