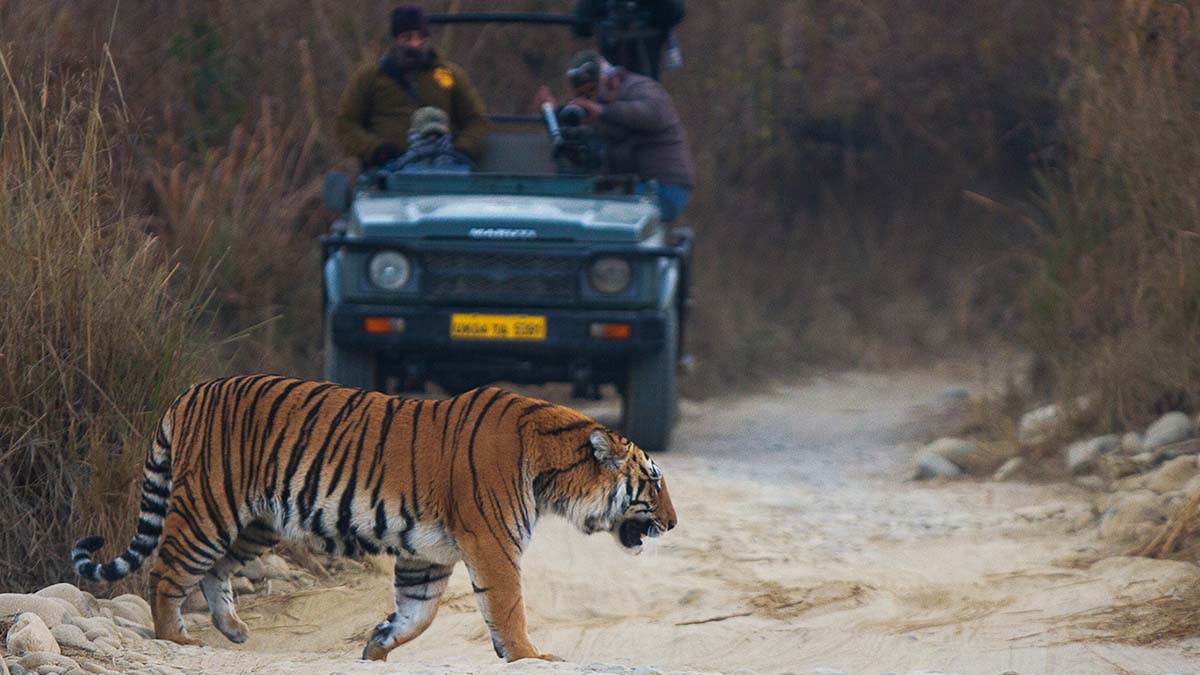 Uttarakhand, India
by Jessica Frei
Everyone deserves a break from the monotonous lifestyle and I am no exception to it. With having said that, there is an exception in my definition of 'a break'. I want my break to be full of adventures; no sitting back at home, no chit chat with long lost friends, all I want is thrill. And this hunger for thrill took me to Jim Corbett National Park.
Located in the foothills of Uttarakhand, this is the oldest established National Park of India and this is was another reason for my visit over there. So finally, last month I headed off for my expedition to the wilderness of Corbett. However in my over excitement, I forgot to take my camera on the safari and this I only came to know after leaving the resort, 'too late to realize'. Nonetheless, being an optimistic person I decided to capture every bit through my eyes. The best part is that I succeeded in it, if I would have clicked images, then they would have been tasting dust in some corner of my drawer. But the memories clicked through the eyes are stored in my heart and today I am pouring my heart out here.
From Delhi to Jim Corbett National Park
I hired a cab and left for Corbett early in the morning at 4′ o clock. Please see, I hate getting up this early in the morning, but that day was an exception. So, after the cab driver tuned in his radio the journey began with a spiritual song and in next ten minutes I guess I was wandering in my dreamland. (I woke up at 4:00 AM, I deserved a quick nap). The next time I opened my eyes I saw the long stretched road, on my query the cab driver told we were at NH24. Meanwhile the cab stereo was playing some dancing beats and I wished good morning to myself.
Then the twists and turns of the road took me to Garhmukteshwar, where people take holy bath in River Ganga. I was surprised to see so many people taking a dip in the river, as if the entire India was there for a bath. From there on we headed to Gajarula. There the cab had its share of tea, I mean fuel and we (me and the driver) had ours. Our fuel was served in the form of hot tea and butter dipped Aloo paratha at the Tadka Dhaba, located just behind the fuel pump. I still can feel that taste in my mouth. Thereafter, with a heavy tummy we went back into the cab, while I was making myself comfortable at the back seat for another quick nap, the stereo gave a wake up call with some more dancing beats. With that music we crossed Muradabad, then Kashipur – the place where the famous Surya Roshni Limited is located, complete industrial area. By the time we reached Ramanagar, I could feel the aroma of the forest. Finally around 10 AM, I was there at the Corbett Leela Villas, the resort I had to stay in.
Corbett Leela Vilas
While I was making online booking for a wildlife resort, I read a lot about the Corbett Leela Vilas. On reaching the resort I realized that all those adjectives used for the resort were not sufficient, as the resort was much more splendid than what I read. The luxury of the resort complimented by my cab lag (when there can be jet lag, why can't be cab lag), insisted me to spend a lazy day at the resort. So I checked in, made myself comfortable, took a shower and ordered the meal, sorry royal meal. The food was just awesome, I am no big foodie but for a meal like that I am ready to turn into one. I was so engaged in licking my fingers that didn't even realize the time, it was 2.30 PM. After that tasty treat I spent a few hours relaxing in the room and then, went for pool refreshment. By the time it started getting dark, I knew I had to travel the next day, so very quickly I finished my dinner and went to bed. The next morning was the big day and that's why I left the bed sharp at 4.30 AM. The resort arranged a drop to the Durga Devi Gate of the Park, where an elephant was getting ready to take us on the wildlife safari.
The Elephant Safari
I remember the last time I sat on an elephant, I was just nine years old. After a big leap, it was the time to climb on the back of the huge mammal. I wasn't afraid, after all I love adventure; however, this was my first visit to a national park and I just got overwhelmed by seeing an elephant welcoming me. Meanwhile, the Mahavat and the travel guide were trying to accommodate everyone (I was accompanied by a group of other tourists) over the elephant. Once everyone was on their seats, the giant mammal took his course of action. We entered the Dhikala Zone of the park and meanwhile I was simply amazed by the sites that fell in the way. The foremost thing was that I was on an elephant and from that height I was able to get a very nice view of beautiful birds. Earlier I only used to hear their chirping, but that day I saw them from a close angle. I wanted to capture them in the camera that I unfortunately forgot in the resort, so I decided to let them fly in my eyes. The blue sky was filled with numerous colorful birds, as if a painter has sprinkled his entire color palette on the canvas.
My pleasurable moments of bird watching got disturbed when the tour guide indicated towards a herd of Spotted Deer. They were so beautiful; I couldn't get my eye off from their sharp features. Their big innocent eyes were so compelling, especially the little baby deer were too adorable to take home. But, I gave my sentiments a break and told myself "you are not at zoo, it's a safari in Jim Corbett". Thereafter, we witnessed various other wild species especially the monkeys who were climbing from one tree to another, making highly annoying noise. Meanwhile other tourists were using their cameras for capturing the wild; I was just capturing the memories of the wild in my heart. Amidst all this chirping of the birds and noise of the monkeys, everyone paused by a big roar! The tiger was somewhere nearby!
Spotting the Majestic Cat – Tiger
Tiger, before visiting Corbett I had only heard and read about these big cats. But that day the royal cat was right in front of my eyes. Due to safety reasons, the elephant was standing at a distance from the furious predator, but I was able to see the tiger clearly. My heart and mind were going through mixed emotions; I was excited, happy but at the same time I was a little scared. With every single step of the tiger, my heart missed a beat. The perfect physic, that royal walk, that carefree attitude in eyes that glow of the fur coat; every detail of the tiger made me deaf towards the guide. I hardly paid attention to the guide as I was busy capturing the tiger in my eyes. The way he roared everyone understood that the entire forest is his kingdom. Though the tiger is a furious predator and his roar gives me goose bumps but his unmatched royalty made me his aficionado. He is undoubtedly the most beautifully dangerous wild creature. Before I could have thought of more adjectives for the big cat, he left us and vanished in the bushes. My eyes wanted more of him and I will be visiting Corbett again just for getting a mere glimpse of him.
The Memories
During my first encounter with the tiger, I actually even forgot that I had a camera or not. However once he went out of sight, for the first time I cursed myself for leaving the camera at the resort. Meanwhile it started getting dark and we moved back to the resort. I was too tired to write a blog about my experience but was too happy to share. Therefore, I ended up writing this piece of story.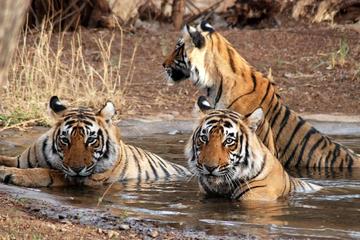 3 Days Corbett Tiger Safari Private Tour from Delhi
If You Go:
LINKS TO SAFARI
Resorts in Corbett
Corbett National Park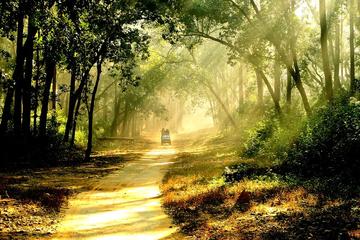 Private 3-Day Corbett Safari Holiday Tour From Delhi
The entry and exit timing varies with seasons.
WINTER TIMINGS:
ENTRY:
Morning Safari: 0730 hrs
Evening Safari: 1500 hrs
EXIT:
Morning Safari: 1030 hrs
Evening Safari: 1700 hrs
SUMMER TIMINGS:
ENTRY:
Morning Safari: 0630 hrs
Evening Safari: 1600 hrs
EXIT:
Morning Safari: 0930 hrs
Evening Safari: 1800 hrs
About the author:
Jessica Frei is a wildlife enthusiast and a traveloguer too, she likes to travel different national parks and wildlife sanctuaries all over the globe. She is currently in India for her wildlife tour. She always shares her experience through articles and blogs.
Photo credits:
Tiger by Soumyajit Nandy / CC BY-SA
Elephant at Corbett National park by Vikram Gupchup / CC BY-SA