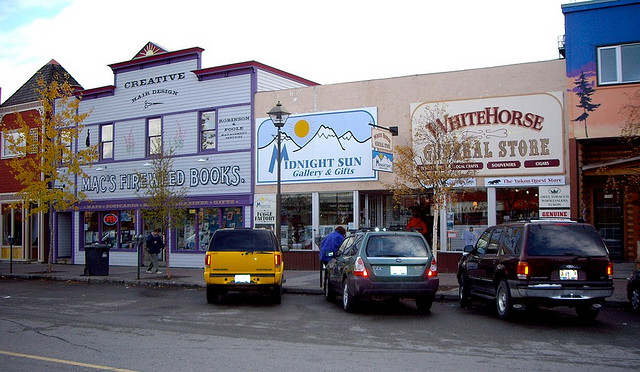 The International Storytelling Festival in Whitehorse
by John O'Reilly
After two long hours thumbing for a ride outside the small Alaskan town of Skagway while holding a large cardboard flap reading "Whitehorse", a small dusty car pulled over. The very nice lady that drove me the next few hours all the way to her native Whitehorse was my first introduction to the Yukon's capital city.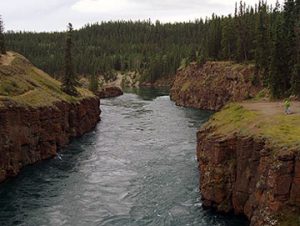 She told me that Whitehorse was named from the White Horse Rapids on the Yukon River, which were said to look like the manes of charging white horses (the rapids are actually gone now because of the hydroelectric dam which was built in 1958). She stopped at various points of outstanding beauty that were off the road and known only to a local. It was the first chapter of my trip to Whitehorse's annual and nineteenth Yukon storytelling festival.
It was August and the reds and oranges were beginning to seep into the wild Yukon landscape. As the sun set I erected my tent in a campsite about two kilometers outside of Whitehorse. While I walked around the large site on the banks of the mighty Yukon River a group of silhouettes cooking food around a big roaring fire noticed me and invited me over to join them. They were European and North American solo travelers who had collected over the last few days from their mutual curiosity of this exotic and friendly part of our planet. I was immediately welcomed in as their latest addition with a huge burger accompanied by a generous choice of yummy toppings and a beer to wash it all down. I was introduced to everyone whom I gratefully remained with until the early hours of a chilly morning.
The group dissolved over the next few days as everyone went on with their respective routes. I was alone again, but the first day of the festival kicked off to keep me occupied. Just outside the town centre were many tents and stalls of various colors and sizes containing all kinds of foodstuffs and storytellers. I was digesting an elk burger as I listened to the first story.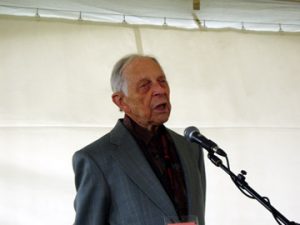 There were performers from many cultures and countries. There was an hilarious Irishman named Billy Teare who asked if he could describe his background. And so he turned around and described the wall behind him. There was a Jamacian man who got the crowd to rhyme the chorus of his poetry. A young Inuit man related hunting stories revolving around his father's remarkable sled dogs. I found his style the most natural. He didn't need melodramatic stress to amplify atmosphere or tension and so freed the realism, simply because they were real and extremely compelling stories.
But the biggest impact on me was an eighty-nine year-old veteran of the Spanish civil war. In spite of many Western governments forbidding their citizens to enlist in the Spanish international brigades, he fought in a Canadian Battalion of what were around 1,500 men.
He recalled once while charging, his friend running along side him was shot but he had to continue. Another time he was lined up in a firing squad after being captured by the fascists. He tried to describe how he and his comrades felt while they waited to be shot. Just then a passing limousine escorted by motorbikes stopped and a commander within inquired what was happening. The firing squad officer replied that they were internationals about to be executed. The commander told him to hold off, as they wanted to round up internationals to exchange for Italian fascists captured by the left. He then spent the next year in a concentration camp where he celebrated his most memorable Christmas with P.O.W.s from all around the world. He said different nations performed various songs and skits. The final song was a hundred strong choir of Austrians and Germans. He said they poured their soul out from the surrounding inhumanity. It was so moving that at the end all the guard's and prisoners cheered "Oles" and hugged each other, losing themselves in that moment of joy.
When he was finished telling his story, the audience were silent for a few moments before giving their most heart felt applause. Deeply moved after listening to his story, I left and went out for a walk under the slow Northern sunset.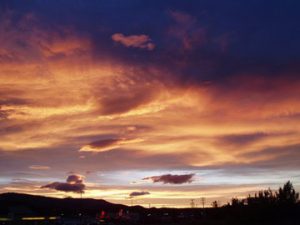 I spent my last two nights in the cozy Beez Neez hostel in downtown, one of the most relaxing and clean hostels I have ever stayed in. The warm, unique character of a place like this is rarely found in hotels. A huge window in the main living area bathes the guest in light that feels like a massage. Here, I again met many friendly travelers and seven of us sat down together for an amazing dinner made by a French guest. After our dinner that night we climbed a small hill overlooking Whitehorse to gaze at the northern lights.
A ticket for the last night of the festival included a huge meal in a club hall. I ate Arctic Char fish, Caribou meatballs and Mountain Sheep. I sat with the Spanish war veteran, his daughter and some local people including a lady in her seventies who had the flame of a thirty year old.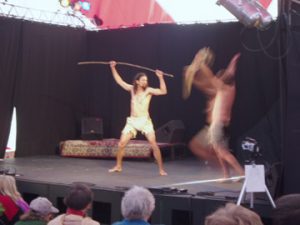 The performances began after dinner. First, we listened to an Indian trio containing a tabla player, a sitarist and a dancer. The drummer vocalized the rhythms before playing them. The sitar was dreamy, like aural opium. I looked around to find half of the crowd with their eyes closed.
Then the storytellers got up. Billy Teare, the Irishman, got his partner to sing an old Irish song. She sang beautifully in Gaelic about a mermaid.
It was an inspiration to hear all those storytellers and their huge range of styles. There was no one-way to tell a story or develop an outlet. The atmosphere was so warm and the performers were so grateful to their hosts. At the after show dinner the cosmopolitan audience and guests exchanged their own stories across the table with the same creative media of language and humor. When I returned home to Ireland, I was able to provide my friends with new stories of my own.
More Information:
BY AIR: Whitehorse International Airport is about two kilometers outside the city. It has scheduled service to Vancouver, Calgary, Edmonton, Fairbanks, Toronto, and Frankfurt, Germany (summer months).
BY SEA: You can travel by sea via the Alaska Marine Highway (famous inside passage). When you arrive in Skagway or Haines (both in Alaska), you will need surface transportation to Whitehorse. Bus service from Skagway is available from Yukon Alaska Tours. Part of the journey (from Skagway to the Canadian border) can be made on the scenic Whitepass and Yukon Route Railway.
BY ROAD: For public bus, Whitehorse has a Greyhound terminus. The international Alaska Highway connects the Yukon with the Alaska, British Columbia, and Alberta highway networks.
Where to Stay:
Beez Neez Hostel: 408 Hoge Street Phone: (867) 456-2333
Robert Service Campground: Is open from mid-May to end of September, 7:30 am to 11:00 pm. Equipped with hot showers, clean bathrooms, drinking water and firewood, and a full coffee bar including fresh baked goods and ice cream.
Yukon Tours Now Available:
Arctic Day: Yukon Wildlife and Hot Springs Tour
Sled Dog Adventure and Pan for Gold in the Yukon
Half-Day Yukon Snowshoeing Adventure
Yukon Summer Dream – Active Summer Adventure
Yukon Sightseeing Adventure by Hummer
UPDATE AUGUST, 2020: The Yukon International Storytelling Festival is currently on hiatus. There is no longer Greyhound bus service available in Yukon.
Photo credits:
Downtown Whitehorse by US Mission Canada / CC BY
All other photos are by John O'Reilly.
About the author:
Born in Dublin, Ireland, John O'Reilly is an artist and interested in everything. He began writing from traveling around the world and his native city. He recently exhibited his first solo show of paintings. He is currently living in Dublin among a huge cluster of friends, family, artists and musicians. His website is: www.jorgallery.com