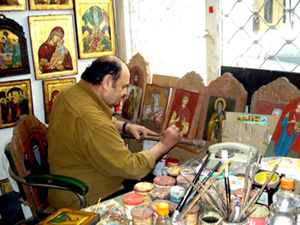 Athens, Greece
by Anne-Britt Hoeibye
In a tiny shop on a narrow, dingy street near Monastraki square in Athens, a man sits at a work table strewn with paint pots, pencils and brushes and painstakingly puts the finishing touches on a gilded painting of the Virgin. The icon painter, Dimitris Zazanis, works alone in his modest shop surrounded by hundreds of carefully crafted icons. Unlike other icon shops in the busy Plaka where touristic boutique-style stores with air conditioning and pretty sales clerks attract customers, Zazani's works alone in his workshop in this backwater street. You'll find him there almost every day until mid-afternoon.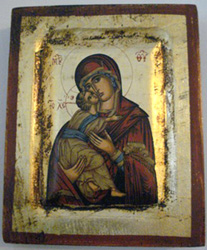 Dimitris Zazanis is a dignified, genteel man who speaks fluent English as well as several other languages. Put in other circumstances he might have had a university career in linguistics. He tells me that he used to have a more favourable location in Plaka some years ago, but due to hot real estate which raised his rent and health issues that put him on the sidelines for some time, he was forced to move his workshop to this other location which, unadvertised, is not a likely place for tourists to come upon. His customers are drawn to his shop mainly by word of mouth. The icons he paints are of high quality and beauty and his prices are probably the lowest in Athens for these beautiful hand-crafted works of art. He has some ready-made icons as well, but always adds his own creative touch to them.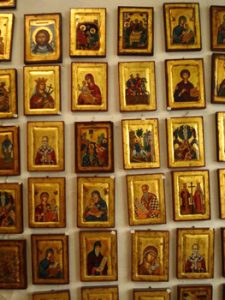 To the visitor, Zazanis' shop is not only a place to sell and display his icons, but it's also a place for social calls. He runs his business in the old fashioned way. He's an outgoing man with a friendly personality. Zazanis loves to talk to his customers and will happily take time from his work to chat and explain the exquisite details of his paintings.
"My icons are precious, spiritual works of art," he says, proudly showing me one of his newest creations, a gilded triptych of the Saints.
His icons cover all the most popular events of the Greek Orthodox calendar as well as presentations of all the mysteries of the Rosary. This makes Zazanis' icons a fine choice for both Orthodox and Catholic name-day gifts. Each time my friends and I are in Athens we visit his shop, and as well as buying icons as gifts for our friends, his icons now grace the walls of our apartments in Norway and Canada.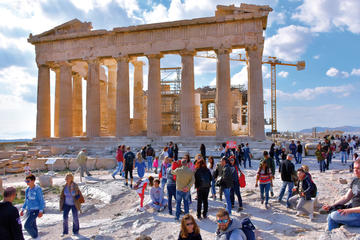 Athens Old Town Small Group Walking Tour: Acropolis, Monastiraki and Plaka
If You Go:
WHERE TO FIND ZAZANIS ICON SHOP
Dimitris Zazanis
Agia Theklas 13, Monastiraki
TEL: (01)210-324-5579
For more information – This is Athens, the official Athens Visitors' Guide online.
About the author:
Anne-Britt Hoeibye was born in Norway. She holds the degree of Cand.pilol from the University of Bergen, Norway, Department of History. She is presently concluding her Doctor Philos degree about the Greek playwright Aristophanes (457 – 385 BC). Her friendship with the icon painter Dimitri Zazanis goes way back to her first scholarship period in Athens 1991. Anne-Britt Hoeibye is a Roman Catholic and over the years she has attained a great collection of Zazanis´ beautiful icons.
Photo credits:
Photos by W. Ruth Kozak, who has visited the Icon shop several times with her friend Anne-Britt and has two of Dimitris' beautiful icons hanging on her walls.