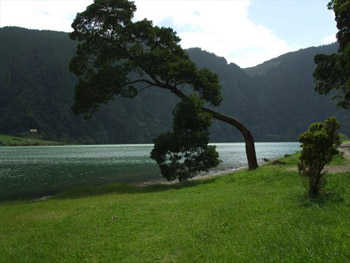 Volcanic Remains in São Miguel, Azores
by Dene Bebbington
A picture in a brochure was all it took. I had to go and see the Sete Cidades caldera.
We're on the island of São Miguel, known as the green island. It's the largest of the nine islands in the Azores archipelago – Madeira's quiet cousins farther out in the mighty Atlantic. Though it stuck, the name Azores is actually a misnomer from when the sailors who discovered the islands mistook buzzards for goshawks – the word açores is plural for goshawk in Portuguese.
Normally I don't want to drive when on holiday, but São Miguel is an intimate island. It's less than 50 miles end to end, and well connected with coastal roads offering glorious views. It's no stranger to tourism yet is mostly free of the throng who squeeze into Europe's well trodden tourist spots. Maybe Madeira was like this a few decades ago. I'm feeling brave and prepared to sacrifice our usual package holiday with excursions to one requiring a bit more effort.
My confidence at driving even on a quiet island is shook not long into the journey to Furnas in the early hours. After coming off the expressway and going through Ribeira Quinta I ignore my wife pointing out a sign to Furnas, confidently thinking I'm taking a different route. It is a different route: one which ends on a narrow country lane! Eventually I realise it must be a road to a farmhouse or country dwelling. By the time I've reversed (head out the window to see and avoid scraping the hire car on stone walls) for about half a mile to a spot wide enough to turn around, my blood pressure is at levels normally experienced at work on a bad day.
The drama doesn't end here. On winding coastal roads a car behind is full of young people shouting, exhorting us to drive faster or pull over. Finally we arrive in Furnas only to have trouble finding the hotel in the village's one-way system. It's gone 3am when we arrive. We have never been so glad to see a hotel.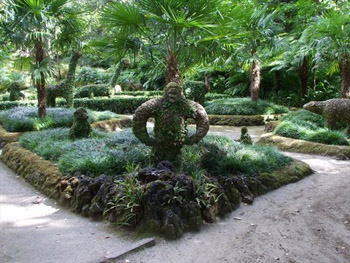 The old spa village of Furnas is our tranquil retreat for a few days before we head to the capital, Ponta Delgada. Here in Furnas is the delightful Terra Nostra Park, a botanical garden created in the 18th century by the American Consul Thomas Hickling. Walking the avenues and winding paths of these gardens we pass monuments, grottos, koi carp ponds, and a whimsical area of animals carved in stone – my favourite is a laughing gorilla stood with hands on hips. Also in the grounds an ochre coloured geothermal lake overlooked by Hickling's house is popular with many visitors for a restorative swim. Perhaps less popular is the yellowing of swimming gear from the water. I opt not to ruin my swim shorts and instead enjoy an hour lazily swimming in the hotel's otherwise empty indoor pool.
It takes us a day to relax and settle into the village. Then it's time to seek out the first crater lake. We slog out-of-breath up a steep hill that soon opens up to a pastoral valley. In the steep sided valley the only people we see are farmers checking on their cattle and crops. Sweetcorn grows in fields next to the road.
My excuse to my wife for doing part of the walk twice is that it's easy to miss the track leading off between trees up into the side of the valley. Unconvinced, she points out a slightly battered sign to the lake on our second lap, no doubt wondering if I'm exhibiting early signs of dementia!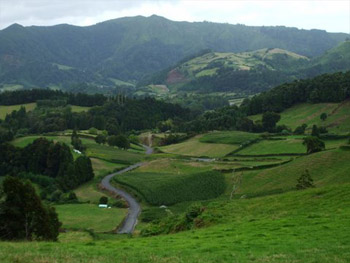 The track could be a tricky ascent when wet and muddy, and is best tackled in dry weather. A few minutes hard walk is amply rewarded by a view across the verdant valley in one direction, and to the other Furnas lake with Jose do Canto's chapel visible at the far side. A reminder of the volcanic nature of this land is the eggy aroma of sulphur wafting up from the fumaroles below. A young bull chained up nearby is less than enthralled by our presence. His distressed calls eventually signal an end to our viewing. We start the trek back to the village in search of somewhere to get a cold drink.
Volcanic heat provides a novel and environmentally friendly method of slow cooking in this area's famous "hollow's meat course" stew. A large pot containing meat and vegetables is put into a hot hole in the ground to cook for several hours. Hearty eaters can sample large servings of the stew in one of the village's restaurants.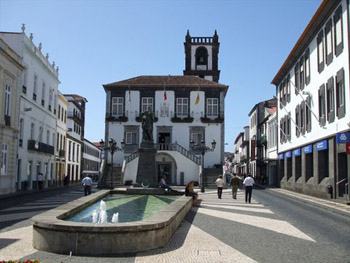 After a mellow few days in Furnas we head to the other side of the island where Ponta Delgada lies in the south-west corner. Here trappings of modern life mix happily with traditional Portuguese architecture – monochrome stone buildings of whitewash edged with black basalt. Squares and narrow cobbled streets in the old part of town can become crowded. So it's with some relief that we find the drivers to be mostly tolerant of pedestrians.
When stopped at a café or restaurant for lunch we're as likely to be sat among local people as tourists. After a couple of meals it comes as no surprise to learn that the Azores aren't known for gastronomy. Most menus are dominated by palatable but unimaginative meat and fish dishes. Our favourite lunchtime haunt is a small café serving pizzas, sandwiches, burgers etc. It's popular with both schoolkids and workers.
Venturing back into the car and onto the roads we head off to the iconic Sete Cidades (Seven Cities) caldera. The half hour drive from Ponta Delgada along the north-west coastal road is a pleasure thanks to the scarcity of traffic. Remarkably tidy roadside verges are often lined with colourful hydrangeas. By now I'm getting used to driving on the right and coping better with left hand drive. Changing gear with the right hand seems unnatural for a while. It only becomes easy when our trip is almost over.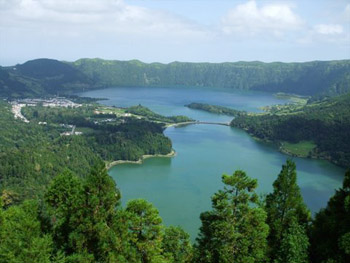 We arrive at the best vantage point, Vista do Rei, where all the brochure pictures of the caldera are taken from. It's located just off the main road opposite an abandoned concrete hotel, just before the road heads down to the village. Our reward is a superb panorama of the caldera: its twin lakes Azul and Verde, and the village of Sete Cidades nestled on the flat land to the western side. Giant blobs of cloud shadows move across the murky green and blue lakes like giant Rorschach tests. From this spot the adventurous can embark on a long walk around the ridge of the caldera on a narrow path edged by vertiginous drops through trees and other foliage.
In the mouth of the caldera a footpath around lake Verde beckons enticingly. The chance to stroll along it between tall evergreen trees growing up the steep ridge and water gently lapping the shore is too good to be passed up. It's September, we see about half a dozen people. Coach parties keeping to schedules mustn't venture down here. While stopped for a picnic at the lakeside it's like being in a land forgotten by the modern world. Only fish occasionally breaking the water's surface hunting insects disturb my reverie. I wish life could always be this peaceful. If our lottery numbers ever come up then maybe we'll find a place to stay in Sete Cidades for a couple of months of the year.
Of course, a place as magical as Sete Cidades wouldn't be complete without a story behind it. According to legend, the lakes were formed from the tears of a king's daughter and her true love lamenting the end to their doomed romance. On the journey home I can't help thinking that if William Blake were alive today and visited São Miguel he'd surely realize that it also deserves the epithet "green and pleasant land."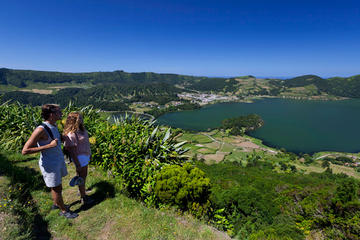 Sete Cidades Hike and Termas da Ferraria from Ponta Delgada
If You Go: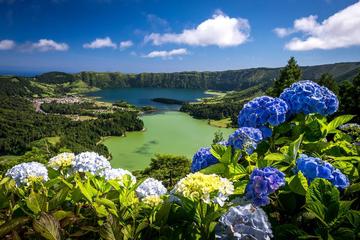 Walking tour to Sete Cidades with picnic lunch
About the author:
Dene Bebbington works in IT but his real passion is writing. He's had articles published in various magazines and online, and in the last couple of years has started to write short SciFi & Horror fiction.
All photos are by Dene Bebbington:
Leaning Tree
Laughing Gorilla
Furnas
Ponta Delgada
Sete Cidades