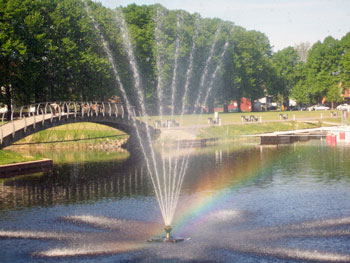 by Marc Latham
South to North West Estonia
Standing amongst windmills and wood-houses
surrounded by trees of seasonal history
in the idyllic Estonian Open-Air Museum
I noticed birds sounding happier than ever.
Was it the birds sounding happy, or was it me? If it was the birds, was it because they were indeed happy, enjoying a sunny warm May day; many for the first time? Or do they always sound happy, because there are still a lot of trees in their vicinity, and Estonia as a whole? I don't know the answer to that, as I was only under them for the day, and it was sunny all day.
As for me, the sunny day had indeed made me happier than I would otherwise have been; and the fact that it had been sunny since I entered Estonia a week before. I hadn't been so happy after getting sunburnt on the second day, but I was over that by now, and could once again enjoy the sunlight brightening new leaves on its way down to illuminating me; or walking out into a clearing and feeling its full warmth.
Latvia to Tallinn via Parnu
I had been sad to leave Latvia, especially without seeing most of its sights, but it felt good to be back on the road, travelling overland in foreign countries. There was beautiful nature the whole journey between Riga and Parnu, Estonia's 'summer capital' on its south-west coast. I could see white-sand beaches through pine trees either side of the border crossing at Ikla. Inland, large birds of prey glided through the sky, while migrating storks foraged on the ground.
Parnu is a spacious seaside resort, with its town centre reminiscent of an Alpine village, and its beachfront wide boulevards and colourful houses reminding me of Florida. It also has green parks filled with trees that diffract the evening sunset into multiple rays that provide a laser show effect.
I thought I was in luck when the sun dropped under high clouds as it started to set on my first evening on the 7km (nearly five miles) long beach, and the next morning was clear. However, a few hours sunbathing in a chilly sea breeze was enough to burn me, and I had to avoid the sun the day after, which was also sunny. I had tried to be quite careful, sunbathing for two hours on front and back; but the latter was during the lunchtime hours, when the sun was stronger.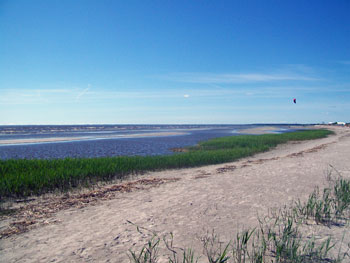 I knew it wasn't Parnu and Estonia's fault, it was between the sun and me; and there had been nothing at all between us. I had been lying on one edge of our world, with only space between me and our star. I'm sure there's a moral there, like Icarus flying too close to the sun in Greek mythology; taking something that looks and feels nice for granted, and not considering the dangers you have been taught are there. If I was a sun worshipper, rather than an admirer, I could have interpreted it either as a message to find another religion, or that the sun was angry with me, and I should worship it more earnestly.
The one positive element to my sunburn was that it convinced me to walk north over the river to the Lydia Koidula museum, having seen a statue and park dedicated to her near my hostel, and read about her in my guide book. The collection is preserved and presented with a love and admiration that seems undiminished, over a century since Koidula lived.
Born Lydia Emilie Florentine Jannsen in 1843, her father launched the first Estonian language newspaper in 1857; he is also remembered in the museum. Lydia's literary talents soon overtook those of her father, but women were not expected to write at the time. So she wrote under the pseudonym Koidula (of the dawn), and became Estonia's leading nineteenth century poet. Her works are considered instrumental in the Estonian independence movement that grew out of Parnu in 1918.
Tallinn – Home of Hell Hunt Tall Inn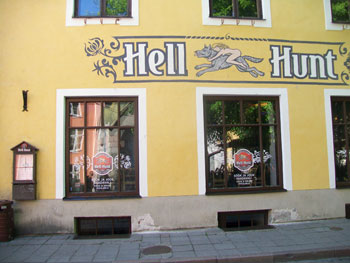 I thought a good way to remember Tallinn's spelling is to separate it into 'tall inn'; especially as one of its most famous inns has the very memorable name of Hell Hunt. The picture on the inn's exterior is also distinctive: a wolf carrying a woman. I was relieved to read that the Estonian meaning is Gentle Wolf, and nothing to do with the hell and hunt of English language.
The pub is situated on one of Tallinn's many cobbled streets, just above the Town Hall. The large square adjacent to the hall has a vibrant atmosphere on a sunny day, with restaurant customers enjoying the amphitheatre of dining on colourful sidewalks filling the other three sides. Tallinn's Old Town is relatively compact, easy to navigate and very well preserved. After walking from the bus station to my hostel I had been delighted to see the Old Town in view, although I hadn't known it was all nearby until I'd entered via Freedom Square.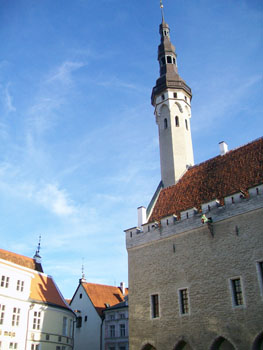 I thought the towering Freedom Monument and terracotta tower might just be isolated landmarks until I saw the colossal Aleksander Nevsky Cathedral halfway up the winding cobbled hill leading north-west. Behind that was Toompea Castle, pink-walled home of the Estonian parliament; designed by Russia's Catherine the Great in the 18th century. On its southern side there are gardens and an impressive view over western Tallinn and the Baltic Sea. A short walk down the hill eastwards and I happened upon the Kohtu viewing platform for an even better view. That's because the Old Town was directly below, with about 800 years of architectural history stretching out nearly as far as the busy port; to the east, moderately high skyscrapers signalled the downtown business and retail district.
Tallinn grew out of fortifications on Toompea hill, with a sizeable community there in the 13th century. Danish Crusaders built a stone castle there after a battle against Estonians in 1219. The Danish sold northern Estonia to the German Order in the next century, when the town wall was also constructed. The inner architecture took shape in the 15th century, as Tallinn prospered within the Hanseatic League of northern European traders. Tallinn chose to join Sweden in the middle of the 16th century, in opposition to Russia, but was taken by the latter at the start of the 18th century, after plague had devastated it over the second half of the 17th century. Estonia gained independence at the end of World War One, but was occupied by Russia again in World War Two, until once again becoming independent in 1991. Tallinn's Old Town was awarded UNESCO world heritage list status in 1997.
Tallinn and Estonia have prospered over the last thirty years, creating a new identity as a modern hi-tech information technology hub. Some of it was inspired by leftover Soviet technology. Having more start-ups per person than anywhere else in Europe won Tallinn the moniker 'Silicon Valley of the Baltic' from the New York Times. Skype is one of its many successes. It also models itself as Scandinavian, and scores highly on quality of life league tables usually dominated by Scandinavian countries.
Last Three Days: Ending in Serenity Born of Serendipity
After walking around the Old Town on the first evening I wondered how I'd fill the other three days I'd booked in Tallinn. I needn't have worried, as I visited the three corners of the city I hadn't visited yet, after arriving in the south.
On the second day I walked around the southern walls of the Old Town and through a ruined esplanade still lined by pillars to the port and booked my ferry ticket to Helsinki. I later found out the ruins are left over from the 1980 Moscow Olympics, when water sports were held in Tallinn. I walked around downtown afterwards. I had a Subway meal, and was served in perfect English, like my experience at Cerrito Burrito the night before.
The next day I walked east to Kadriorg Park. As well as many fields and trees, it has a Swan Lake, Japanese garden and early 18th century palace. The latter was an Imperial summer residence under Russian rule, and now houses the foreign collection of the Estonian Art Museum. There's another couple of impressive big buildings housing art in the park; one historical and one modern. On the return journey I visited Hell Hunt for an afternoon bottle of beer, which oozed strength and quality.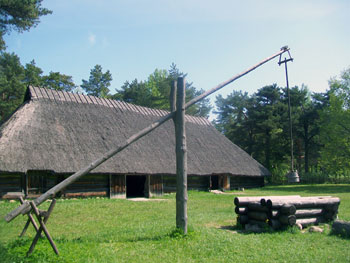 On the last day I walked an hour out to Rocca al Mare for its seaside forest park; by road most of the way, then cycle track into the wood. It was only when I reached a fence cutting me off from more thick woodland, and I looked at my map and guide book, that I realised it was the Open Air Museum. I decided to enter, even though I hadn't seen any of the buildings inside. I made the decision only from the trees I could see, and a feeling of serenity.
So I walked around to the entrance on the road. There are over 100 buildings from the last three centuries, and from all over Estonia. Many are quite similar, but they are all a little different, and have detailed descriptions about their origins. Their similarity does increase the impact of the museum as a whole, making me feel as if I'd really traveled back in time, imagining myself in the Estonia of two centuries ago; kind of how I'd felt while engrossed in M. Night Shyamalan's movie, The Village.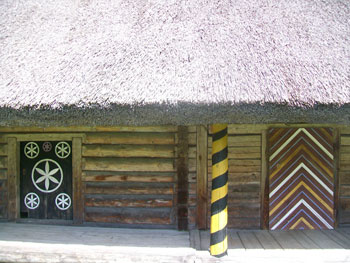 Some of the buildings from 19th century Muhu Island had distinctive painted exteriors, reminiscent of native designs from other continents. There was also a house from the south-east of Estonia, where there is still a community of Russian Orthodox immigrants. There are worked fields, gardens and livestock; churches, windmills and wells; and an art exhibition in one house. Trees lined the paths, and most of the museum grounds are still forested. As I said in the introduction, the birdsong was constant, and sounded very uplifting.
I had a light meal in the restaurant before leaving. It's housed in an inn originally built in Kolu, Harjumaa district in 1840. It was relocated to the museum in 1968, and rebuilt by 1973. I had seen a beach across the bay on the morning walk; beyond bullrushes vegetation and bountiful birdlife, such as swans, ducks and cormorants; and treked around to it on the cycle track. The track and beach were busy on a warm sunny evening. I took my shoes and socks off and paddled in the water. I was surprised to find the gentle waves warm, after the sea off Parnu had been cold.
The sun was nearly setting; sending a long line of light across the water. There had been strong sunshine nearly all the daylight hours of my week in Estonia; although I hadn't always wanted it! I'm trying to follow the example of Viking King Canute (Cnut) there, showing I have no powers over nature, as he was supposed to have been doing, although the tale is often misunderstood as him thinking he could control the waves.
To confuse it further, I do not believe that a god controls nature either! I think a god could have created nature a long time ago, but only nature shapes nature now. Mankind can affect nature, but is also a part of nature. At the moment, and I hope for the foreseeable future, Estonia's relationship with nature is harmonic, and an exemplary example of conservation in the heart of Europe.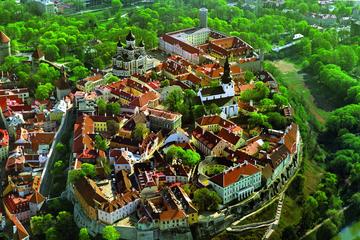 Medieval Tallinn: Day Trip from Helsinki Including Lunch
If You Go:
♦ There are cheap flights from the U.K.
♦ I entered overland on an ecolines bus from Riga.
♦ I exited on a Linda Line ferry to Helsinki
♦ I stayed at the Lõuna hostel in Parnu, and United Backpackers in Tallinn, booking at www.booking.com
Reference
♦ Guide Book: The Rough Guide to Estonia, Latvia and Lithuania
.
♦ Tallinn history online
About the author:
Marc Latham travelled to all the populated continents during his twenties. He studied during his thirties, including a BA in History, and spent his forties creative writing. He lives in Leeds, writing from the www.greenygrey3.com website. He has had a Magnificent Seven books published, most recently completing a trilogy of comedy fantasy travel by web maps and information. The blogged book's theme might have inspired the return of the X Files. The Truth is Out There and all that, and the books are available on Amazon and other bookstores.
All photos by Marc Latham:
Parnu Fountain
Parnu Park
Parnu Beach
Hell Hunt Inn
Tallinn Town Hall
Well and house in Tallinn open-air museum
Muhu house in Tallinn open-air museum