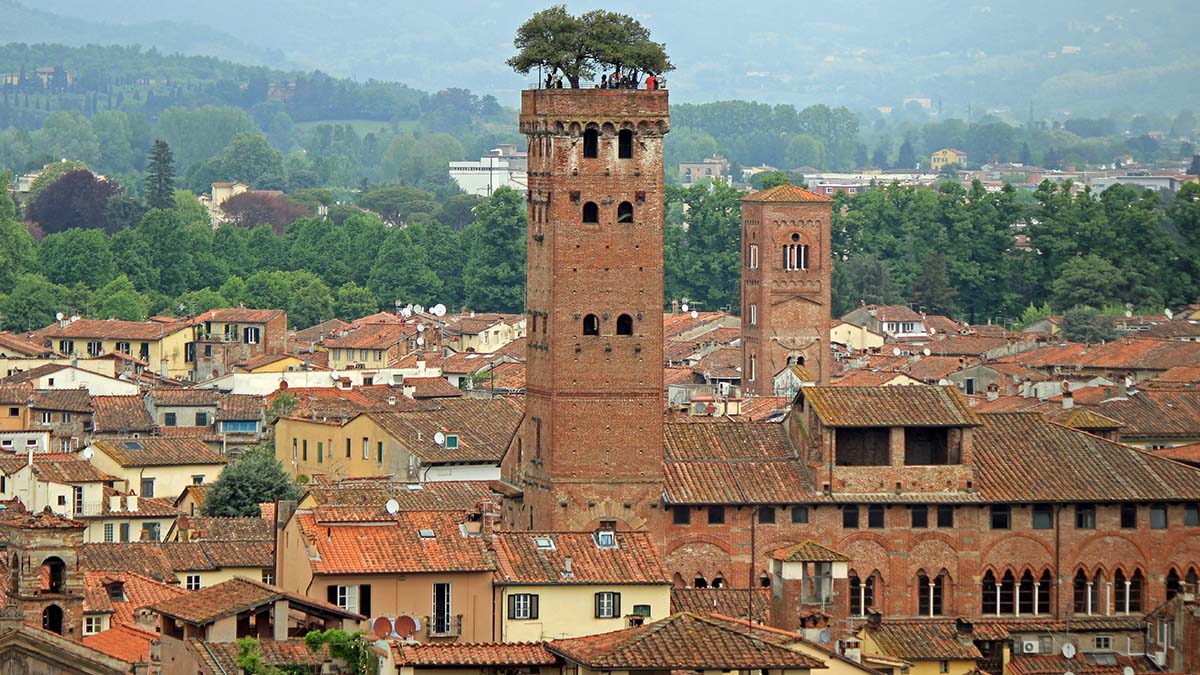 by Veronica Yeung
If Rome is for Caesar, then Lucca is for Puccini. Lucca in Tuscany is the birthplace of Giacomo Puccini (1858-1924) who is one of the world's most beloved opera music composers. Being an opera lover, I decide to visit Lucca in 2008 to celebrate the 150th Anniversary of the Maestro in his home town. Little did I know that my day in Lucca would turn out to be a chain of dramatic and emotional events just like scenes from an Italian opera.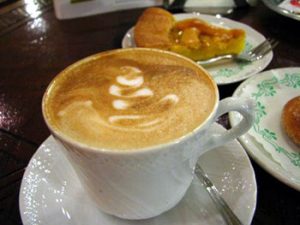 Lucca is a medieval quaint town in the north-western part of Tuscany region in Italy. The old town is surrounded entirely by 16th century walls with magnificent Renaissance architecture. Originally this wall was built by the inhabitants for defence. Nowadays, it has been transformed to a beautiful tree-lined pathway for people's enjoyment.
There are two significant dates in the history of Lucca. Firstly, in 1847 it was officially included in the region of Tuscany and the town shared the wealth and flourished both economically and politically. Secondly, in 1858, it was the year when Lucca's favourite son Giacomo Puccini was born. Puccini's contribution to the opera world is immense. His great works include Madama Butterfly, La Boheme and Tosca etc. Puccini had always maintained a strong relationship with his birthplace. Not only did he donate his musical scores to the City of Lucca, he played an active role in preserving the city's monuments and institutions. From August to December 2008, the whole town celebrated the 150th Anniversary of Puccini. This is certainly a festival not-to-be-missed by any opera lover of the world.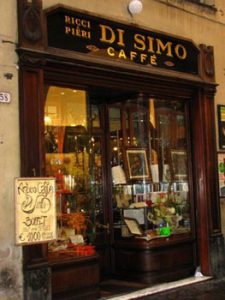 On 30th November 2008, I take a short train ride from Florence to Lucca. The first thing I do is to visit Caffe Di Simo. This is no ordinary cafe. It is "the" Cafe that was frequented by Puccini and all his like-minded musicians, artists and poets of Italy. Inside the Cafe, Puccini's portraits, books and music scores are displayed everywhere. Even though I have never enjoyed coffee because of its bitter taste, I decide to have a cup of Cappuccino in this Cafe as my personal tribute to the Maestro. To my pleasant surprise, the Cappuccino turns out to be exceptionally agreeable to my taste bud.
After soaking up the ambience of Puccini inside Caffe di Simo, I then pay my respect to his statue which stands in a small piazza, square of the town. It is an absolutely magical moment to be face-to-face with the Maestro. The sculpture is an extraordinary piece of art. The expression on Puccini's face is so vivid that it can breathe life and take me back in time with him. At that moment, my mind is entirely filled with his beautiful operatic tunes while my heart is full of passion and love. I wish I were born in his era and would meet Puccini in person…. I dream I would be his soprano, his heroine and his lover….
Suddenly my day-dreaming with Puccini is awakened by thunder lightning and heavy downpour. I am brought back to reality by the rain and I also realize it is about time to attend the Puccini concert in the Church of San Giovanni. By the time I arrive at the church, my clothes and boots are all dripping wet. Being quite self-conscious of my condition, I sit myself down on the last row of the seating even though the whole place is empty at that time.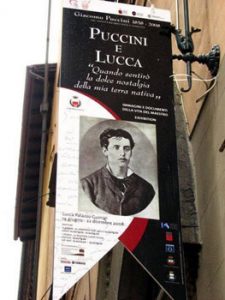 The concert start time is delayed by almost half an hour. I believe it is because of the terrible weather. At last, the Tenor and the Pianist come out to the stage and the concert begins while I am still the only audience! The Tenor starts singing one of my all-time favourites – Puccini's famous aria in Tosca "E Lucevan le stelle" "The stars used to shine there". It is a song about a man's undying passion for his woman Tosca and his eternal love for life before his death. The Tenor looks straight into my eyes and his voice pierces through my heart like a dagger. I feel the pain of love and the joy of life. I am both in awe and in Heaven. Puccini's music fills my heart and soul and takes me back somewhere in time. I must have my lucky stars shining on me in Lucca. I am totally overwhelmed and enjoy every minute of my private and personal concert of the Maestro.
I say to myself "What a beautiful evening!" Unfortunately, the weather outside is far from beautiful. After the concert is finished, I need to take the last train back to Florence. The downpour continues and by the time I reach the platform, I am once again soaking wet from head to toe. The winter evening chill makes me shiver. Just when I am feeling miserable and sorry for myself, I see a friendly face appearing in front of me. It is an Italian woman and she greets me with a warm smile and a "Buona sera" "Good evening". She tells me the train will be delayed due to the bad weather. I really appreciate her kindness to a stranger like me. Therefore, we start our broken Italian and broken English conversation. I notice she is wearing a one-size smaller tight mini skirt with exceptionally high heels and very colourful make-up.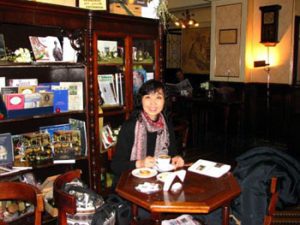 Some locals start to arrive on the platform and they all give her the "look". When the train arrives, I wait for her so we can sit together and talk further. We share some of my cookies; we share our conversation; we share our laughter; and we even share some music – we sing some Italian old songs together! We are like two school girls having fun – who cares what others think of us? Our feelings are genuine and honest. Suddenly, she becomes quiet and I turn to see what happened. Tears are rolling down her face and she is overcome with emotion. She tells me that I am very kind to her while her own people are not. I am speechless. All I can do is to pat her shoulder. Before long, the train arrives at her stop. She quickly wipes away her tears and gives me a warm hug before she steps out onto the platform. When I am waving her good bye from the train, I see her face has changed. It is not the same school girl who was eating, talking, laughing and singing with me. It is the cold face of a woman back into the harsh reality of her world.
I cannot stop thinking about the moments we shared together, the compassion without judgement and prejudice. The rain keeps falling. All the way back to Florence, I stare out of the train window into the darkness. It is windy, it is rainy, and it is wet, my eyes, my cheek and my neck…. I am dripping wet again, except this time, it is not from the rain.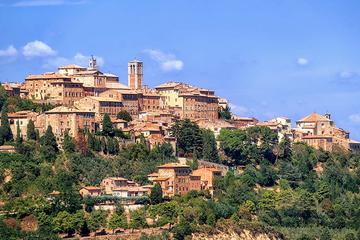 Tuscan Wine Tasting Tour from Lucca
If You Go:
How to get there from Florence:
By Train: Lucca's train station is two blocks outside the Wall (enter at Porta San Pietro) on the south side of town in Piazza Ricasoli. It is on the Firenze (Florence)-Viareggio train line with frequent service to Florence. It is 85 km west of Florence in Northern Tuscany. From Florence Santa Maria Novella Station, the train ride takes from 70 minutes to 1.5 hours.
By Bus:
Frequent buses run daily between Florence and Lucca from Piazza Verdi, adjacent to the Lucca Tourist Office. The bus ride takes 1 hour 45 minutes.
By Car:
Take the A11 Highway (Firenze-Pisa Nord), exit at Lucca. The drive takes about 1.5 hours.
When to get there:
Lucca gets crowded in mid-summer (not to the extent as in Venice or Rome) and some restaurants maybe closed. Visit between April and June is ideal. Early autumn is also pleasant as the rainy season starts from late autumn to early spring.
Opera Lover's Must-Do: Puccini events in Lucca:
More than 1000 on-going festive events celebrating Puccini and his music in his home town Lucca have been organized till 2011. Please visit the "Events" section for detailed programme and calendar of events: www.puccinielasualucca.com
Caffe di Simo (Puccini's Cafe): Via Fillungo 58, Lucca, Italy
Most of the furniture and settings still remain the same as the days when Puccini and his like-minded musicians, artists and intellectuals frequented this cafe.
About the author:
Veronica Yeung is an independent traveller with a passion for Europe. Her love for the old world charm has led her to explore: England, Austria, France, Germany, Holland, Croatia, Slovenia, Russia and her favourite – Italy. Currently, she is working on a Travel Memoir about her experiences in Italy.
Photo credits:
First Lucca, Tuscany photo by Marian Brandt on Unsplash
All other photographs are by Veronica Yeung.