Land of the Unexpected
by Patricia Morris
If you want to be transported into another world visit Papua New Guinea. Although my eighteen month stay in the country was not always filled with positive images, an idyllic background surrounded me. From the town site of beautiful Madang, palm trees sway in the warm breeze, and turquoise waves lap on the beaches of deserted islands. Volcanic rocks hug the shoreline and the mountains lush with tropical forests rise against the horizon. It is literally a scene from Robinson Crusoe.
I worked and lived just out of town on the campus of Divine Word University. My job as Director of Quality Assurance had me traveling the country auditing and accrediting colleges and nursing schools that were affiliated with DWU.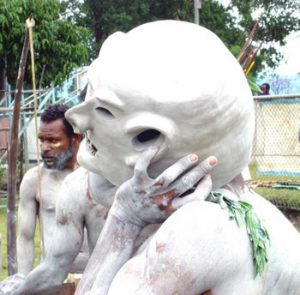 Papua New Guinea (PNG), situated north of Australia, is often described as one of the world's last frontiers. Geographically, it's an island the size of California, as untamed as a swamp with jagged limestone crags and mossy tropical forests. The climate ranges from suffocating heat to highland chills. The island is divided into two countries. The western side was named Irian Jaya renamed in 2002 to West Papua, while the eastern side is Papua New Guinea. The country gained its independence in 1975.
Due to the rugged, mountainous topography, the people have lived cut off from one another until recent years. This has led to a vast array of different indigenous communities, each with their own language and culture, making PNG utterly unique. It is a country rich in cultural diversity with more than 800 different languages. The official languages are English, Tok Pisin and Motu. There are several thousand separate communities, most with a few 100 people. (PNG mudmen above right) Divided by language, customs and traditions, these plumed, pearl-shelled villagers and hardy hill people sometimes engage in tribal conflict with their neighbours. The introduction of modern weapons and migration into urban areas has magnified the impact of this lawlessness.
PNG is a country rich in minerals, oil, fertile soil, forests and fishes. Most of the land is traditionally owned and farmed by the women. Each region offers distinct frontiers. The East Sepik Province in the northern region is only three degrees from the equator and hosts many coastal villages. Inland, the dense rain forest and the Sepik River is home to a very different way of living which has changed little over the passing of time. Over 700 miles of meandering waterways flow through this region, out to the sea. Here the indigenous people live their lives in much the same way as their ancestors before them, steeped in ancestral customs and religious beliefs.
In the Highlands, it's spring all year round in the vast areas of lowland, hills and pristine mountain forests. One September, I set off in a minibus to attend the annual Goroka Cultural Festival (called a Sing Sing). The daylong journey took me through untouched areas on a road that was in disrepair. Midway into the trip there a tree was down across the road and a group of locals stopped our vehicle. Our driver ignored their request to pay a 5 kina road fee and drove through the group. They ran after us throwing rocks, tree branches and bush knives. The damage to the van was clearly more than 5 kinas (equal to CA $1.84).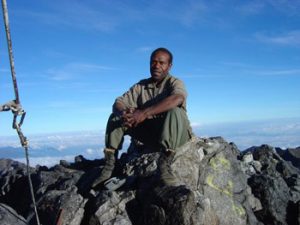 One of my most memorable trips was hiking up the highest mountain in PNG, Mt. Wilheim (4,509 metres) located in the eastern Highlands. Accompanied by a young British volunteer worker (left), I ventured into the mountain wilderness, warned by the locals not to travel without a guide. Highlanders are known for their tribal warfare and aggressiveness (as I had witness during their attack on the vehicle when I'd gone to the Goroka Festival.)
We were up at 2 a.m. in order to reach the summit by sunrise. The sky was filled with bright stars. I led the way with my headlamp, as my companion's flashlight was not working. At dawn we could just make out the scenery of mountain flowers. We reached the peak just before the sun hit the top of one of the peaks. That was one of the most beautiful moments I experienced in PNG.
After resting, we started the hike back down, a marathon forty kilometres, carrying our packs. People along the way assured us there was a monastery 'just ahead'. We kept walking but didn't find the monastery. Finally we met a woman trudging up the mountain carrying a pot on her head. She told us that it was still another two hours away. We arrived there after dark and woke the nuns who gave us a room, a bed, a hot shower and a meal.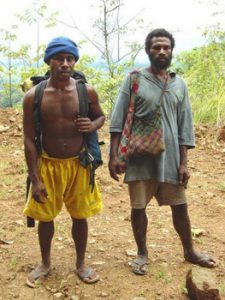 We set out by foot again the next day and six members of the Warriors-Brahmin's Under 21 rugby team saved the day for us. (Photo right) They showed us shortcuts down the steep trail, and offered us bananas to eat. They even carried my pack and transported me across the river. They left us at the road, surrounded by a circle of betel nut chewing men while we waited for the mini-van to take us to the highway and return us to Madang.
Throughout the country are exceptional tropical rain forests where many species of unusual wild-life can be seen, from tiny tree kangaroos to the enormous Queen Alexandra Birdwing butterflies. PNG is one of the world's most exotic birding destinations, with large numbers of birds-of-paradise (the national bird), fabulous kingfishers, pigeons and parrots. There are specialized tours offered for tourists who enjoy bird-watching.
One interesting hike is the Kokoda Trail, a sixty kilometre trek located close to Port Moresby the island's capital and centre of administration located on the S.E. shore of PNG on Fairfax Harbour. Established in 1873 by the British, this was the site of one of the bloodiest campaigns of WWII. On July 21, 1942 the Japanese navy was defeated in the Battle of the Coral Sea and later, in 1943 when the Japanese unexpectedly began to march over the Owen Stanley Range of mountains with the intent of capturing Port Moresby, they were routed by the Allies. Had they succeeded, the mainland of Australia would have come under dire threat.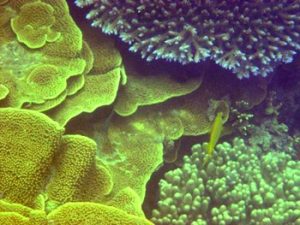 Besides hiking, PNG has some of the best diving in the world, with countless wrecks of boats and airplanes hidden in the seas offshore. My greatest under-water thrill was getting into the pilot seat of a submerged but intact Cessna 401 off Wongat Island. I spent nearly every weekend diving around Madang. Besides exploring sunken ships and planes, it was a thrill to swim by spectacular reefs, black coral trees and gorgonian fans, among schools of clown fish, soldier fish, angelfish and snapper, sometimes followed by barracuda as they hunted for prey.
The majority of the population of PNG are Christians and a large number of missionaries reside in the country. The non Christian and some Christian indigenous populations practice a variety of religions that are an integral part of their traditional culture, mainly animism (spirit worship) and ancestor cults.
One of the women I jogged with once told me that before she went running she always made sure that no one got strands of hair from her hairbrush. This puzzled me. "Why?" I asked. "So nobody can collect them and cast a spell on me to cause me harm." She went on to explain why the new students in the university often didn't like to give out their names. "If you don't know my name, it means you don't 'know' me, because, if you did you could cause harm to me." I had always wondered, when I walked around with my name-tag bolding announcing who I was, why the nationals didn't want to share their names.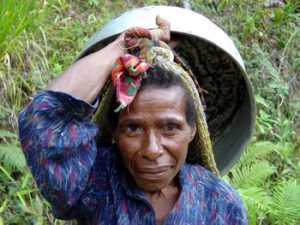 Most of the indigenous people of PNG adhere strongly to their traditional social structure which has its roots in village life. In the villages of PNG, there is a wantok system meaning "one talk". People in your tribe are obliged to help you out and in turn, you help them. The wantok will get you out of jail as well as put a roof over your head in times of hardship. This is one of the country's strengths, but it can also be one if it's weakness as the tradition is frequently exploited and abused. As more people become successful, their wantoks come to them expecting handouts.
Shopping at the markets in PNG is a slow, crowded and noisy affair. I browse among the market stalls while the loudspeakers announce religious stories in tok pisin, the local language. Groups of men lounge around spitting red betel nut juice while the women, dressed in colourful betel-stained meri blouses sit with their produce. The meri blouses are not traditional garments, but were introduced by the German colonists who insisted on the 'heathen' women covering their breasts. Each vendor sells the same: cabbages, cucumbers, coconuts, carrots, tomatoes, mangos, bananas, papayas and the most succulent pineapple in the world. Some women sit in the shade under tarps with their fruit and vegetables arranged in small pyramids on tables; others sit on the ground in the unrelenting sun.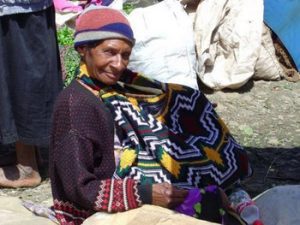 When I return to my truck in the parking lot, I discover a stranger poised to steal grapefruit juice out of the unlocked back seat. You can't let your guard down here. Once I even had clothes stolen off my clothesline!
Although my eighteen months of life in Papua New Guinea was not a travelogue entirely filled with positive memories, the beauty of the country, the novelty of diving every day in 28C water, the remarkable landscapes, and the rich cultural experience of living close to many tribal people far outweighed the unpleasant experiences. There are always new discoveries for the traveler to PNG. If you want to be transported into a new world, I recommend you go there. Only 20,000 people visit the island each year. You'll need plenty of time and plenty of patience to deal with island travel, but after all, it is the last frontier.
If You Go:
There are international packaged tours to PNG for birding, diving, and hiking.
When to go: avoid the rainy season (December through March). Dry season is May through October.
Papua New Guinea Tours Now Available:
4-Day Mount Hagen Cultural Show in Papua New Guinea
5-Day Rabaul Mask Festival in Papua New Guinea with Meals
7-Day Kenu and Kundu Festival in Papua New Guinea
Papua New Guinea Budget Sampler and Highlands Tour – 9 Days
10-Days Exploring New Ireland and Rabaul in Papua New Guinea
For More Information:
About the author:
Patricia Morris, BA, MEd, CHRP is an older adventuress who calls Vancouver, Canada home but is happiest as a 'meri bilong longwe ples', (a woman belonging to a longway place). She worked as Director, Quality Assurance at Divine Word University, in Madang, Papua New Guinea 2003-2005. Her passion is learning, and whenever possible she travels off the beaten track. To read more about Patricia's eighteen months in Papua New Guinea, visit her blog: www.travelblog.org/Bloggers/Global-Adventuress. Contact: trishamorris@shaw.ca
Photo Credits:
All photos are by Patricia Morris.