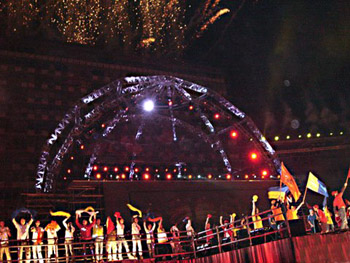 by Donna Yuen
Fireworks lit up the sky and a melody echoed across the stage as some of Israel's top performers prepared for one of Tel Aviv's grandest nights. Cheered on by over 100,000 enthusiastic fans, Rabin Square was filled with exuberant spectators ready to partake in the celebrations of Tel Aviv's 100th Anniversary. The Israel Philharmonic Orchestra led by Zubin Mehta opened the show playing pieces by Tchaikovsky and Strauss.
Celebrating its birth as the first Hebrew city, Tel Aviv has had a tumultuous history, yet it continues to grow and progress into a modern metropolis. In this 100th Anniversary year, the city has actually been celebrating for months now. This evening's free concert is the culmination of over eighteen months of hard work from a small dedicated group who organized the event.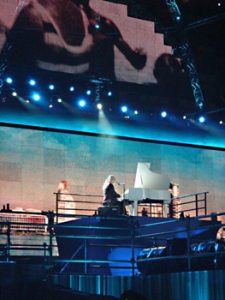 I squeeze my way through the animated crowd trying to get a favorable vantage point to watch the show from. Shlomo Gronich begins his performance on the grand piano (photo below), which is soon followed by an army of rhythmic drummers beating out a tune on oil drums. Choirs of children soon follow in song and dancers take the stage to display the obvious fact that Tel Aviv knows how to throw a party.
Historical images dance across the enormous screens in the background to celebrate Tel Aviv's history and the famous people that it has produced. Energetic dancers with flags take the stage to pay homage to Tel Avis's basketball team.
I stand there, swaying to the music as cannons shatter the dark sky with millions of pieces of confetti giving a whole new meaning to a place, often described as a white city rising from the sand. I am jostled and jolted by the spirited crowd. I quickly apologize to the man I have accidentally shoved. He responds with a friendly and forgiving smile. It is a welcoming smile I have seen many times in Israel. He gently pulls my arm and says, "Please come and stand in front of me, I am much taller than you."
I accept his kind gesture and change my location to obtain a better view. I explain to him that I had lost my guide within the first few minutes of entering the crowd at Rabin Square. He tells me his name is Avsha and his friend is Shay and that they would be happy to be my guides for the night. He proceeds to translate and explain the events of the evening for me, describing who the performers are and what it all represents.
The audience soon turns their attention to the half-dozen acrobats scaling down a white wall clutching large paintbrushes. They are Circus Y, a local acrobatic group. Dangling in mid-air, they artistically paint the number 100 on the large canvas as the crowd roars their approval.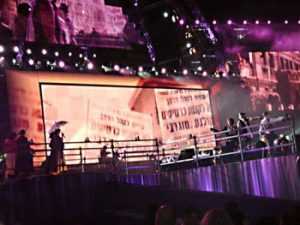 Alona Daniel performs "On the Rooftops of Tel Aviv" as the spotlights set the nearby skyline ablaze. A band is performing on the rooftop of a nearby building as spectators below crane their necks skyward to see the current act. I turn towards Avsha, he stands with his right hand over his heart, his expression is filled with pride as he says, "I hope you are enjoying Tel Aviv." The neon-colored lights are reflected in his moist eyes, I look around admiring the crowd. Their emotion, passion and pride for their city and country are evident as joyful faces peer back at me.
Dana International begins her high energy performance inspiring the crowd to dance. Avsha turns to me and explains that she was born as Yaron Cohen and is a famous transsexual performer. In a country so religious, I am pleasantly surprised the Israeli pop singer has attained such fame. She performs 'Tel Aviv Never Sleeps'.
Tel Aviv never sleeps…
Tel Aviv keeps fighting
Over the same thing and no one listens…Tel Aviv asks, Tel Aviv breathes,
Tel Aviv never sleeps.
As the concert ends, I finally walk away from the all-night dance party to make my way back to my hotel. Echoing in my ears is Dana International's "Tel Aviv Never Sleeps".
I smile to myself; truer words could not describe this city. Yes, this is Tel Aviv.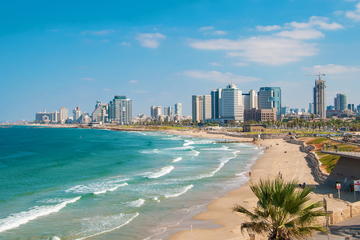 Full-Day Tel Aviv City Tour
If You Go:
Where to stay:
The Dan Tel Aviv, David Citadel Jerusalem: www.danhotels.com
Israel Wonders: www.goisrael.ca
El Al Airlines: www.ELAL.co.il
About the author:
Donna Yuen has written and photographed for a variety of publications. She has appeared on CBC Radio One and has worked as a columnist for GSA Travel Magazine. She has been published in a number of daily and weekly newspapers including The Georgia Straight, Vancouver 24 HOURS, The Montreal Gazette and The Vancouver Sun. Contact: travelmoments@shaw.ca.
All photos are by Donna Yuen.