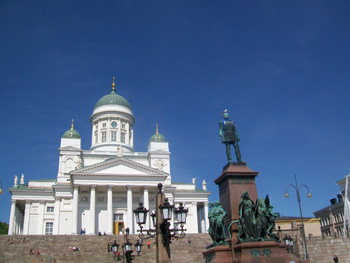 by Marc Latham 
After walking half-way around an island on the edge of Helsinki I thought the buildings ahead looked ancient; my first thought was that they were old beach huts still used occasionally. As I walked past the first few with nobody else around, the tarmac path giving way to a dusty earth one, flanked by pine trees, it felt for a few moments as if I had literally travelled back through time.
However, a few steps farther and I reached some people looking at bigger houses, with information about them outside, and realised I must be in some kind of open-air museum, having recently visited one on the edge of Tallinn in Estonia. However, there it was all fenced off, whereas this one you could just walk straight into. I later noticed you had to pay to go into some of the bigger buildings, but could walk around them freely.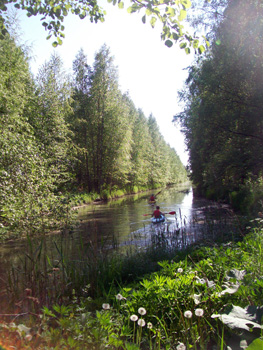 It was another delightful walk through historic buildings, on a bright sunny day similar to the one I'd enjoyed in Tallinn. Whereas the open-air museum in Tallinn felt like a circular closed community, this one in Helsinki was like a village on an old road, with most of the houses lining the path.
I had never heard of the Seurasaari open-air museum before, and didn't even know the name of the island was Seurasaari. I was also delighted to see its colloquial name is Squirrel Island, after I thought I saw my first red squirrel scampering along a ridge between centuries-old houses and the pine forest.
I'd set off that morning, my last full day in the city, to hike in Helsinki's Central Park, north-west from where I was staying, after I'd already walked in the other regions of Finland's capital in the previous two days of my visit. I walked through the middle of the park, stopping for breakfast in the middle of its thick forestry.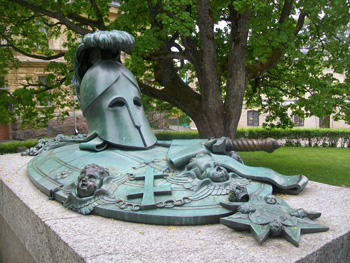 However, it was still early, so I continued walking to the west, emerging onto a main road, that I think was the E12. There was more greenery over the other side, and water too; looking like one of Helsinki's many fjords. After walking through a little more forest I reached a bridge, not knowing the island on the other side was Seurasaari, or that it housed the open-air museum. I walked around to the right at first, with the museum starting just to the left.
Before I reached the museum I'd thought it was a coincidence, and a surprise result for my adventurism, when I reached the Kalevalakehto (Shaman's Haven of the Kalevala) art installation, having encountered the Kalevala in research for my last book. The Kalevala is Finland's epic folklore poem; written in the nineteenth century, it is considered instrumental in forging an independent Finnish identity.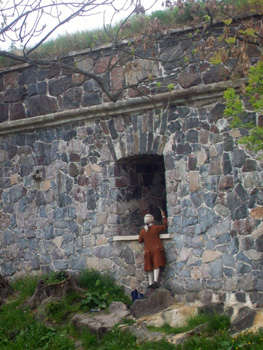 After leaving there, the tarmac path turned to dusty earth, and I encountered four steps with an information placard to their side. It said that one of Finland's most famous politicians, Urho Kekkonen (1900-1986), used to test himself into old age by jumping up them from a standing start when he walked around the island. Before Kekkonen became a five-time Prime-Minister and five-time President of Finland, he was the Finnish high-jump champion in 1924. He lived at the entrance to the island for thirty years during and after his presidency, and Tamminiemi villa has now been made into a museum. I tried jumping up the steps, after postponing the first time when people appeared out of the forest, and reached the second highest.
Continuing inland, I first saw old storehouses, a stable and what I later found out was Pertinotsa House. It wasn't until I reached some of the massive colourful buildings that I realised it was a museum… and I hadn't really travelled back through time. Kahiluoto Manor, brought to Seurasaari from Kahiluoto Island, dates from the 18th century. Karuna Church is the oldest and most impressive building of the eighty-seven in the museum, dating back to 1686.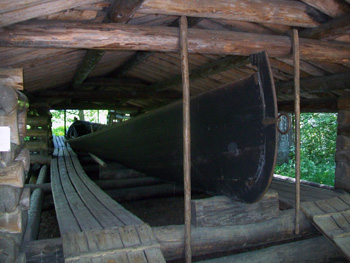 The population of Helsinki was only 600 in 1710, after plague killed twice as many of its previous population. The city had been founded in 1550 by King Gustav Vasa of Sweden. Sweden and Russia fought over the territory several times during the 18th century, with Russia taking charge of the whole territory in 1809.
It was then that Helsinki became the capital of an autonomous Finland, after Tsar Alexander moved the capital east from Turku, which faces Sweden from Finland's south-west coast. Helsinki is closer to Saint Petersburg, which was the capital of the Russian Empire at the time.
Seeing Finland's size, and having first registered it from childhood through long-distance runner Lasse Virén winning double golds in the 1972 and 1976 Olympics, I was surprised to read that its independence is less than a century old. I visited the Olympic Stadium that hosted the 1952 Olympics on my first evening in the city. I'd seen the city centre's impressive buildings after arriving at the port, with the sensational cathedral and senate square another pleasant surprise.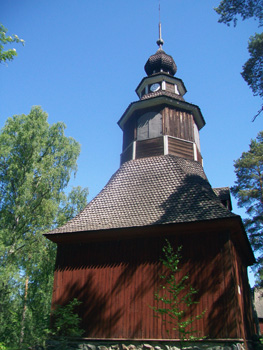 On my first full day I walked out of the city to the north-east for a couple of hours, reaching the Viikki nature reserve without much difficulty. It's a beautiful big wetlands area, with many bridges linking islands and the mainland. Finland is the most forested country in Europe, with seventy per-cent of land covered, and takes its environmentalism seriously. According to the Finnish Environment Institute, Finland's forested land is actually growing, and so are the populations of large mammals, such as bears, wolves, wolverines and lynx.
On my second of three days I visited Suomenlinna, a sea fortress built on six small islands in the eighteenth century by Sweden to protect their eastern border in the wars with Russia. I'd seen its fortifications when arriving on the ferry from Tallinn, and may not have visited if it wasn't so financially reasonable. I'm glad it is, and I did.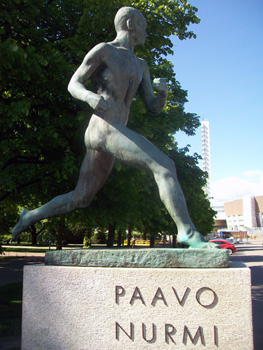 You can reach the Unesco World Heritage Site's main island on a municipal ferry boat, and then, like the open-air museum on Seurasaari, you just pay for individual displays and rooms. There are still many people living on the Suomenlinna islands, and it is also a popular conference centre. I walked through the village to the embattlements and cannons looking out at the Baltic Sea. It was the only cloudy day of my time in Helsinki, and quite chilly; making it easier to imagine the hardship of winter war there during the 18th century.
I thought it was going to be my only day of travelling through history until reaching the open-air museum on Seurasaari the next day. Finland has an interesting history, but seems to have a more promising future. Its environment and economy are managed efficiently, with recognition that each is vital to maintain a balance between health and prosperity for the country, its people and animals.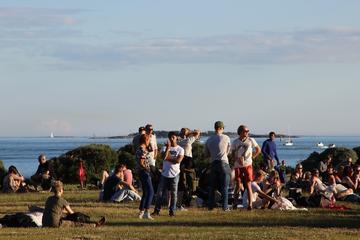 Taste of Helsinki & Suomenlinna excursion
If You Go:
I arrived by boat with Linda Lines from Tallinn, Estonia – an hour trip costing 45 euros. I returned to the U.K. on Scandinavian Airlines. I'd flown to the Baltic with Ryanair, landing in Riga, Latvia, and then travelled overland to Estonia.
I stayed at the Sweet Dream guest house, Hämeentie 21G, Helsinki, which was very nice and well run.
Links
♦ Suomenlinna
♦ Open-air museum
♦ Kahiluoto Manor
♦ Karuna Church
♦ Finland's environmental record
♦ Urho Kekkonen
About the author:
Marc Latham travelled to all the populated continents during his twenties. He studied during his thirties, including a BA in History, and spent his forties creative writing. He lives in Leeds, writing from the www.greenygrey3.com website. He has had a Magnificent Seven books published, most recently completing a trilogy of comedy fantasy travel by web maps and information. The blogged book's theme might have inspired the return of the X Files. The Truth is Out There and all that, and the books are available on Amazon and other bookstores.
All photos by Marc Latham:
Helsinki central square
Canoeists in Viikki inlet
Suomenlinna: Tomb of Augustin Ehrensvard
Suomenlinna: Man in costume
Open-air museum boat
Open-air museum Karuna church
Statue near the Olympic Stadium