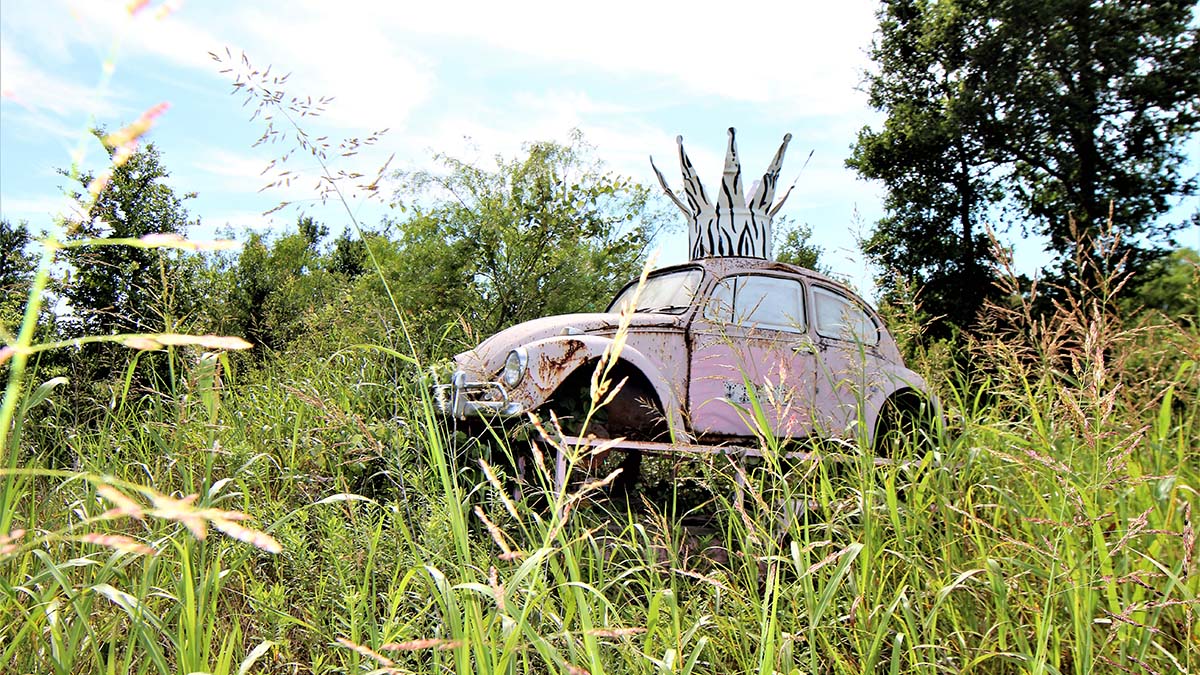 Every Day Is Veteran's Day at this Rosebud Cafe
by George Fery
On TX77 in east Texas, the late spring's low green hills are beautiful and at times, full of surprises. Take the pink 1960s crowned VW in a field of weeds, in the middle of nowhere. How did it land here of all places? It is carefully set off the ground, doors and windows tightly closed, as if to keep the twenty-first century at bay. Was it left perhaps at the end of a night-long "weed-trip" to say goodbye? Bet it's a heck of a story, especially the way things were back then. We waved goodbye to the 1960s relic and kept heading north, looking for another unusual eye-opener.
On the outskirts of Rosebud, we stumbled on a great café. You can't miss it; it's at left on the northbound side of TX77 (not US77), 36 miles south of Waco. The Hwy77 Cafe stands on the shoulder of the road, surrounded by a vast hay field. We thought it would address our past-noon grumblings so, in we went and found ourselves in a fine family restaurant that blends, Texas home cooking and American military history with great charm. What a place! Very nicely done, clean and folksy, with tables covered with checkered red- and-white tablecloth and comfortable country chairs and bar stools.
What catches the eye right away are the 566 mostly black-and-white photos on the Veteran Wall of Honor, that commands the four walls of the room. There are photos of service men and women, from all five branches of the military, going all the way back to the Civil War, WWI, WWII, Korea and Vietnam, to today's conflicts in the Middle East and Afghanistan. The list grows as anyone may add their name, always framed together with a photo in the uniform of their service.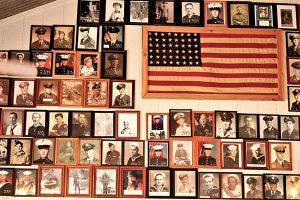 On the wall are a number of military figures, including Audie Murphy (#199) from Kingston, TX, Army WWII, Medal of Honor, the most decorated soldier in WWII; Walter Light (#448), WWII POW, Purple Heart, Operation Market Garden, invasion of Holland; Justin Brown (#258) USN, USS Hopper, grandson of Barbara Hungerford (#92) WAC, and her husband Norman (#94), USN Vietnam, USS Enterprise; William T. Warford III (#266) Operation Iraqi Freedom, KIA; Tony Herrera (#242) USN, and son Maximo Herrera (#243), Vietnam. Others are no less dear to our flag, such as H.F Westerman, Jr. (#46), Korea, Vietnam (4 tours), USS Hornet – uncle of the café's founder. All present stand for the fifty states and U.S. territories.
Martha Westerman, who café in 2001, started the Veteran Wall of Honor with pictures of relatives and patrons. The wall grew rapidly with the new owners, Bill and Sue Sturrock, thanks to visiting service members adding their own photos as well as those of their loved ones and friends. Sue and Bill are a hardworking couple, attentive to their clients, who often span generations, with grandparents and grandchildren enjoying food and time together.
Beside military history, the café offers excellent food, which was our main reason for stopping over in the first place. A quick look at the menu will make you forget about your diet in a heartbeat. Just look at the café's hallmark, the Bar-B-Q, served Thursday to Saturday. You had Bar-B- Q before? I don't think so! Not until you've tried this one, smoked with locally grown honey mesquite wood. The sauce and rub recipes are Uncle Harold's you can see him, he's # 204 on the Veteran Wall of Honor. The German slaw recipe is Momma's, and the potato salad recipe comes from Sue's cousin Billie. All are made from scratch right in the café's kitchen, with Sue and Bill keeping a sharp eye on everything.
The locally made Westphalia Sausage ($10.95) or Baby-Back Rib Plate ($11.95) are exceptional too. But why be shy? Go for the Combo Sausage and Rib Plate, with local coleslaw and German potato salad, excellent, and at $13.95 you can't afford to pass the experience. You don't have to take my word for it, the dish is featured in "The Prophets of Smoked Meat: A Journey Through Texas Barbecue
" by Daniel Vaughn (an Anthony Bourdain Book at Harper Collins Publishers,  pages 247 through 249).
Other days are superbly attended too with such offerings as the Texas Patty Melt, burgers ($5.75 to 6.49) that range from double meat (with or without cheese) to, listen to this, the Texas Sausage Burger (a must!) They are all served with potato chips, sauce, pickles and onions. The liver and onions is worth the detour all the way from Chicago, as are the chicken fried steaks ($8.25) and the Queso Chopped Steak ($7.75). You ask for sides? Great thought since, among delectable others, try the Shoestring or the Steak Fries and, if fries are not your style, you've got to go for Skin-on Mashed Potatoes. You've got to, period.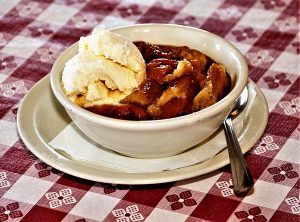 And dessert, you ask? Now that's a hard one, because it's difficult to choose between the Chocolate Lover's Cake, the Peach Cobbler, the German Chocolate Pie and other finger-licking treasures. You can't leave without trying one or more! And you cannot miss Aunt Evelyn's Banana Bread Pudding with Vanilla Sauce. Good you ask? So good that when I got back to Dallas that evening, I was ready to turn right back south for seconds. It is that good!
All of the above will happily pairs with great drinks such as the Shiner Bocks, the Buds, the Coors, and the Millers, the Lone Stars and the Coronas. If beer is not your pick, there are good wines to suit your taste: Merlot, Moscato, and others from Texas and beyond. And, for great or not so great celebrations: Champagne. Good coffee? Of course!
This remarkable place features great service and warm ambiance. Bill or Sue will be happy to tell you about the café's history and talk about the men and women on the Veteran Wall of Honor. "Where Every Day is Veteran's Day."
For More Information:
Hwy 77 Cafe
1101 U.S. Hwy 77 South
Rosebud, TX 76570
(254) 583 4444
Check out their Facebook page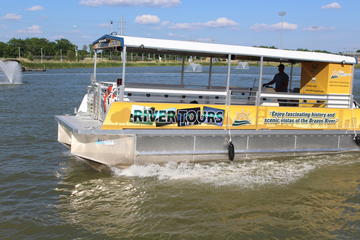 Brazos River Historical Cruise in Waco
About the author:
George Fery is a freelance writer and photographer of ancient cultures of the Americas and pre-Columbian archaeological sites of Mesoamerica in particular. Long-Form articles in georgefery.com are dedicated to ongoing research papers on Maya and other cultures of the Americas. Fellow member of the Institute of Maya Studies, Miami, FL  and the Royal Geographical Society, London, U.K. Also a member in good standing with the Maya Exploration Center, Austin, TX,  the Dallas Museum of Art, Dallas, TX and the Archaeological Institute of America, Boston, MA.
Photo credits:
All photos are by George Fery.