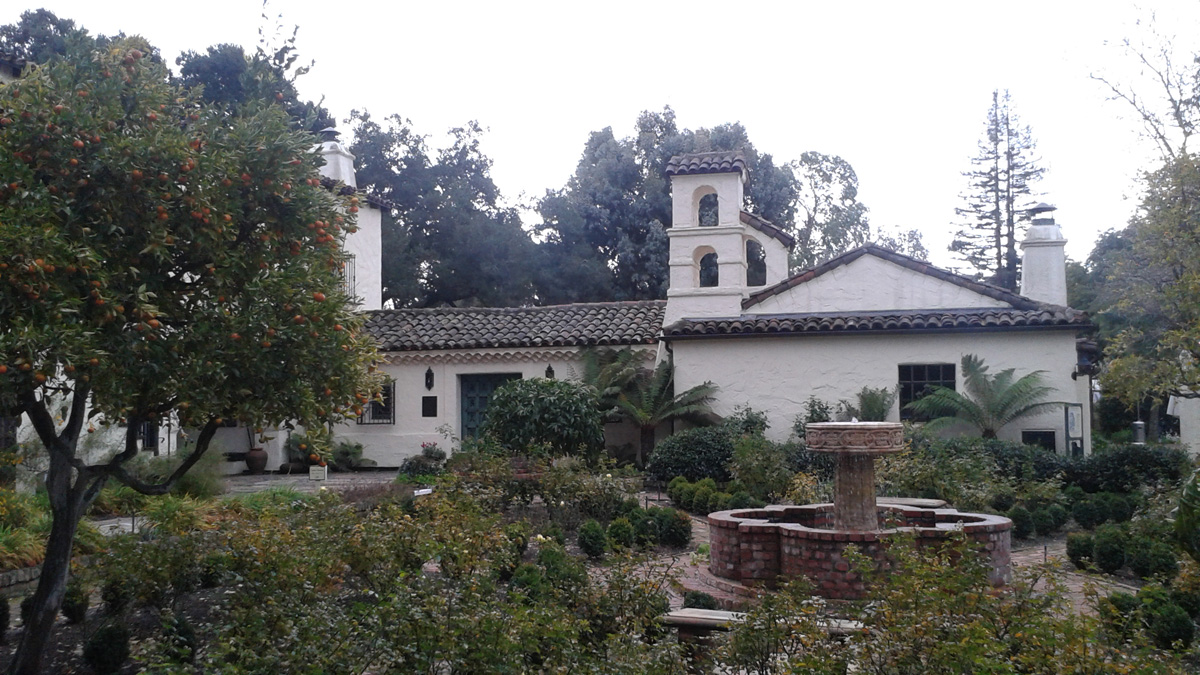 by Eva Barrows 
Menlo Park, CA has swallowed up a secret under the canopy of its tree-lined streets. A few boring brown historical marker signs on the main street, El Camino Real, weakly hint at the existence of something worth exploring in the adjoining neighborhood.
"How'd you hear about us?" The grandmother aged store clerk asked me as I perused the Artisan Shop.
"Online," I'd said not thinking about the reasoning behind her question. My attention was on the hand-crafted fur embellished Eskimo doll and red-faced European style marionettes for sale.
"Good job," she said as she worked at straightening some hanging jewelry.
My husband, an artist, was intrigued when I told him I'd found a hidden art guild he'd never heard of nestled in a Menlo Park neighborhood. He eagerly agreed to join me during a break in January rain storms to explore the Allied Arts Guild compound.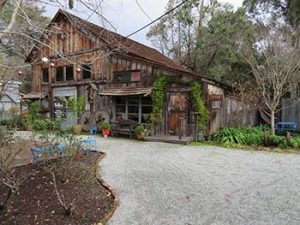 The Allied Arts Guild is a network of historic and architecturally interesting structures. Some buildings like the sheep shearing shed turned pottery studio and the barn which is now a woodworking shop are original 1800's era ranch buildings. Other buildings were re-imagined or newly constructed in the Spanish Colonial style around 1930 when the Allied Arts Guild was formed.
Artwork created in the 1930s has seamlessly melded into the idyllic ambiance of the Guild's grounds. The tiered courtyard fountain creates the soothing sound of trickling water. A colorful fresco was painted onto the recess of the music room's exterior wall. Original 1930s pottery overflows with plant life. Examples of the pottery are arranged amongst each other to silently welcome visitors.
We poked our heads into art guild member shop windows to find out what types of art the members were busy creating. There was a closed quilt shop that featured piles of colorful folded stacked fabric. The pottery studio was open and featured Japanese style details such as bud vases attached to lengths of bamboo. My husband was disappointed to find the Portola Art Gallery was closed for the day. The gallery represents current local artists in a wide variety of art styles.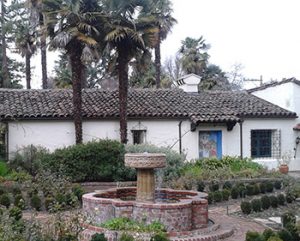 On weekends my husband and I usually move slow and thankfully we arrived just before the Blue Garden Café stopped serving lunch. I ordered a steak panini, and my hubby ordered a turkey and cheese panini. I was delighted by the tender and tasty meat and he was pleasantly surprised by apple slices in his sandwich! The meals were on the expensive side but we didn't mind too much because we enjoyed every bite.
We walked the brick-lined garden path and noticed a few other couples exploring the unique grounds. A group of parents with young boisterous children came to play amongst the adobe style courtyards and pathways.
The day became increasingly gray and threatened rain. It was time to take shelter so we headed to the car. I watched as the parents slipped back out to the road, pulling children in wagons or chaperoning an unsteady tricycle. This recreation seeking group knew the secret of the Allied Arts Guild. To them the Guild was just a part of the neighborhood.
If You Go:
Allied Arts Guild:
Open Monday through Saturday – 10am-5pm
75 Arbor Road at Cambridge Avenue
Menlo Park, CA 94025
Phone – 650.322.2405
Where to Eat:
Blue Garden Cafe
P.F. Chang's at Stanford Shopping Center
Jeffrey's Hamburgers in Menlo Park
About the author:
Eva Barrows is a San Francisco Bay Area freelance writer. Eva writes about local places, people and events on her website www.evabarrows.com. She founded the online literary journal Imitation Fruit in 2007 and has enjoyed promoting fellow writers and artists ever since.
Photos by Eva Barrows