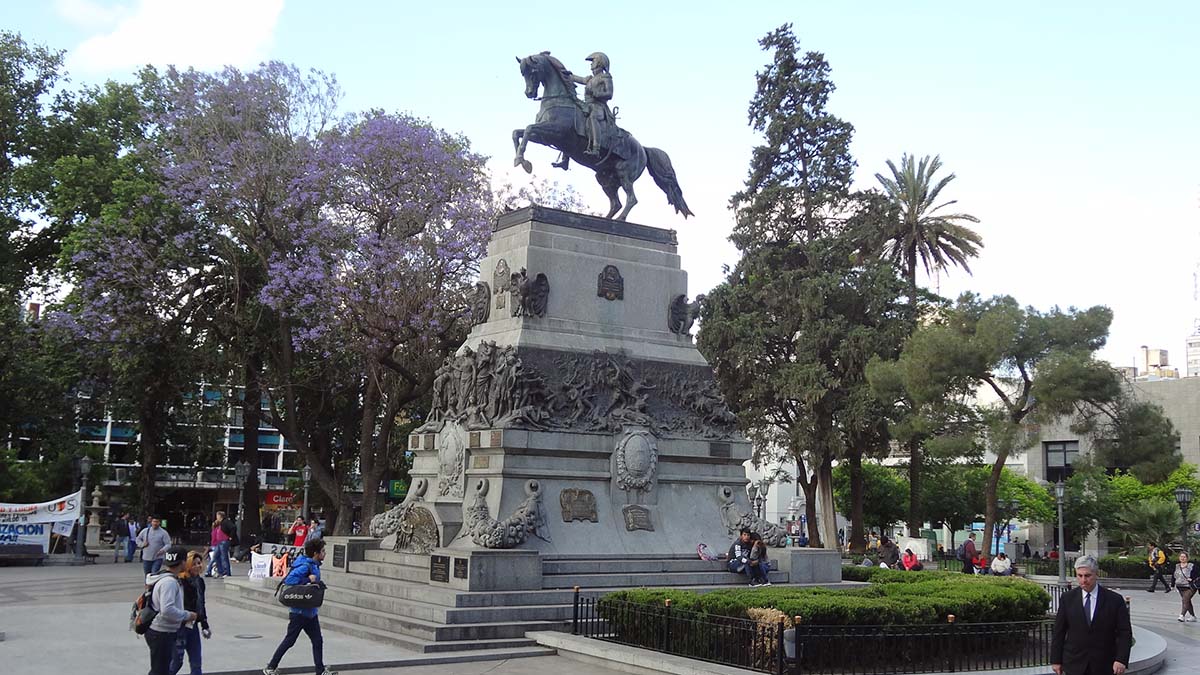 by Rick Neal
Fantastico. That's my first impression of Cordoba, Argentina. Muy fantastico, in more ways than one.
I'm heading in the general direction of el centro, but in such a charismatic cuidad I'm not in a big hurry to go anywhere. The roadways are lined with lovingly maintained colonial buildings painted in hues of chestnut, ginger, and soft blue. The newer structures are of brick neo-colonial design, so they look right at home next to their older relatives.
It's October, springtime in Argentina. The sky is a solid sheet of sapphire, the temperature a balmy 25 degrees Celsius, but a robust wind from the nearby Central Sierras keeps it all fresh. Many of the locals I pass wear jackets. Weather conditions aside, fashion-conscious Argentineans dress for the calendar, not the climate. Summer is a month away, and wearing shorts and flip-flops in any other season just wouldn't be apropiado.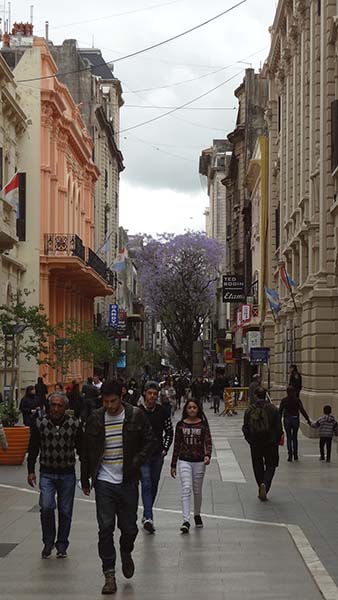 Fifteen percent of the city's 1.3 million inhabitants are students at one of the city's seven universities, and their youthful spirit seems to have infected the entire populace. A handsome older couple strolling arm-in-arm offer a sincere buenas dias. Several Cordobans flash welcoming smiles, something that I seldom received from the somewhat reserved residents of Buenos Aires. I can't wait to delve further into this vibrant pueblo, but first I need to find a place to drop my bags.
My guidebook gives the nearby Hotel Quetzal thumbs up. The two-star lodge is basic, but its central location is unbeatable. The clincher is the nightly rate of 500 pesos, about $50 Canadian, great value in a country that has suffered 40% inflation in the last year alone.
I check in and then continue west along San Jeronimo Calle. Within minutes I'm in verdant Plaza San Martin. The leafy piazza has been Cordoba's focal hub for over four hundred years, and it bustles with activity today. Giggling school girls exchange gossip as they stretch out on the lawn while elderly caballeros play chess on park benches beneath swaying palm trees. A giant statue of Argentine general Jose de San Martin on horseback dominates the plaza's center. Revered as one of the country's founding fathers, he was a key figure in South America's triumphant struggle for independence from Spain in the 1800s. Young lovers now kiss beneath El General's unyielding eye.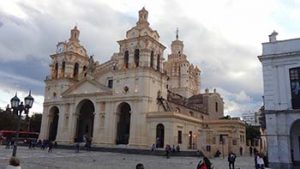 An outstanding destination on its own, the plaza is also a springboard to some of Cordoba's top attractions. Standing adjacent is the pink-stoned Iglesia Catedral, the oldest continually operating church in Argentina. Construction started in 1577 but a series of structural collapses delayed its completion for two hundred years. Because several architects shared in its design, among them Franciscans and Jesuits, the structure is a mishmash of styles. Nevertheless, its Classic Renaissance portico, Baroque dome, and Spanish Romantic tower combine to serve up a dazzling colonial monument.
As impressed as I am by the cathedral's outward appearance, its opulent interior leaves me awestruck. Ornate wood carvings gilded in gold-leaf adorn the large central nave, which almost seems to emit an amber glow. The only sound is the hum of locals who kneel in prayer before it. The overwhelming gold elements are balanced by a striking embossed silver altar crafted in Peru. In the early 20th century the interior was embellished with the addition of magnificent biblical frescoes and murals painted by prominent Argentine artists. Guidebooks tout this as Argentina's most beautiful cathedral, but for my money its one of the most exquisite I've encountered anywhere.
When I exit the cathedral, I only have to venture two blocks before I find more stunning colonial architecture. For 150 years that spanned the 17th and 18th centuries Cordoba was the capital of the former Jesuit Province of Paraguay. The Manzana Jesuitica (the Jesuit Block) comprised the core buildings of the capital: the Iglesia de la Compañia de Jesús church, the Jesuit priests' residence, the Universidad de Cordoba, and the Montserrat Secondary School.
These immaculate cream and tanned sandstone structures look as if they might have been built yesterday. As I stand outside them on the squeaky clean cobbled road, I can hardly believe they were built over 300 years ago. What's not surprising is that the entire Jesuit Block was declared a UNESCO World Heritage Site in 2000.
The library of the Universidad de Cordoba is a nirvana for bibliophiles. Its collection includes 2500 ancient manuscripts brought over by the original Jesuit missionaries, many of which are embossed with copper engravings and intricate woodcuts. There is also a rare 1645 bible written in seven different languages. Guided tours are the only way to see these priceless literary treasures.
The interior of the Iglesia de la Compañia de Jesus church contains decorative elements that combine both Baroque and native styles. Architect Philippe Lemaire was once a boatbuilder, which explains why the arched cedar roof resembles the hull of a ship. Gilded wooden statues of the saints adorn the sumptuous altar. The Capilla Domestica, the chapel, sits directly behind the church. Its elaborate ceiling is made from cowhide stretched over a frame of taguaro cane and painted with pigments partially extracted from boiled animal bones.
From the Jesuit Block, I wander head down La Cañada Calle, which runs along a stone canal lined with rustling acacia trees. Within minutes I'm in the bohemian district of Güemes, which fans out for several blocks on either side of the canal. Once a working class stronghold, Güemes has evolved, one trendy bar and eclectic antique store at a time, into Cordoba's funkiest barrio.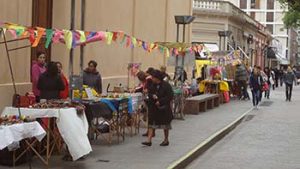 Its weekend feria artisanal (artisan market) is said to be one of Argentina's finest, but since this is a weekday I settle for a stroll down the main drag of Belgrano. I'm not disappointed, as I'm repeatedly pulled into atmospheric boutiques that offer everything from ancient light fixtures to antique toys to worn statues of religious icons. The Paseo Colonial, an arcade of small shops that sell clothes and jewelry created by the city's trendiest young designers, proves a perfect spot to pick up one-of-a-kind gifts.
Fatigued from all this sightseeing, I park myself at a busy sidewalk café. Many of the artsy types around me are drinking Fernet, a popular bitter-tasting herbed liquor usually mixed with Coke. I play it safe with a café cortado (espresso with milk).
Bolstered from my caffeine fix, I mosey a few blocks east until I hit another neighbourhood that has undergone a recent facelift. Nueva Cordoba was once home to the local aristocracy, but today it's a popular hangout for Cordoba's teeming student community. Many of them reside in the high-rise brick apartments that have mushroomed here in recent years. However, a leisurely stroll past regal old mansions that line the main thoroughfare of Avenida Hipólito Yrigoyen reminds me of the area's imperial roots.
The bone-jarring thud of electronic music from nearby Calle Rondeau jolts me abruptly back into the present. The narrow road is chock-a-block with raucous bars and nightclubs. It may be a weeknight, but the clubs are packed with students and hipsters who dance and quaff cheap jugs of Quilmes, Argentina's national brew. I wonder if these kids worry about the rampant inflation and high unemployment they'll likely face when they graduate. Or if maybe, like a lot of other Argentineans I've met the last couple of weeks, they're too busy enjoying the present to worry about the future.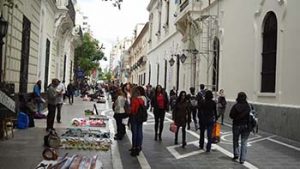 By now I'm exhausted so I start the long hike back to my hotel. Near the Jesuit Block I pass a miniature plaza where vendors hawk traditional leatherwear, pottery, and textiles from blankets spread along the sidewalk. A couple of boisterous young hombres sell sweet-smelling sausages from a portable barbecue in front of a 17th Century church. Next to them a young woman sings The Beatles' A Day in the Life in flawless English, accompanied by a bearded fellow with a guitar and amp.
This scene is Cordoba in a nutshell. A city bursting with life that keeps one foot rooted firmly in the past while it looks confidently to the future. It is cool without even trying to be, and maybe that's the coolest thing about it.
If You Go:
INFLATION
When I visited Argentina several months ago the country had experienced 40% inflation in the past year. All prices quoted here may have gone up (or down) dramatically since then. Do your research.
GETTING THERE:
Aerolinas Argentinas, Sol, and Aero Chaco airlines offer daily flights to Buenos Aires, Salta, Mendoza, and other Argentine cities. Cordoba's airport is located about 15 km northwest of the city center.
Argentina's safe and reliable bus network is a popular travel option. The local terminal is an easy 15 minute stroll from the center. There is frequent service to Buenos Aires ($45 10 hours), Rosario ($23 6 hours), Salta ($50 12 hours), and just about every other city in the country. There are also buses into Chile and Uruguay. Most buses make several stops along their route, though direct service is also available to many destinations. It's a bit more expensive but can shave hours off travel time and directo buses usually have plush armchairs and mucho leg room.
WHEN TO GO:
Spring (September to November) and fall (March to May) are the best seasons to experience Cordoba. Daytimes highs are a balmy 20C to 25C, but expect the odd rain shower.
WHERE TO STAY:
Argentina's second largest city offers a wide range of accommodation choices, from cozy hostels to eclectic boutique inns to modern hotels. Several worthwhile options are sprinkled around Plaza San Martin, though it's a bit of a hike to the best dining and nightlife. If you want to be close to the action, consider staying along La Cañada or in Nueva Cordoba. Wiki Travel Cordoba.
About the author:
Rick's travel career began as a college student when he impulsively signed up for an international student exchange program and spent that summer working in Turkey. "Don't go there!" the naysayers said, "it's not safe!" Luckily, Rick ignored their advice and discovered that the outside world is a place of wonder worth exploring. Since then his wanderlust has taken him to Central and South America, England, Vietnam, Morocco, and China, where he spent an unforgettable year teaching English. Rick makes his home in East Vancouver, Canada, where he writes for various travel publications.
All photos by Rick Neal