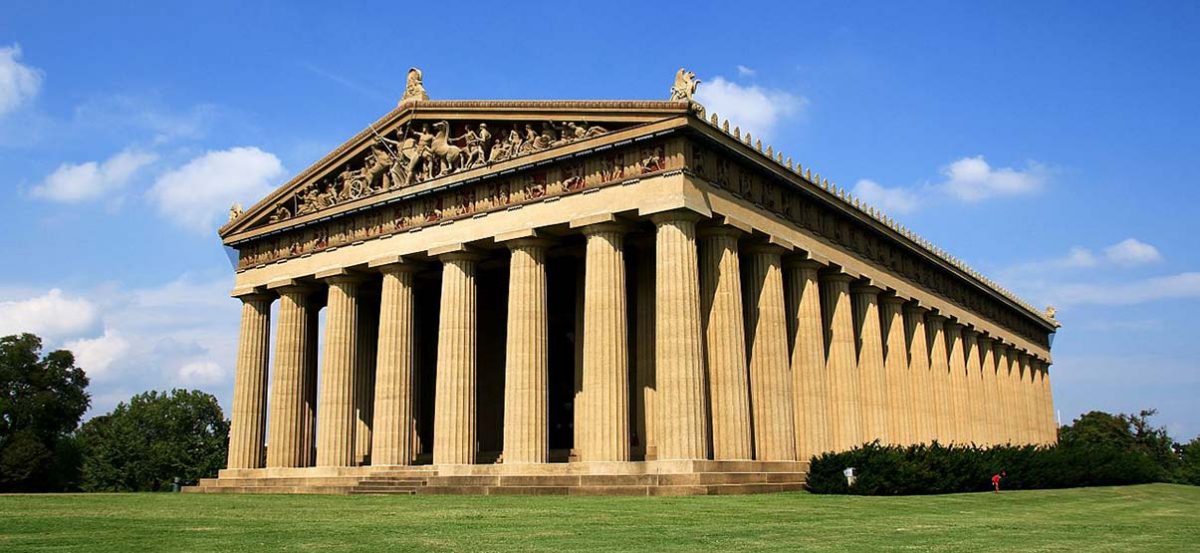 by Nanette Peraino
In the Bible Belt, known for conservative society and politics, prepare to be stunned, if not amazed at what Nashville, Tennessee serves up by way of a temple to a pagan goddess.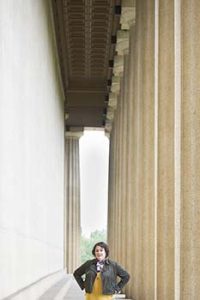 Located in a densely populated area in midtown Nashville, you might be tempted to forego this classical attraction, but I highly recommend you reconsider. I wasn't prepared to be drawn to this impressive classical structure, far less the massive tribute to a Greek Goddess. But once I approached the vaulting Doric structure, walked up the steps and stood gazing down a colonnade of grand architectural perspective, I knew I needed to explore everything the Nashville Parthenon had to offer.
Prepare to go back to a Golden Age in time as this classic structure and her embodied works; a replica of the original Athena on the upper level and on the lower level an impressive art collection – the Cowan Collection (as well as other local artists) as you leave the hustle and bustle of 21st century middle Tennessee behind.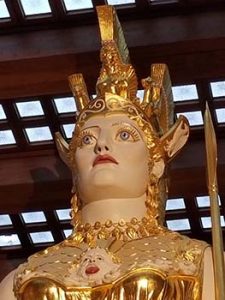 Your first impression of Athena might be that you wouldn't let your 13 year old daughter out of the house made up like that. But don't be put off. Her skin and makeup were painted to replicate the original Athena whose skin was of ivory and lips and eyes beset with jewels.
The Parthenon was originally constructed for the TN Centennial Expo in 1897 celebrating Tennessee's entry into the union in 1796. Designed by confederate veteran William Crawford Smith, the Nashville Parthenon is the only full scale re-creation of the famous temple to the Greek Goddess Athena. The original was built in fifth century B.C.E. in Athens, Greece and now stands in ruins.
Centennial Park
Located in what is now called Centennial Park, the Parthenon (formerly the Fine Arts Building during the 1987 Expo) originally housed over 1,000 paintings and sculptures from around the world, with a large amount of space devoted to Tennessee artists.
Be sure to enjoy the James M. Cowan Collection on the lower level. That's where you'll feast your eyes on an impressive collection of oils on canvas, dating 1765-1923. Donated anonymously (his identity to be made known after his death) these sixty-three works are a permanent collection and celebrate American artists in a time when only European artists were recognised.
The Expo originally covered over two-hundred acres of what had been a horse racetrack. And originally included a bridge and gondola rides fashioned after the Rialto in Venice, Italy. Visitors from all over the country came to visit this grand attraction and brought in a much needed surge of economic activity.
The Athens of the South
By the time Nashville celebrated its one hundredth year of statehood, and because of its emphasis on private and public education, it had already earned the nickname "Athens of the South." The early 19th century Greek revival architecture had reached national popularity in U.S. Government buildings, banks and even wealthy statesmen adopted "neo-classicism" as a design choice.
Although all the Expo buildings, including the Parthenon, were only intended as temporary structures (demo to commence after the end of the fair) Nashvillians protested and the Parthenon remained as an art exhibition site.
A contribution box was placed near sculptor Belle Kinney's small model of Athena. Visitors and locals donated their small change and by 1982 $30,000 in seed money was raised to reconstruct a full-scale Athena.
The Athena Competition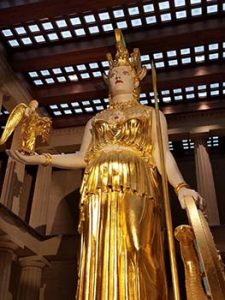 In 1982, sculptor and Nashville native, Alan LeQuire entered and won the Athena Competition. Unveiled in 1990, Athena was finally painted and fully gilded in 2002. Mr. LeQuire and Master Guilder Lou Reed covered Athena's gown and armature in gold leaf. Her skin and features were painted to replicate the original Greek stylization of ivory for her skin and jewels for her eyes.
LeQuire's Athena, the largest indoor statue in the western world, is built of lightweight fiberglass reinforced cast gypsum and is assembled around a steel armature. As you approach this impressive sculpture, bear in mind that the weight of the statue is not supported by the floor of the Parthenon. The weight is carried through 4 concrete columns – going through the floor and down into bedrock.
To put the scale of this sculpture into perspective, Nike stands in Athena's right hand, measures 6'4" and weighs 400 pounds.
Goddesses and Girl Power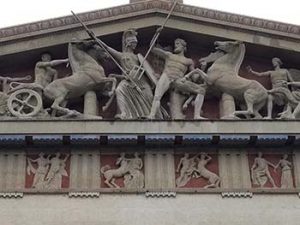 If Athena (goddess of wisdom and compassionate warfare) and Nike (goddess of victory) aren't enough goddess power for you, get more girl-power on when you view the East and West pediment sculptures on the Parthenon exterior. They include twenty-one sculptures on the East and sixteen sculptures on the West with a horse and chariot thrown in for good measure. Between 1920 and 1930 sculptor, Belle Kinney and her husband (Leopold Scholz) produced impressive tributes to 37 additional Greek gods and goddesses.
Your visit to Nashville's Parthenon will offer a lot of bang for the buck. You'll visit antiquity inside a classically reproduced Grecian temple. You'll glimpse the grandeur of a towering 64 foot sculpture honoring ancient Athens. You'll appreciate the industrious Nashville spirit as you read the vividly detailed placards celebrating Tennessee's centennial. You'll view a private collection of American art unavailable anywhere else in the world.
As you prepare for re-entry to present day bustling Music City be sure to glance back at the world's largest set of paired bronze doors. Each door weighs seven and a half tons, measures twenty-four feet high and over seven feet wide.
Ancient architectural and sculptural replicas, local history, contemporary classic American art, where else in Tennessee can you take in such treasures? Without a doubt, this Nashville transplant feels all the richer for such an extraordinary and enriching visit.
If You Go: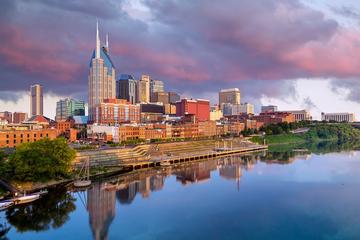 Discover Nashville
The Cowan Gallery and East and West Galleries are located on the main level. The sculpture of Athena is located on the upper level. Photographs are permitted only on the upper level. Bronze doors are located on the exterior of the West side of the Parthenon.
Nashville's Parthenon is located in Centennial Park at
2500 West End Avenue
Nashville, TN 37203
Hours of Operation:
Closed Monday
Tuesday – Saturday, 9:00 – 4:30
Sunday 12:30 – 4:30
Pricing:
Members – free
Adults – $6.50
Children (4-17) – $4.50
Seniors (62+) – $4.50
Under 4 – free
*For Group rates, call 615-862-8431 or email info@parthenon.org
Phone: 615-862-8431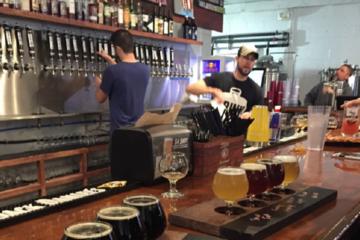 Nashville Brewery and Pub Tour
About the author:
Nanette Peraino is a freelance writer who loves food, culture and travel. She has traveled extensively on six continents and enjoys shared insights from locals as well as fellow travelers.
Photo #1 by Mayur Phadtare / CC BY-SA
Photographs #2 – #5 by Nanette Peraino:
Perspective of columns. Notice the Doric Urn outlined in the negative space.
Athena facial closeup. The original Athena's skin would have been made of ivory and her eyes and lips enhanced with precious gemstones.
Athena's right hand holding a 6'4" Nike.
Pediment sculptures of Belle Kinney and Leopold Scholtz.