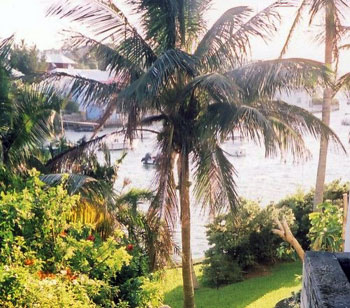 by Ana Ruiz
On his way back to Spain after searching for gold in the Americas, Spanish explorer, Juan de Bermúdez, first sighted the uninhabited islands of Bermuda in 1505. However, Bermúdez was not interested in the small territory with dangerous reefs and there is no evidence that he even landed here.
A little over a century would pass before the islands were settled and in between this period, hundreds of navigators ended up stranded here as a result of the violent storms that occasionally plagued the area sweeping ships off their intended course into the shallow reefs. Their account of their harrowing experiences led to the island's nickname of "Islas del Diablo" or "Devil's Isles."
On July 28, 1609, after 3 days of battling a deadly storm, Admiral Sir George Somers deliberately steered his vessel the "Sea Venture" into the treacherous reefs in order to save the 150 crew and passengers who safely managed to land ashore. The British ship was on its maiden voyage bound for Virginia with supplies and settlers to revitalize a deteriorating settlement. This small stranded population began to colonize the islands and in 1612, named their capital St. George's, after the ship's captain and the patron saint of England. For a brief period during the 17th century, Bermuda was actually known as Somers Isles and each year on July 28th, the anniversary of the historic event, Bermudians celebrate "Somers Day", in the captain's honor as a national holiday with special activities, events, and commemorations.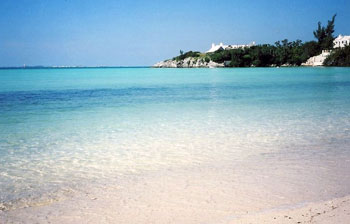 As the plane was beginning its descent into Bermuda in the North Atlantic Ocean, I couldn't help but notice how small the islands were, even as they were getting bigger as we were getting closer. The islands of Bermuda actually comprise one of the smallest territories in the world. Upon entering the L. F. Wade International Airport, we were greeted by a Calypso band of seven musicians that immediately got us into the tropical island mood as we prepared to pass through British customs.
Bermuda stands as a self-governing overseas territory of the UK since 1684, designating it Britain's oldest colony. With English as the official language, it's special charm not only stems from its British colonial roots but from its African heritage as well. Although one might think so, Bermuda is actually not a tropical Caribbean island as it is located in the Atlantic ocean, however, one might say that Bermuda is Caribbean at heart.
The two major municipalities are the historic and quaint town of St. George's that was recognized as a UNESCO World Heritage Site in 2000, and Hamilton, the larger of the two, and capital of Bermuda since 1815 due to its more ideal central location. Hamilton, however stands as one of the smallest capital cities in the world with a population under 1000.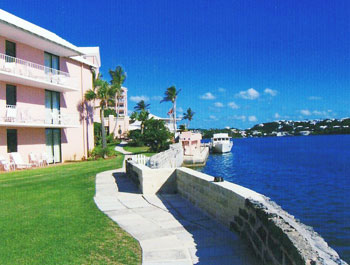 Our friend and local Bermudian, who picked us up at the airport, gave us a brief tour of the main island and explained that Bermuda is actually comprised of about 180 islands. The larger and inhabited islands are connected by bridges and causeways and some of the smaller ones or islets are actually just big rocks. The area, that measures only 21 miles in length, is only about 2.5 miles wide at its widest point.
Within minutes, I was completely charmed not only by the pink sandy beaches and turquoise waters, but by the Victorian houses on Front Street. These buildings are painted in pastel colors of lemon yellow, sky blue, apple green, and soft pink that brightly decorate the harbor front road.
In St. George's you can find the oldest houses going back to the 17th century during the time of the first settlers. The old State House dates from 1620 designating is the oldest building (excluding fortresses) in Bermuda. The State House is open to the public for a few hours during weekdays.
After our brief tour, our friend dropped us off at our hotel, the Fairmount Hamilton Princess Resort. To my delight, the resort was painted in pink! We had a lovely suite with two patios overlooking a golf course and the harbor.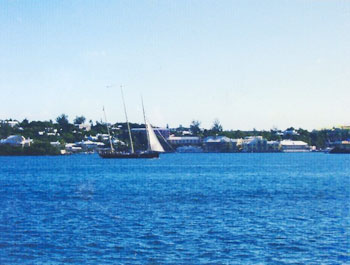 I truly appreciated the proximity to the boutiques and restaurants in Hamilton that were a mere 5 minute walk away.
I immediately discovered how courteous and friendly the locals were. Everyone including strangers greeted each other with a passing "hello", "good day", or "good afternoon." I was not accustomed to this formality however I quickly adapted. I was also especially amused by businessmen were wearing jackets and ties with Bermuda shorts.
My travel buddy and I were told that the best way to explore Bermuda and get around is on a scooter. Fortunately, my friend was a professional motocross racer so I left the driving up to him, especially as I had never before driven a scooter let alone on the left side of the road. You can rent a scooter from several agencies for about $50 a day and upwards depending on the model selected. The rental fee comes with the mandatory helmet and interestingly, a driver's license is not required.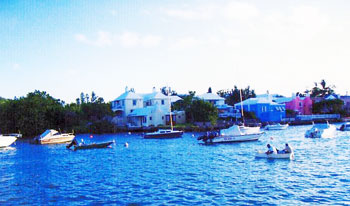 During our first evening, we decided leave our scooters behind at the hotel and head by taxi for dinner at the Swizzle Inn Pub and Restaurant in the small village of Bailey's Bay. We had heard that their dishes were delicious and that it was where Bermuda's national drink originated. The "Rum Swizzle" is a mild tasting yet powerful and delightful blend of rums, fruit juices, and syrups.
After our drink and although I suggested against it, my friend went ahead and asked the friendly locals sitting beside our table about the famous "Bermuda Triangle." They politely explained that the general consensus of Bermudians is that it is nonsense and I had the embarrassing feeling that they were tired of answering this question for inquiring tourists.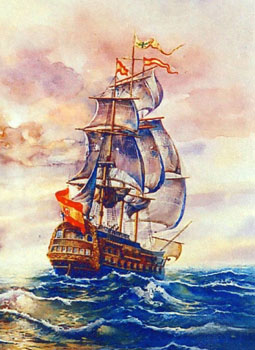 After our dinner, we took a cab back to Hamilton and visited the many cafes, bars, and nightclubs on Front Street that are opened quite late and sometimes past 3:00 am. My particular favorite was Cafe Cairo and its exotic ambiance. Unlike what you would expect to find in Bermuda, Cafe Cairo is a popular dance club that plays music from all over the world as well as a restaurant with a Middle Eastern theme decorated in North African decor. The dining room is designed as a Bedouin tent complete with soft cushions as well as an outdoor patio that overlooks the harbor. You can enjoy a Turkish coffee, sample a Sheesha pipe, or during the busier tourist season, be entertained by a Belly Dancer!
Whatever your preferences, there are so many to choose, such as visiting ancient forts and other historic sites, lighthouses, parishes, cathedrals, museums, aquarium and zoo, or even take a cruise.
Bermuda has top quality dining and shopping as well as golfing, scuba diving, boating, sailing and parasailing activities. History buffs can admire some of the treasure recovered from sunken Spanish ships in the form of gold coins, jewelry, bars, and crosses as well as ceramics, armors, artifacts and more at The Treasure Room and Shipwreck Gallery of the Bermuda Underwater Exploration Institute.
Nature lovers can explore caverns and caves, visit parks, botanical gardens, nature reserves and wildlife sanctuary, hike on nature trails, or simply relax on the tranquil, coral beaches of this primary tourism destination aptly known as the Jewel of the Atlantic.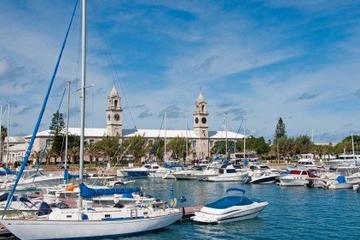 Bermuda Rum Cruise
If You Go:
To plan your trip, visit www.gotobermuda.com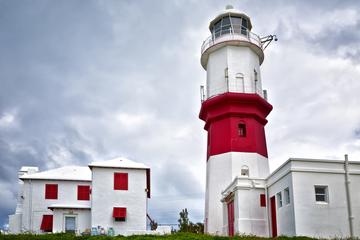 Bermuda Nature and Sightseeing Tour
About the author:
Ana Ruiz was born in Madrid and has written two books on the subject of Spanish history and culture. Visit: ana-ruiz.weebly.com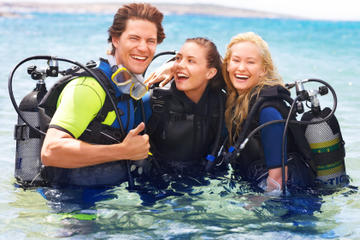 Scuba Diving Lesson in Bermuda
All photographs are by Ana Ruiz and artwork by Manuel Ruiz:
Palm tree on hotel grounds
Bermuda beaches
View from the Fairmount Hamilton Princess Resort
Sailing in Bermuda
Boating activities in Bermuda
Spanish vessel in the late 1700s