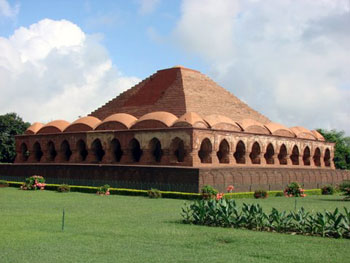 Kolkata, India
by Anurada Goyal
While planning for a small vacation around Kolkata, I saw some pictures of the Terracotta temples of Bishnupur and that instant I knew I have to go there. The bright red temples were so inviting that I dropped my plans to visit Shanti Niketan and instead headed for this temple town. Bishnupur is a quaint town about 160 kilometres north west of Kolkata. Though it is primarily known for the terracotta temples but when I traveled through the lanes of the town, I discovered the wealth of art and culture hidden in its folds. On top of it, it was heart warming to see the love and care with which the monuments and art forms have been preserved here, which is not commonly seen in India.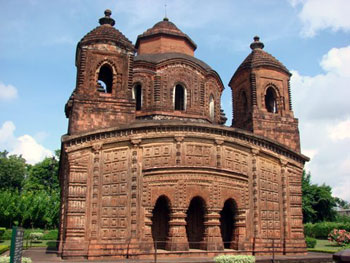 This region was ruled by the Malla dynasty from 8th CE to 19th CE, more than 1000 years and 55 generations. Now there are not many dynasties that have ruled for that long. The origin of the dynasty though lies outside Bengal, in distant Rajasthan from where the first king landed here and sowed the seeds for this dynasty. The dynasty was Shaivaite i.e the worshippers of Shiva, one of the Gods in famous Indian Trinity of Brahma, Vishnu, Mahesh aka Shiva. During the early 17th century, kingdom was under king Bir Hambir. He converted to Vaishanava sect and became a devotee of Vishnu. Ram and Krishna are two popular incarnations of Vishnu. He started building temples for his new faith. Most of the temples are dedicated to Krishna and his beloved Radha. Temples are names after various names of these deities. The terracotta was chosen as the base material for the temple, as there is no native stone in this region, so they had to depend on the clay that is amply available. Unfortunately the life of Terracotta is 300-400 years and you can see the corrosion that has already started happening in the temple tiles.
The artisans baked stories in clay tiles, picking up scenes from Puranas, Ramayana and Mahabharata. The daily lives of the people, during the time of construction of these temples have also been given equal importance. If you study the tiles closely you would be able to see how people dressed, what they ate and what recreational activities they engaged in. Artisans also represented the plants, animals – both real and imaginary in their terracotta art. Most temples have very ornate exteriors but fairly simple interiors. Some temples have only the front face adorned with ornamental tiles while some have all four sides. The scenes that are depicted on the temple walls inspire artisans of other crafts like silk weavers who pick up scenes from the walls and weave then into Silk Saris.
There are three primary styles of temples architecture in Bishnupur. The most common is the Ratna style with domes on top of slightly curved temple roof. Traditionally there are one, five or nine domes called shikharas. Single shikhara is in the center of the roof and the temple is called Ek Ratna. Temple with five shikharas will have four shikharas at the corners along with a central one and is called Panchratna. If there are four more shikharas it is called a Navratna temple. Shyam Rai temple with five shikharas is the best example of this temple style. Madan mohana temple is a good example of Ek Ratna style. The most peculiar style is Chala style that resembles the Bengali thatched roof, triangular in shape with a shikhara on top of that. Jor Bangla temple with two triangular roofs joined together is an example of this style. Then there is simple Duel style that you see very often in Orrisa temples, with long tapering Shikhara. There are not many temples of this style left here.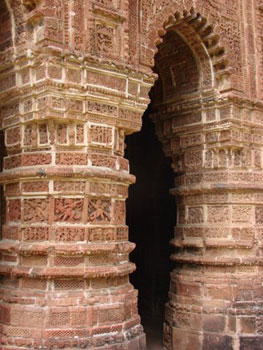 Rasamancha is a unique structure in Bishnupur, again built by Bir Hambir in 1600 CE. It is a pyramid like structure on a huge square platform. The circumambulate corridors have huge arches with lotus motifs, that create a labyrinth like way to the central point, where probably a deity was worshipped. It is a place that was used for a local festival called Rasa festival. During this festival all the images from temples of neighboring villages were brought here and displayed in these galleries for the public. The festival still continues to be celebrated here but probably in a more contemporary way. It is said that it is one of its kind structure in the world and no parallel or a similar structure has been found anywhere.
Today, you can take home terracotta from Bishnupur in various forms. You can see the Bankura horse with its typical long pointed ears in Terracotta in all sizes in the lanes of Bishnupur. You can also purchase jewellery made from terracotta along with various Indian deities that remain the most popular muse for any artist in the country.
Besides temples, the artisans of this town excel in hand woven Baluchari Saris. They weave the stories in silk just like the way centuries ago they were cast in terracotta. The Saris are woven either with a Silk thread or Gold thread. The former are more popular and are known as Baluchari and the later ones are more expensive and are called Swarnacharis. The weaves on the borders depict the scenes from the epics and tell a story.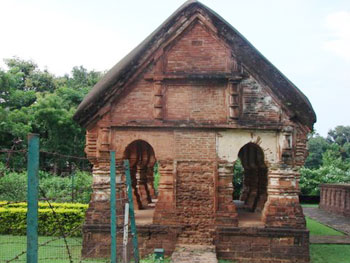 Artisans of Bishnupur and around excel in the metal craft. They make various items of decorative as well as everyday use in brass. The art form resembles the tribal art from other tribal regions of India. The artists still make the metal ware with the lost wax method, which is the oldest known way of making metal ware. Look for conch shell bangles that are hand carved in tiny shops on both sides of narrow lanes along with the carved conch shells that look beautiful. You can also shop for the Ganjifa cards that are the origin of modern day playing cards and are now hand made by only one family here, the Fauzdar family. If you get a chance, indulge yourself in the classical music that belongs to the gharana or tradition of this town.
The town is punctuated with various big and small ponds. There are lotuses in various colors blooming in most of them, making it a wonderful experience to walk around the town. If you can talk to a local, they will tell you the stories associated with these ponds and the kings. You can enjoy eating typical Bengali food and street food like Jhalmuri and Puchkas.
There are not many towns in this world that are so rich culturally. So visit when you can.

Private Day Day Trip to Bishnupur from Kolkata
If You Go:
To Reach:
Fly to Kolkata, and from here you can either hire a taxi or take a train to Bishnupur to cover the last mile of 160 kms or so. Buses also ply between Kolkata and Bishnupur.
A good place stay is the Bishnupur Tourist Lodge. For more information visit the West Bengal Tourism website.
About the author:
Anuradha does Innovation consulting for living and travel writing for passion. She has been blogging about her travels on the road and through the books on her blog for more than 6 years now. She has lived in various parts of India and overseas and at the moment calls Gurgaon her home. You can read more of her writing at anuradhagoyal.blogspot.com
All photos are by Anurada Goyal.