Bagan, Myanmar
by Paola Fornari
'Would you like to see the giraffe women?'
'No.'
My guide seemed a bit taken aback by my blunt reply, but he didn't insist.
To me, the idea of going to ogle at women whose necks are lengthened by the rings they wear on them – and worse, have my photo taken beside one – disgusted me. It reminded me of the Bushmen who were taken to Europe to be viewed as 'circus freaks' two hundred years ago.
Anyway, I was in Bagan: the giraffe women, or Padaung, didn't even come from this area – so clearly they were here purely as a tourist attraction. And my Lonely Planet Guide was clear on the subject: the rings deform the shoulder blades and upper ribs, and often, women are no longer able to hold up their heads without them. Having one's photo taken with them can only encourage the practice.
The Padaung people are originally from the Kayah state, and come from an isolated, mountainous region near the Thai border, south of Inle Lake. The area is closed to tourists. They are also known as the 'Red Karens', because they have a predilection for red in their fabrics, and are similar in many ways to the nearby Karen minority. Many have become refugees in Thailand.
Originally, it seems that the rings were placed on girls' necks to make them ugly, so that they would not be attractive to men outside their ethnic group. But now, for many, it has become a means of survival.
A few days later, I was at Inle Lake, between Bagan and Yangon, with a new guide.
'Want to go and visit my friends, the giraffe women?' he asked.
'No,' I said firmly, and once again, my refusal was accepted. But I started thinking. He'd said 'my friends'. And he was such a pleasant, seemingly ethically conscious man. I'd even had lunch at a monastery with his wife and children and a group of monks. Maybe…
'But my guidebook says…' I began.
'You know,' he said kindly, 'the guidebooks are filled with mistakes. It's written by good writers, who travel a lot, but what do they know about us, our needs, our customs, our feelings?'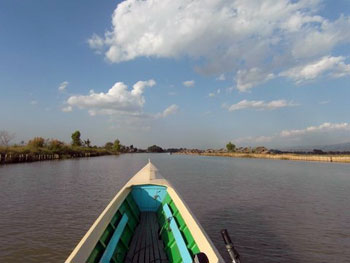 'So are you telling me there's no human rights issue with the Padaung women?'
'Absolutely not. I've known these women for thirty years. I've even been to their village. They have nothing there – no income of any sort. Now that they've found a way to help they're families, they're so happy. Why don't you come? You can talk to them for yourself…'
So I conceded, and we set off across Inle Lake, on a long engine-powered canoe. The trip took us an hour. The lake was as calm as a sheet of glass, and as we traveled, I contemplated the fishermen, who looked totally at peace, with their unique technique of hooking one leg around a paddle to propel themselves. An hour later we docked at a handicrafts shop in a village on the lake shore.
Five Padaung women, standing in a line, greeted us. Their were arranged in order of the size of their neck rings. Several tourists were jumping in and out of the line, having their photos taken.
'They are standing according to their age,' my guide said. 'This one on the left is sixteen, and the last one in the line is sixty-three.'
I felt sickened, but I had to give this a chance. Who was I to judge? I sat down on a bench, and a couple of the women sat beside me. My guide interpreted.
'Do you wear that round your neck all the time?' I asked.
'The older people do,' the sixteen-year-old said. 'We just wear it in the peak season. Then we go back to the village and take it off.'
'So the elderly woman sleeps with all that weight around her neck?'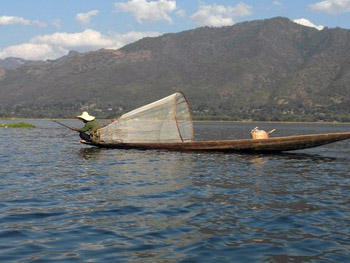 'She's used to it.'
'Why do you do it?'
'For the older ones, it's tradition. For us, it's a way of earning money for our families.'
I examined her neck, and found that it was not a series of rings but just one, coiled round and round many times. It was heavy and rigid.
My guide explained: 'As their necks get longer, each coil is replaced by a bigger one.'
'Who changes it?'
'The ringmaster. There's one in each village.'
'When did you start wearing the ring?' I asked the young girl.
'Just for this season. I started six months ago, to get accustomed to it. The old woman started when she was six.'
She showed me a dusty sepia postcard of a sad-looking little girl, her neck already unusually long, looking as though a serpent was strangling her.
'Maybe this is the first photo of a Padaung woman ever taken by a tourist. The girl was five.'
'Where is this girl now?'
'In a refugee camp in Thailand.'
'Why?'
'She gets more work there than here.'
'Is anyone forced to wear rings?'
'Oh no. We like wearing them.'
Maybe, but I simply could not bring myself even to look at the handicrafts that were on display behind the line of women. I deliberately did not take my camera out of its bag. The photos of the peaceful lake, where fishermen paddled as they had done for centuries before the tourists arrived, were all I needed for my Myanmar album.
If You Go: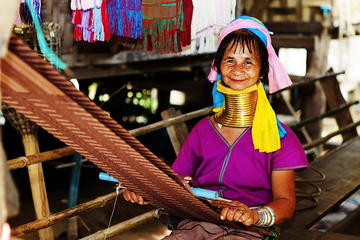 Private Guided Full Day Tour in Kayan
Ethnic Long-neck Padaung from Loikaw
About the author:
Paola Fornari was born on an island in Lake Victoria, and was brought up in Tanzania. She has lived in a dozen countries over three continents, speaks five and a half languages, and describes herself as an 'expatriate sine patria'. At present she is living in Bangladesh.
Photographs are by Paola Fornari.