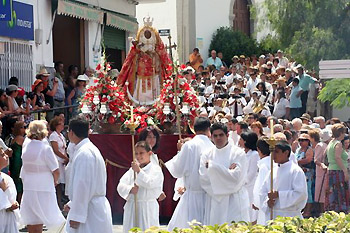 Canary Islands, Spain
by Pamela Cranshaw
While whizzing along Tenerife's scenic west coast, a sea of flags and gently swaying streamers entices us to stop. It was a fiesta in honour of La Virgen de Candelaria, the Canary Islands patron saint. A coastal town, Alcala changed its name to Candelaria (meaning Candle Mass) when the saint's image was washed up Chimisay beach.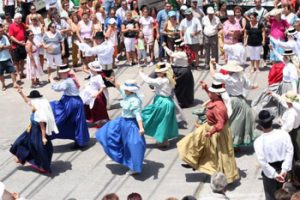 The fiesta held in her honour draws churchgoers and visitors from all over the island. But in the 14th Century, the strange, candle carrying female wasn't such a welcoming sight. In fact, the Gauche goatherds (first known Island inhabitants) were so petrified by her presence they tried hacking her to pieces.
When they discovered that our Lady had powers they placed her in a cave and worshipped her. Sadly, an 1826, landslide tossed the ebony effigy back to sea. Her doll-like double fashioned in 1827 by Fernando Estévanez is housed in the Basilica de Nuestra Señora de Candelaria.
A short jaunt along Alcalá's shuttered main street stands a cream church with steep stone steps and terracotta roof tiles. Here they pay homage to the virgin who in 1559, was declared patroness of the Canary Islands by Clement VIII before parading her around the streets.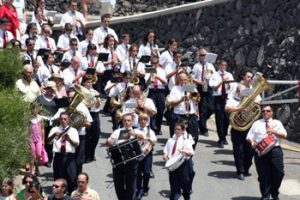 We follow signs for the Plaza de Llano. Church bells echo through the tiny fishing port's damp, tarmac streets. We pause to admire a wall of cascading graffiti. Located at the foot of a hill, the laurel-shaded plaza is hedged by a bank, shops, cafés, restaurants and a sweet-smelling panadería. The aroma of freshly brewed coffee wafts from a delightful ice-cream parlour. Seagulls swoop around us and waves hurl stridently at the shore. I imagine that the green cross perched atop black, volcanic rocks was once King Arthur's enchanted Excalibur.
We wander along the waterfront, inhaling the tangy sea air; when the sudden ear-splitting bang sends a clan of black crabs scuttling for cover. I learn later that those knee -knocking noises came courtesy of Pyrotechnics specialists Brother Toste. The company, initially christened Teide Pyrotechnics was founded in 1788, by Marcos Toste. Since their humble backroom in-Los Realejos beginnings, they've become one of Spain's largest firework manufacturers. They own a six-acre site on the outskirts of the old town.
An errant rocket raced across the harbour. The pyrotechnic team had crammed a firework arsenal, sandbags and launch tubes into a battered grey boat. They rocketed toward a nearby rock formation.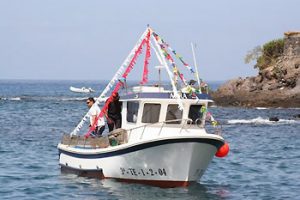 Beyond, sunlight dances on the hulls of a small bobbing convoy. These vessels will accompany the Black Virgin along the foaming, neighbouring shores. As I listen to the soothing rhythm of the ocean, I picture Alcalá's fishermen sitting here as they chat and mend their nets. From my lookout point, I watch wide-eyed youngsters gather around the wall of neatly-stacked pigeon cages and hear a shaggy-white terrier's persistent bark.
'Look!' my husband exclaims.
A guy from the pyrotechnic team is refueling while his colleagues, frantically bail water from their boat. Then the heady scent of frankincense fills the air, and chants of "Viva, Candelaria!" merge with a brass-band's buoyant beat. Priests and white gowned altar boys, holding high a gold cross, candles and glinting Black Madonna banner parade by. Bright coloured balloons drift skyward, past the line of gently billowing washing on the flower-clad balcony opposite.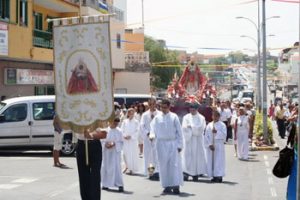 With the procession waiting on the steep incline, a red, Draylon-draped carriage is wheeled in. Exquisite in a costume of red, cream and gold damask, a bejewelled Candelaria clasps a candle, while her fingers curl around an infant in a delicate silver crown. The boat-lined dock reverberates with a rhythmic Spanish beat and dancers, hips swaying, begin an intricate dance. The men wear black trilbies and crisp white shirts and trousers with a broad silk-sashes. Dressed in oblong scarves, straw-boaters and frilly-edged blouses the women swirl in their rainbow coloured skirts. While floral tributes are placed at the Madonna's feet, a pensioner steps forward and intones fervently the trembling rendition of a sacred song.
At the waters edge, the Virgen de Candelaria is tenderly hoisted onto a streamer-clad fishing boat. Newly freed pigeons stretch and rise up on the sultry sea breeze. Across the gleaming Atlantic, La Gomera's undulating mound lies shrouded in a shimmering mist. There, El Silbo – the whistling language the Guanches created, still echoes across its narrow valleys and yawning ravines. Bursts of purple, pink red and green rumble though the dazzling blue sky. As the crowds disperse, my daughter scoops up a handful of swirling confetti and we join the celebration.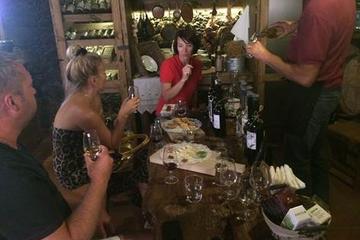 Private Wine Tasting Tour in Tenerife
If You Go:
The fiesta in honour of Virgen de Candelaria is held on August 15th (Spanish bank holiday in Tenerife).
Nearest Airport, Tenerife Reina Sofia South Airport: Approximately 35 kilometres (22 miles). Taxi from the airport costs approximately €40.
A network of buses connects Alcalá with Tenerife's main resorts..
Alcalá belongs to the municipality Guia de Isora, in southwest Tenerife
Alcalá pretty little market is held every Sunday from 10am to 2pm at Plaza de Llano.
Playa de las Americas – 20 kilometres (12 miles)
Average year-round temperatures in Tenerife: 23C / 73F
Staying there: Gran Meliá Palacio de Isora is a stunning holiday resort at Alcalá's northern edge.
Alcala, Tenerife News & Information
About the author:
Pamela Cranshaw lives with her husband and daughter, just a stone's throw from Thomas Telford's celebrated landmark – The Pontcysyllte Aqueduct (A newly appointed World Heritage Site). She writes short stories, poetry, tarot features and travelling tales. Pamela is also a member of the global group of women writers: On the Wings. zodiacpam.blogspot.com.
All photos are by Pamela Cranshaw.