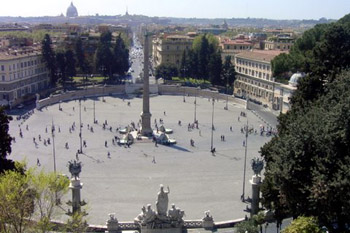 Falling Out With Italy's Eternal City
by Carol Stigger
I love Rome so much I live there two months every year. But last year, Roma morphed from lover to spouse who no longer strived to satisfy, much less delight me. It suddenly wasn't enough to span the Tiber with bridges, illuminate the ruins, and provide buses that stopped at posted stations whether they were empty or so packed that bodies and backpacks oozed from both entrata and ustica doors. I did not have an ah ha! moment, that moved my passion for Roma to the echoes of Medieval bells and memories of riso gelato. It was good while it lasted. And then it was over.
Maybe it was when I was trying to exit the Pantheon elbowing through conquering armies of school groups, stampeding tourists, pickpockets in training. Or when I tried get a glimpse of Raphael's tomb, a touching monument graced with fresh flowers, and all I could see was the backs of tee shirts. Perhaps it was it the canned beans served at a restaurant near the train station and the waiter's lyrical lies that he had picked them that day in his garden? Or the group from Kansas trooping through Piazza Navona pointing at St. Agnes's church and calling it St. Peter's, then turning to the Fountain of Four Rivers and tossing in coins rejoicing that they had found Trevi Fountain. Was it just me, the same me who must flame with passion for some author, artist, beach or vista? Had I fallen out-of-love with Roma?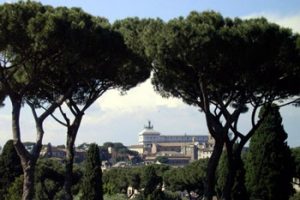 So I declared a trial separation in this decade-long romance. I hunkered down in my Rome apartment on a hill over looking lines of laundry and pretended I was in Naples. I left my neighborhood only twice and briefly walking down to St. Peters to see if Roma was having a party without me. The lines to enter the church were long and weary. I suspected Roma missed the quick slap of my sandals as I had once breezed through security, the wait as brief as a ciao. I walked to Campo dei Fiori. The crowd was dense, raucous. Did Roma missed my strolls around the Renaissance palazzi, the fountain, and shadows of the brooding Bruno? Yes, Roma was pining for me, but he had changed. He would have to find another woman, one who could see beyond the crowds into his eternal heart. I must have sensed this would happen, for I had bought tickets to Spain shortening my Roman holiday by two weeks. My snap decision to blind date a new country was affirmed.
Then my friend T.J. called. "Meet me in front of Santo Spirito—we'll have dinner."
Santa Spirito encompasses three city blocks. The church entrance, hospital entrance, the hall of the frescos in eternal restoration process entrance, back door entrance? Where should I meet him? Under the ustica sign? Beside the mailbox? Across from the bus stop? The street is fourteen lanes of Inde 500 contenders and three pedestrian islands, so you get to play dodge car. Thoughts of Spain and tapas reminded me I was not suicidal, so I waited for a group of nuns and crossed in sanctified safety. T.J. is the softer side of Rome with his engaging smile and warm ciao, ciao. And, he knew how to rekindle my passion – a small trattoria, facing the Tiber, that has been cooking food with love and serving it with pride for more than seventy years. Everyone was speaking Italian. The bresola was va bene, the pasta carbonara was molto bene, the panna cotta smooth as a Latin lover, the espresso Arabian, and the limoncello free.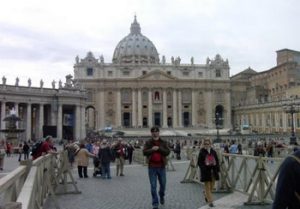 T.J. suggested we go to the fireworks at St. Peter's Square in celebration of the 500th anniversary of the Swiss Guards. It was a balmy night and St. Peters Square is St. Peter's Square. To my right was the molten glow of the church; to the left, a shadowy fountain; in front, an Egyptian obelisk that had been converted to Christianity with a cross on top. One star, a half moon, and a white cloud hung like a stage drop behind the obelisk.
The loud speaker crackled and T.J. translated the welcome, the thanks to the Swiss guards. "This square has seen fireworks for more than 400 years to commemorate. You may be standing where Michelangelo stood to watch fireworks" I imagined the artist's tormented face smooth in anticipation of seeing beauty he did not have to wring from his soul for some sanctimonious pope who stiffed him.
Then darkness and silence. An explosion of lights arched, danced, and dripped to a classical number heavy on the Glorias. Then more lights danced over the obelisk and over our heads to the Hallelujah Chorus. T.J. tugged my arm. "Are you okay?" I was crying, because just then I renewed my vows with Roma. The Hallelujah Chorus ended with more explosions of arching, dancing, dripping lights.
I walked home, not wanting the evening to end. The air had grown cooler as I walked the fifteen blocks that gently slope up to my apartment. Flower markets on every corner sweetened the air. People passing greeted me "Buena sera."
Despite non-refundable plane tickets and a non-returnable flippy red dress I'd bought for flamenco, I stood up Madrid.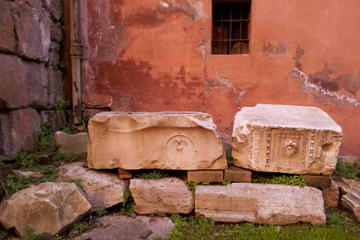 The Secrets of Ancient Rome: Private Full-Day Walking Tour
If You Go:
Independent travel to Rome is exciting and rewarding if you do your homework and pack a good guidebook plus Rick Steves' Italian Phrase Book
. Figure out what you want to see before you go and how you will get from place to place. Stay in a pensione in the historical center, not in a chain hotel outside the center, so you can easily take a mid-day break. You will be in a good location to walk around the lighted piazzas and ruins late at night without worrying about finding a cab or a bus back to your hotel.
St. Peter's is free, but the line to get into the basilica can be daunting. Try early morning or right after lunch. Another dreaded line is the one into the Vatican Museums. Sign up for a tour of the museums, which will cost a little more but will save standing in a two-hour line. Another line you will not want to endure is the one to the free restrooms outside the basilica. Facing the church, you will see the restrooms to your left. If you walk right instead of left and go through the colonnade, you will find a free Vatican restroom with little or no line.
If you are making a day of Vatican City, avoid the pricey, ho-hum restaurants on Borgo Pio. Instead, you can enjoy a reasonable, wonderful meal at La Vittoria. Cross the left colonnade, go through the underground tunnel, look to your left and  you will see the restaurant.
About the author:
Carol Stigger is a writer specializing in developing nation poverty, microfinance, and travel. She lives near Chicago with two Boston Terriers. She lives in Rome two months a year and spends her winters in India working with a community development organization. You may visit her Web site www.stiggerink.com or email her at carolstigger@sbcglobal.net.
All photos are by Carol Stigger.