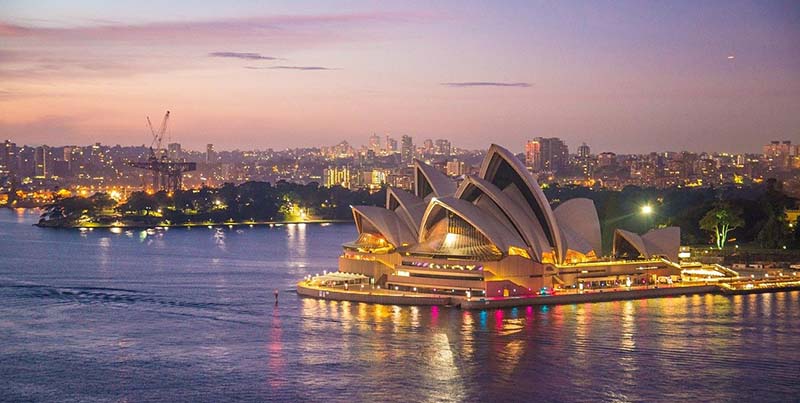 Going on vacation with your family can be a great bonding experience. However, if you are bringing children along, you'll need to consider their needs. Your best bet is to find something that's engaging for kids while at the same time being entertaining for adults. If you have ever wanted to visit Australia and explore the land Down Under, you are in the right place. After living in Australia for 10 years and seeing pretty much everything there is to explore in Sydney, here are my suggestions for family-friendly fun in Sydney.
Trips outside of Australia
Before we dive into the most interesting spots in Sydney, let's consider some additional options. Due to Australia's natural borders, you will most likely be arriving by airplane. Depending on your free time and available budget, you can go exploring beyond Sydney or even outside of Australia. There are numerous destinations that are just a short airplane ride away.
You can visit Asian countries and enjoy the beautiful sights while enjoying affordable local cuisine. For example, you can make a day trip to China and explore the garden city of Suzhou. Plenty of Australians have fallen in love with the idea of vacationing in Bali, and honestly, I can't blame them. It's an excellent option for those who are on a budget and still want a luxury vacation. Just keep an open mind, and keep checking for cheap flight tickets.

#ad*
Family entertainment options in Sydney
Here are my picks of the most entertaining options for family-friendly fun in Sydney.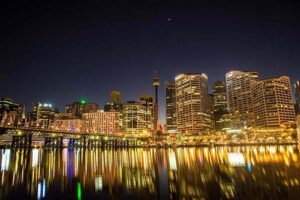 1.     The Sydney Tower
Located in Sydney's Central Business District (CBD), the Sydney Tower stands at the height of just over 1000 ft. You'll find no better view of the city. From the observation deck, you can even get a glimpse of the Blue Mountains, which are located 50 miles away. I'd advise saving this as the last location you visit and seeing how many of the city's iconic landmarks you can spot from its tallest building. The kids had a blast recognizing the places we previously visited. There's even a revolving restaurant that offers dining and drinks with a 360 view. Downing a beer at 850 ft above the city really is something else.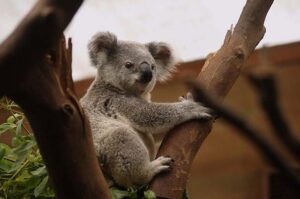 2.     Taronga Zoo
Just opposite the center, sitting on the shores of Sydney Harbor, is the city zoo. The location itself is remarkable, with a spectacular view. From the zoo you can see the Opera House, the Harbor Bridge, and Sydney Tower all in one glorious panorama. I'm still amazed that the city decided to use a piece of prime real estate as a zoo, so definitely take a moment to appreciate the view.
The Taronga zoo has an impressive wildlife collection as it is home to more than 350 species. My kids loved the Animal Encounters, where they fed giraffes and took pictures with koalas. Just make sure to schedule the Encounter in advance, since they aren't always available.
3.     Sea Life Aquarium
The best way to explore and get to know the creatures from Australia's water habitats, Sea Life Sydney Aquarium boasts a collection of over 13,000 fish. There are separate theme zones and even a Great Barrier Reef display. Taking a walk through tunnels made of glass while fish are swimming above you was a memorable experience. The bravest visitors might also be interested in a separate oceanarium that offers underwater Shark Walks for a no-cage experience. That sounded like a bit too much for us, so we opted out of the face-to-face encounter with free-swimming sharks.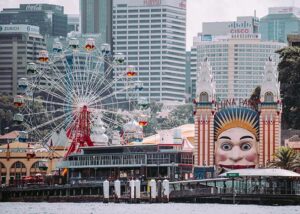 4.     Sydney Luna Park
Your kids are obviously going to have the time of their lives here. However, there is a lot of enjoyment for adults to have here and a rich history to explore. The park was constructed back in 1935 and is listed as a heritage site. Entrance to the park is through a 30 ft gigantic smiling face, based on the "Old King Cole" nursery rhyme. The Big Top in Sydney's Luna Park is a multi-purpose venue and is home to many festivals, award shows, and even theatrical performances. Rides in the park are also nothing to sneeze at and will enthrall even the most daring thrill-seekers. Among the numerous rides, notable standouts are the roller-coaster, the drop tower, and the rotor, giving adrenaline junkies their needed rush.
Other Australian sites to visit
As long as you are visiting Sydney, why not make the most of your stay in Australia? Queensland is called Australia's Sunshine State and is a beauty to visit all year round. If you go up to Queensland, I'd recommend checking out the Mary Valley Heritage Railway. I'm a sucker for old trains, and this one is still in use.
On the other hand, if you are keen on exploring Australia's history as a prison colony, you should definitely check out the prison settlement in Norfolk Island. However, if that's a bit out of the way, you can still visit Sydney's Captain James Cook monument. There is also a "First Impressions" statue in the Rock's district of the city, which depicts Australia's first European settlers. Learning about meal rations and what life was like back then was both entertaining and educational.
Australia for US expats
There is a good reason why many US citizens choose to hire international movers and make Australia their place of permanent residence. If you want to move here from the United States, you will feel right at home. Australian people are friendly and welcoming, and you will find a lot of familiar brands and restaurants. However, there are also a large number of small mom-and-pop owned businesses, which give the entire country a quaint, small-town vibe.
If you go
Buy a multi-pass to save money. Planning to visit all some of the top choices for family-friendly fun in Sydney? In that case, you might want to consider getting multiple attraction combo passes and saving a few bucks.
Purchase tickets online. Even if you aren't tempted by the savings, we still recommend getting tickets online, as it will save you from having to wait in line and purchase them in person.
Wear sensible clothing. The weather can get really hot, but the city center is on the ocean, so you can expect a bit of a breeze. The winters are mild for the most part but don't be fooled by the weather forecast; bring some warm clothing if you are traveling in the colder months.
Travel restrictions. Visitors coming to Australia will need to obtain a travel declaration. While the process is pretty straightforward, it's still something you need to take care of before you depart.
Getting there. Since Australia is surrounded by water on all sides, you'll obviously be arriving by airplane. Thankfully, Sydney airport is rather close to the city center, and it is pretty easy to organize a transit shuttle.
About the author:
Donald Thompson is a freelance writer who spent 10 years living in Sydney, granting him the chance to explore the beautiful city and all that it has to offer. In his writing, he draws inspiration from his travels through Australia, and hopes to entice his readers to make the trip themselves.
*As an Amazon Associate I earn from qualifying purchases.