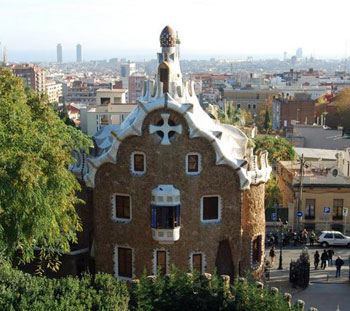 by Keith Kellett
We didn't stay long in Barcelona. Our cruise ship arrived at 1:00 pm, and were due to sail at 6:00 pm, so we weren't allowed much time ashore. Nevertheless, eight tours were on offer and, since we hadn't been to Barcelona before, we chose the 'Tour of Barcelona'.
Since Barcelona is the second largest city in Spain, there was a lot of ground to cover and, as we crossed the city to climb the Montjuic Hill, I did wonder if the only remembrance I would have of the place was shaky video taken through the bus window.
The coach got caught in a traffic jam several times, and on two occasions, we stopped by a rather quirky, distinctive apartment block. 'These are blocks of flats designed by Gaudi!' announced the guide. This was the first I'd ever heard of him, but since then, I've come across his name and pictures of his work several times in my reading.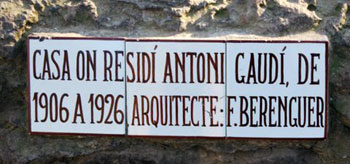 Certainly the buildings were different. Nature, it is said, abhors a straight line. So did Gaudi; the builders, glaziers and carpenters of Barcelona must have hated him. But, we didn't stop at either of them. We were on our way to the Güell Park, where some of the best of Gaudi's work is to be seen. Indeed, Gaudi used to live here, in a pink, fairy-tale house which is now the Gaudi Museum.
Antoni Gaudi was born in the province of Tarragona, in southern Catalonia on 25th June 1852. There's some doubt about his actual place of birth; indeed, also about his name. It's sometimes given as the Castilian 'Antonio', although the Catalan 'Antoni' is preferred.
But, wherever he was born, he spent most of his life in Barcelona, which has claimed him as its own. He studied architecture at Barcelona's Escola Tècnica Superior d'Arquitectura, and soon began to leave his mark on the city. One of his early works were the lamp-posts in the Plaça Reial. Early in his career, he met the rich industrialist, the Condé Eusebi Güell, who was one of his main sponsors and supporters throughout his career.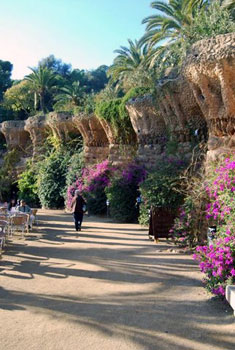 Güell wanted to build a model village, on the lines of similar villages in England, such as George Cadbury's Bourneville, in the Midlands. But, Cadbury built his village for workers in his chocolate factory. Güell was much more ambitious. He intended his village for the more affluent and influential people of Barcelona.
The idea only barely took off, though, because the area was too far from Barcelona, and not served by public transport. But, a couple of Gaudi-designed houses were built. He also designed the distinctive aqueduct, which, usually hung with flowers, runs right through the park. Gaudi also designed the plaça decorated with broken tiles around the walls. He was also responsible for the seats and benches here; they're especially engineered to dry out quickly after rain, and were reputedly based on a moulding of a woman's buttocks, for maximum comfort.
From the plaça, there's an excellent view of the city, with several tall cranes punctuating the skyline. They're not all in the harbour; some are around another Gaudi project, the church of the Sagrada Familia (Holy Family). They're not renovating it, though. Although it was started as far back as 1882 … it's not completed yet. It's only within the last year that it was consecrated as a basilica by the Pope.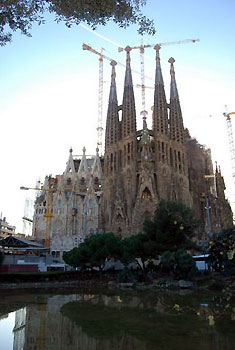 Gaudi was a devout Catholic, and, in his later years, made the building of the Sagrada Familia his life's work. However, Barcelona already had a perfectly good Cathedral, and this could have been the reason that no money at all came from the Church. The building was founded solely by public subscription. So, construction progressed very slowly.
Once, when this was mentioned, Gaudi is alleged to have said 'My client is in no hurry', which may have given rise to his nickname, 'God's architect'
Early in the 20th Century, work at the Güell Park slowly ceased, and, at some stage, Gaudi left his sugar-candy house, and went to live in the crypt of the Sagrada Familia. He lived the life of an obsessive recluse until, in 1926, when he was knocked down in the street by a tram. At first, he wasn't recognised, and taken to the pauper's hospital.
When his friends found him the next day, he refused to be moved, saying 'I belong here, among the poor!' Three days later, he died, and is buried in the crypt of his beloved Sagrada Familia. In the following years, construction almost stopped; first the Depression, then the Spanish Civil War and the years of the Franco regime accounted for funding draining to almost nothing. However, it has now recommenced, and it is hoped that it will be finished by 2026 … 100 years after its designer's death.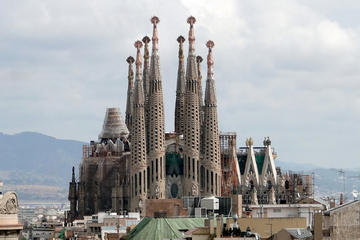 Private Full Day Gaudi Tour: Pedrera Casa Batllo Sagrada Familia and Guell
If You Go:
Barcelona Airport is located 10 km (6.2 miles) southwest of the city. It mainly serves domestic, European and North African destinations, but does occasionally accept flights from South East Asia, and the Americas.
Most long-haul visitors will, therefore, usually come via Madrid. The air shuttle service from there was the world's busiest route until 2008, when a high-speed rail line was opened, covering the distance between the two cities in 2 hours 40 minutes. www.renfe.com
Barcelona is also reachable by inter-city bus. The trip takes about 8 hours and costs about €30 single from Madrid; discounts are available for early booking and for group travel.
It stands at the junction of motorways from Zaragosa, Valencia and Perpignan (France) and is a popular call for cruise ships.
For much more information about Gaudi's work, I recommend 'Gaudí
by Maria Antonietta Crippa, ISBN 978-3-8228-2518-1
About the author:
Having written as a hobby for many years while serving in the Royal Air Force, Keith Kellett saw no reason to discontinue his hobby when he retired. With time on his hands, he produced more work, and found, to his surprise, it 'grew and grew' and was good enough to finance his other hobbies; travelling, photography and computers. He is trying hard to prevent it from becoming a full-time job! He has published in many UK and overseas print magazines, and on the Web. He is presently trying to get his head around blogging, podcasting and video.
All photos are by Keith Kellett.