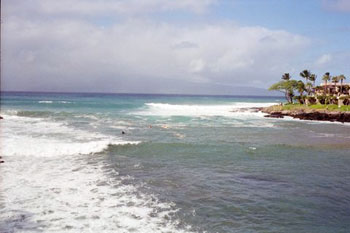 by Denise Rogers
It used to be a shorter trip or so it seemed — having a meal served then watching a movie — six hours passed quickly. Now it feels like an interminable amount of time.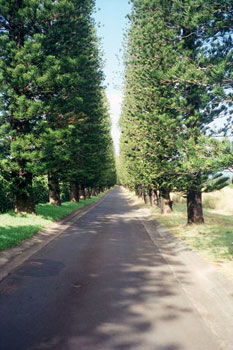 Is it worth it? Oh yes. We land, retrieve our luggage and walk out into the sunshine. The Trade winds are blowing; those wonderful, gentle breezes that caress the palm trees and carry the scent of plumeria, just one of the many flowers that grow in the Islands. I can feel my body letting go of all the stressors. We are back on Maui.
Our time is spent doing absolutely nothing. No agendas, no schedules and no appointments. We wake up to the sound of tropical birds coo-cooing, eat our breakfast which always includes sweet, yellow papaya, go for a walk either through the magnificent Norfolk pines or along the ocean, return to our condo, maybe read, have lunch on the lanai, drive into Lahaina to shop for dinner, perhaps rent a movie then go to bed. We do the same thing pretty much every day in what we call "Paradise". There are no nasty bugs and dangerous critters in Hawaii. We also like being in the good old US of A in case we need medical attention.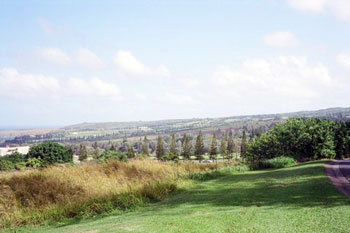 One of the highlights of our trip is driving to upcountry Maui on the slopes of the now dormant volcano, Haleakala. Every time we make the trip it feels like a new adventure. We are never bored by the scenery – the sugar cane and pineapple fields, the red earth, the rows of hibiscus and the sea below where earlier we had just squished the wet sand between our toes.
Our destination is the Kaluanui Estate – a former sugar plantation and home built by the Baldwins, one of the missionary families. Here Ethel Baldwin invited friends to come and create art. The estate is now the Hui No'eau, a Visual Arts Center and Gallery.
Maui has become our second home and just like Bali Hai in the musical "South Pacific," it "whispers in the wind of the sea, here am I, your special island. Come to me, come to me." A hui hou.
If You Go:
♦ There are non-stop flights from Vancouver to Maui return via West Jet or Air Canada. You could also fly out of Bellingham, WA.
♦ Accommodations vary from hotels to condos depending on your needs. We prefer the north west side of the Island, Napili. Kaanapali is just next door then a short drive takes you to the old whaling town, Lahaina. If you want a more arid, desert experience then stay at the south end in Wailea or Kihei. Check the website: www.gohawaii.com/maui
Maui Tours Now Available:
West Maui Whale Watching and Snorkeling Excursion
Full-Day Maui Tour: Road to Hana Tour
Myths of Maui Luau Dinner and a Show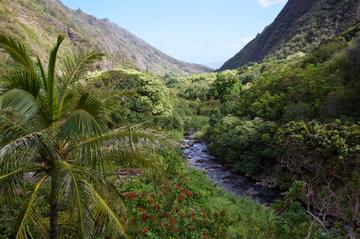 Maui Day Trip: Haleakala, Iao Valley, Old Lahaina from Oahu
About the author:
Denise Rogers' background is in training and development and adult education. She edited professional journals, company newsletters, designed training manuals and contributed to a column in the Burnaby NewsLeader. While creating art with children in various programs for the City of Burnaby, she was inspired to write and publish her first picture book; Today is the Day to Run Away. See: www.bigtoepublishing.com
Photo credits:
All photographs are by Denise Rogers.