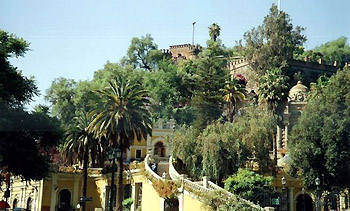 by W. Ruth Kozak
Located in one of the most spectacular settings of any city in the world, wedged between the snow-capped Andes and the coastal cordillera, Santiago, Chile is unique. From the lush Plaza de Armas in Santiago Centro with it's colonial architectural gems, to the high-tech Las Condes financial district with it's modern skyscrapers, Santiago has much to offer the visitor.
Map in hand, my Spanish speaking travel companion and I set off to explore the many barrios of this historic old city. Buses crammed with passengers careen down the busy avenues and one of them takes us to the Plaza de Armas, Santiago's central square. The tree-shaded plaza is surrounded by well-preserved colonial buildings. dominated by the 18th century neoclassical Cathedral Metropolitana. A mounted figure of Pedro de Valdivia, who founded the city in 1541, stands guard near a fountain dedicated to another Chilean hero, Simon Bolivar.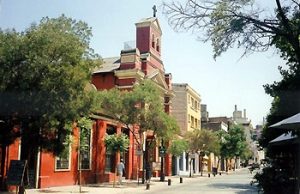 We then take in the Palacio de la Moneda, literally named "the coin", because it was once the mint, later the government palace since 1846. It was here, during the junta of 1973, the army under General Augusto Pinochet staged a coup. Salvadore Allende, the elected socialist president delivered his final speech here as the bombs rained down and killed him.
A sleek metro system makes it easy to get around the city. Some stations have archaeological displays, most have music playing and all are orderly. It's easy to board the swift, comfortable trains. Everywhere we see people young and old embracing and kissing, a lovely sight that lends a beautiful atmosphere to this otherwise bustling metropolis. The Chilean people are gracious and friendly, often reminding us "Keep your backpacks in front" and "Watch out for your camera." In this city of 6 million inhabitants where there is still some extreme poverty, it's necessary to be cautious.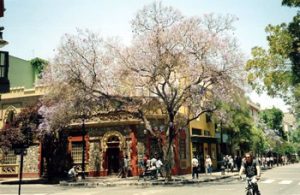 Barrio Bellavista is a pleasant, bohemian area where university students congregate at sidewalk cafes. An Artisan's market offers hand-made craft items and souvenirs. Chile's Nobel-prize winning poet, Pablo Neruda lived here. His house, "La Chascona', is crammed with a whimsical collection of curios and personal items. The Poet was as fun-loving as he was a serious political and literary figure. His poetry is the soul of Chile and when he died he left everything to the Chilean people through the Neruda Foundation that manages his estate and houses.
Barrio Lastarria, on the eastern fringe of Santiago Centro with Parisian style buildings and shady plazas, has architectural, culinary and cultural delights and is the hub of Santiago's cafe culture.
Santiago developed around the foot of Cerro Santa Lucia. The 19th century city mayor, Benjamin Mackenna, transformed the hill into a landscaped park. At the entrance is an ornate fountain, Terraza Neptuno. The vista from the top is one of the best, as commented on by Charles Darwin whose signature appears on a plaque commemorating his visit there in the 1880's.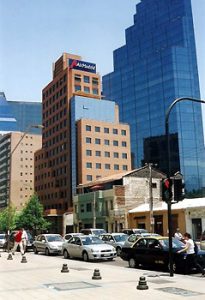 Ritzy Las Condes is the city's financial district. The worlds' embassies are located here as well as Chile's World Trade Centre. Ultra modern buildings, condos, fancy restaurants and upscale hotels give it a different atmosphere than other parts of the city. By extreme contrast, there are still shanty-towns at the outskirts of Santiago.
On our last day, we pay our respects at the General Cementaria in suburban Recoleta where Chilean politicians and artists are interred as well as thousands of victims of the 1973 junta. La Ciudad de los Muertos is literally a city of tombs and ornate mausoleums dating back to the early years of the city. At the entrance, the Memorial del Detenido Desparecido y del Ejecileto Politico is engraved with the names of thousands missing and presumed dead during military regime of Pinochet; beside it another contains tombs of those murdered. We viewed the impressive tomb of Salvatore Allende and the simple square red-painted 2X2 grave of the much beloved musician Victor Jarra who was killed during the junta. A group of young people, some who wouldn't have been born in September 1973, have also come to pay homage to their national heroes, placing red roses their tombs.
And then all too soon, it is our last night in Santiago. There are tears as we say goodbye to our Chilean friends. Even the beautiful snow capped Andes make an appearance, leaving a lasting impression of our visit to this remarkable city.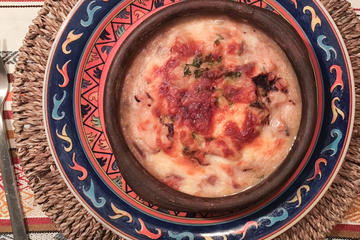 Traditional Chilean Cooking Class and Meal in a Santiago Countryside Home
If You Go: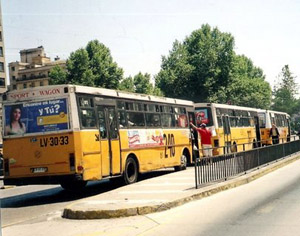 It's advisable to have a rudimentary knowledge of Spanish as most people we met didn't speak English.
Tourist offices provide city maps, but we found the Lonely Planet Chile guide was adequate and informative. Santiago is huge, but it's easy to get around.
Besides the exhaust spewing yellow micros, there are new green buses operating throughout the city.
The city traffic is congested so the metro is a practical alternative. Fares are 55 cents (US), slightly more at rush hour. Taxis and taxi colectivos are abundant.
There are excellent eating options in Barrios Bellavista, Lastarria and Barrio Brazil. Santiago Centro and Plaza De Armas have many fast food cafes.
Chile Travel: Welcome to Santiago
About the author:
W. Ruth Kozak is a lover of history and travel. This was a sentimental journey Ruth took inspired by a dear Chilean friend who unfortunately died before he could return to his beloved homeland. So every step taken in his city was in memory of him.
All Photos are by W. Ruth Kozak.