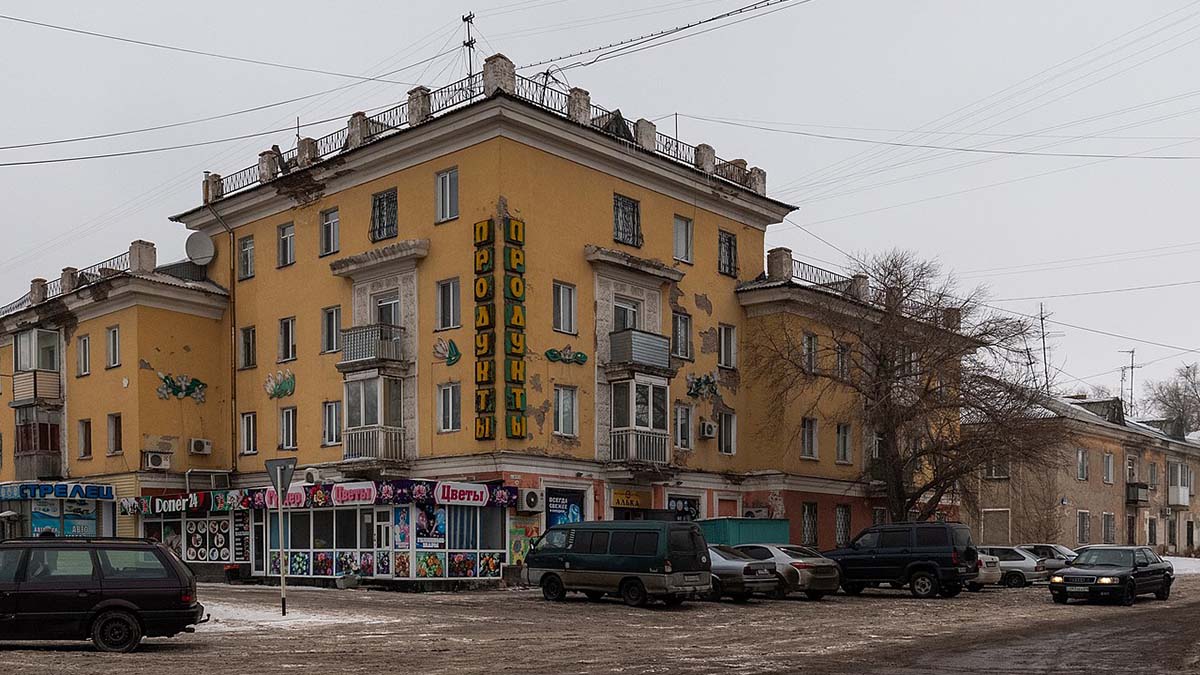 by Janice Porter Hayes
When my husband and I first flew into Karaganda, Kazakhstan, the first thing I noticed was the smell. The warm breezes blowing in from the vast Kazakh steppe and over the tarmac smelled almost like the air of my family's farm, located half way around the world in the high mountain deserts of Utah.
But there the similarities ended. During our long trip, from Utah to New York, New York to Moscow, Moscow to Karaganda, the world had slowly and quietly changed. The airports became smaller and more stark, the people more foreign, the language less understood. By the time we reached Karaganda, the plane was just serviceable and when our adoption facilitator met us at the airport, we watched the steppe too disappear as we whirled toward the city itself, passing along the way, a Russian Orthodox church, a mosque, and in the distance, the dilapidated orphanage, from which we would soon adopt our new daughter.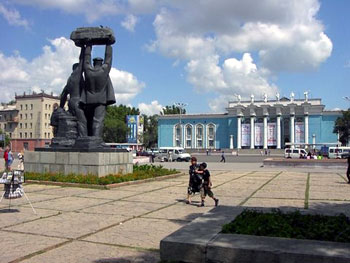 Before our adoption journey began, I knew next to nothing about Kazakhstan, in part, because until 1991, the country had been swallowed up in that vast entity known as the Soviet Union. So swallowed, it had lost its name, its freedom, much of its language and very nearly, everything about it which made it distinctly Kazakh. Even today, driving the streets of Karaganda, one notices the crouching, well-worn blocks of Soviet style apartment buildings with their Soviet graphics and wonders at the statue of Lenin still posing in the center of town. Still, there are no statues of Stalin, and that is a comfort. After all, it was Stalin who used Karaganda; along with hundreds of other locations in the vast Asian and Siberia steppes, as a full-service slave labor camp, a part of his infamous Gulag system. For years, people were deported to Kazakhstan from places as far away as Germany, Poland, Korea and Japan, put to work in the coal mines still prevalent in the area today and kept behind fences studded with barbed wire, guard towers and patrolled by guard dogs. Alexander Solzhenitsyn; the famous Russian author and Gulag inmate, was set to work not far from Karaganda in Ekibastuz, Kazakhstan. His famous novel, " One Day in the Life of Ivan Denisovich", was based on his experiences as a prisoner there.
Today, Karaganda has the feel of a city still trying to find itself. The streets are wide and often potholed, but they are kept relatively clean by an army of babushkas hunched over homemade whisk brooms. Strips of green, dotted with trees and flowers line many boulevards while the street vendors, selling everything from bananas to gladiolas, line the sidewalks. A few vendors will tell you about their allotments in the countryside where they grow the produce they sell, and a few will give you a toothless grin and hand you a bunch of apples for free. After all, Kazakh legend holds that apples were first grown in Kazakhstan.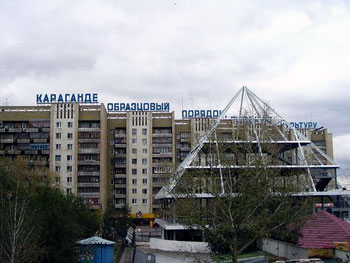 Though economic times are tough, there is a new openness to Karaganda. We met people, from translators to drivers, to those working in the orphanages we visited, who were willing to discuss the painful past of their city, its history of Soviet oppression and to ask us in turn, about our experiences in the west. No attempt was made to hide the shoddiness of much of their surroundings nor were they too proud to ask for help, especially as it pertained to my husband and I buying much needed supplies for our daughter's orphanage. We found the younger adults and children particularly interested in our lives, our language and why were had come so far to their city. Indeed, it was the older generation of residents who kept their distance and watched us warily when we walked past or played outside with our new daughter. Perhaps a life spent under the thumb of a communist regime had taught them to be more cautious.
All in all, we found Karaganda especially attractive when we were out walking, shopping and visiting among the people. The open air markets were particularly interesting, flooded with everything from exotic foods to clothing, souvenirs to other trinkets, not to mention the opportunity to watch the creative tactics used by the many beggars and street children wandering about. Foreign and familiar smells mixed, creating a potpourri loaded with the scent of flowers, apples, oregano and onion, mixed with lesser known Asian spices along with the scent of blood, animal droppings and the hunks of meat hanging in stall after stall. Most often, Russian was spoken, but Kazakh could still be heard to the discerning ear. Our adoption facilitator treated us to dinner at a Korean restaurant one night, a Georgian restaurant the next. We also managed to eat our daily lunch at a pizzeria owned by Turks. The food was plentiful, inexpensive and good.
Some of our best experiences however, focused on the spiritual rather than the temporal when we were invited to attend Sunday services in the beautiful Russian Orthodox cathedral. The religion, having been suppressed for so long under communism, seemed vibrant, the worshipers devout, the choir and ritual a balm to heart and soul. The nearby mosque was also impressive and stood as further testimony not only to Kazakhstan's rich cultural and racial diversity, but to its new found religious freedoms as well. Trips to the surrounding countryside and out into the vast steppes were also a welcome change. Out under the endless Kazakh sky, one begins to understand this once nomadic race of people who still claim the land, air and sky as their own.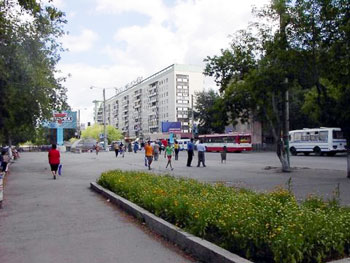 For those wishing to visit Karaganda, hotels, restaurants and apartments are available, in various price and quality ranges. While in Karaganda, my husband and I stayed in an apartment whose previous owners had emigrated to Israel, leaving the apartment, along with their clothes, family pictures and clothing, behind. Many permanent residents will move in with relatives and rent their apartments to foreigners willing to pay well and keep their apartments clean. The price for such an apartment is still reasonable and is a great way to get to know the people, places and culture of the city. Karaganda boasts a nice lake and central park in its downtown area which is a welcome change from the traffic of the streets and during the summer, a large circus plays in town which is an event the entire city looks forward to. Karaganda also supports a university and various academic institutions. There are gardens, a water park, a theater and a museum which contains many interesting displays on traditional Kazakh nomadic life which we found very well done. We also enjoyed the many monuments dotting the city, especially the massive memorial dedicated to the Kazakh effort during World War II.
Perhaps an adoption will never take you to Kazakhstan, but for those travelers looking for something off the beaten path, who enjoy a rich mixture of culture, language and people, and who are willing to see into a painful past while recognizing a place struggling for a better future, Karaganda may be well worth your traveling time.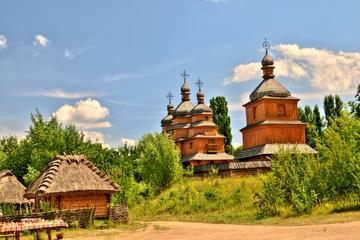 Half-Day Cossack Village Tour from Kiev
If You Go:
Web sites to access further information on Karaganda:
www.aboutkazakhstan.com
www.tripadvisor.com
www.virtualtourist.com
About the author:
Janice Porter Hayes has been a freelance writer for over 25 years, with published stories, articles and poems in many different magazines and anthologies. She has a degree in European history and work part time as a reading tutor. In her spare time she loves to read, garden, travel, take long walks with her dog, Kodiak, and spend time with family and friends. She is also involved in the community as a hospice volunteer and has served on her community library board where we started our town's first library.
Photo Credits:
Top Karaganda photo by Ilya Varlamov under Creative Commons Attribution-Share Alike 4.0 International
All other photographs by Janice Porter Hayes.