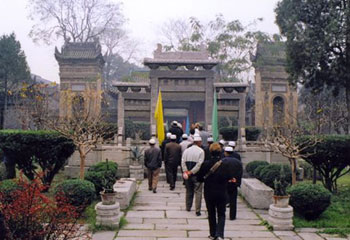 by Chris Millikan
When touring China's legendary sights with twenty other enthusiasts, my husband Rick and I encounter unimaginable marvels in and around Xian, the early capital where Emperors ruled for over 3,000 years.
Two memorable days begin high atop the ramparts of this ancient city's wall, one of the few remaining in China. On our way to the north gate, our energetic guide Hanson points, "That Bell Tower is from the 14th-century; its huge bell once signaled sunrise every morning. Over there to the west, that evening Drum Tower would sound day's end."
Along some of the nine impressive miles encircling the city, we stroll above the old moat; others ride bicycles or jog. Built over 600 years ago for both protection and food storage, formidable watchtowers solidly anchor each corner; smaller defensive towers dot the top at intervals. Fluttering crimson flags and lanterns punctuate the stark gray structure.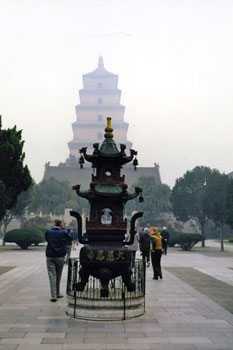 We next arrive at the Great Wild Goose Pagoda, a religious complex built about 652,AD on the city's southern edge. Silver morning mists shroud its peaceful manicured gardens as Hanson regales us with this sanctuary's legend, "During a severe famine, Buddha miraculously provided flocks of wild geese to feed starving worshipers…" Over 300 Buddhist monks were once housed in 2000 little rooms here; nowadays, forty live here.
Pausing, we light slender red candles and bundles of incense-sticks to send silent wishes and prayers to loved ones back home. Entering the soaring seven-story pagoda protecting Buddhist scriptures, our guide explains, "Renowned traveling monk Xuan Zang brought these sacred writings from India along the ancient Silk Road…and translated them into these 1335 volumes kept in these glass cabinets."
Lively afternoon markets in the Muslim quarter and a surprising stop at the Great Mosque intrigues everyone further. Infusing us with even more history, Hanson explains, "This mosque was founded in 742 as a religious center for Arab merchants…and today it serves over 60,000 Chinese Muslims! When Kublai Khan expanded westward in the 13th century, large numbers of Muslim soldiers and artisans resettled here in China." Except for the intricate gold Arabic lettering, the beautiful wooden building looks entirely Chinese, with a two-story pagoda replacing typical domes and minarets.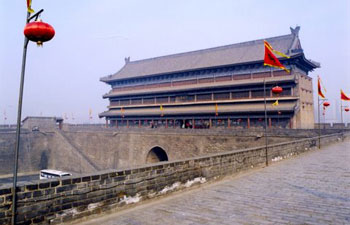 Just when we thought it couldn't get any more captivating we arrive at Xian's Grand Opera House, a huge dinner theatre. Soon, white-clad servers deliver basket-after-steaming-basket of tiny, mouthwatering dumplings. Wielding our chopsticks enthusiastically and washing each luscious tidbit down with cold Chinese beer, we ooh and ahh delightedly over these intricate handmade creations, decorative tops signifying each filling: duck, broccoli, pumpkin, but the most electrifying experience was yet to come…
Heavy velvet curtains open dramatically, revealing an opulent royal court complete with Emperor, bejeweled costumes with elaborate headdresses and ancient stringed instruments. Swirling colours, haunting music and elegant dances quickly transport us into the grace and beauty of China's Golden Age of the Tang Dynasty. And as spectacular as this day had been, we soon discover that our next day would be even more astonishing.
In the morning, our bus rolls smoothly beyond Xian's walls, passing farms, orchards and roadside stands sun-drying persimmons. Pointing through the bus windows, Hanson remarks, "Imperial tombs surround Xian! Emperors, empresses and high-ranking officials are all buried there." Looking out at the distant mound of first Emperor Qin Shihuang, we try to visualize his massive underground burial chamber, described in early records as jewel-filled palaces littered with gold and silver statues, pearl-encrusted ceilings and flowing mercury-rivers… and wonder whether the fabled treasures remain in his yet un-excavated tomb.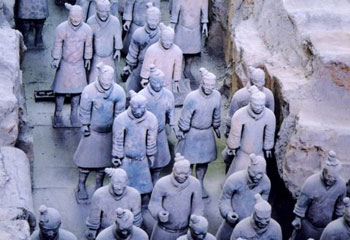 Hanson continues, "Ascending the throne at age13, Qin unified feudal kingdoms and established China's first dynasty in 221 BC. Seven hundred thousand artisans worked on his mausoleum for decades before his death, never finishing it. His son eventually continued the work, as his father had wished."
Stopping at a state workshop, we watch as artisans create souvenir soldier replicas in many sizes. Examining molds, tools and fire-pits reveals clay figure secrets. "Terracotta is baked clay," the guide instructs. "Feet and legs are solid, bodies and heads hollow." She continued, "Hairstyles distinguished ranks: topknots to the right were soldiers; topknots on the left, kneeling archers; two topknots like a butterfly indicated generals; a flattop designated officers or horsemen."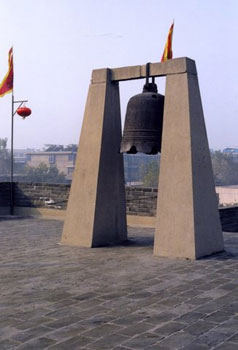 Expecting natural terracotta earthen tones, I'm surprised to learn that hair, eyebrows, faces and hands had then been hand-painted in life-like colours: pink flesh, white eyeballs, black hair. Yellows and scarlet covered Emperor's robes; green, soldiers' trousers. Inspired, my hubby bargains for an entire clay regiment to guard our sun room plants back home.
Before viewing the revered Army of the Terracotta Warriors And Horses, we pass Mr. Yang, an elderly farmer signing keepsake books documenting his legendary discovery. While digging a new well in 1974, he had uncovered bronze weapons and broken warrior-bits, never expecting that this accidental discovery would result in the riveting UNESCO World Heritage Site we're about to see.
Three earth-and-timber underground vaults have now been excavated. Over one thousand soldiers were discovered in a smaller chamber, sixty-eight warriors and war-chariots in another, the command post. The largest pit yielded an astounding terracotta army of six thousand life-sized foot soldiers, cavalry and officers…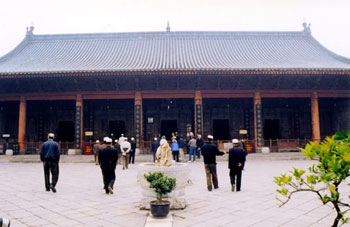 At last, we enter into that bright air-conditioned pit over a football field and a half in size. Scarcely believing what we were seeing, we witness the twentieth century's premier archeological discovery…
The remarkably preserved force stood in battle formation guarding Qin's ancient imperial necropolis, exactly as he had dictated 2000 years before. Ranging from 5-feet-8inches to 6-feet in height, the armored warriors wore short chain-mail coats, belted long-sleeved gowns, leggings and laced boots. Stretching row-upon-row four abreast, they once held bows and arrows, swords or spears. Although buried for centuries, their weapons were rust-free and still sharp when unearthed!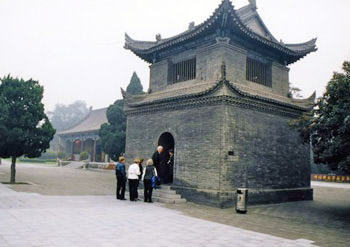 Hanson observes, "Soldiers and horses have been carefully reassembled from collapsed rubble; the colours have mostly faded." From each warrior's facial expression, including wrinkles on the generals, we imagine their different personalities. Last of all, we pause thoughtfully at the humble well's site, the place that had started worldwide notoriety.
Ah yes, Xian City's celebrated attractions completely captivate our imaginations and resonate still, quite remarkable memories.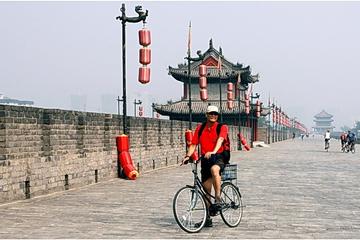 One Day Private Walking Tour in the Old City Area of Xi an
If You Go:
• For Tour Advice: www.hansontravel.ca
• Fly from Beijing: www.travelchinaguide.com/china-flights/beijing-xian.htm
• Beijing Train schedules & prices from Beijing: www.beijingchina.net.cn
• Xi'an Sights: www.travelchinaguide.com/attraction/shaanxi/xian
About the author:
A much-traveled freelance writer/photographer living near Vancouver, BC Chris Millikan is a former teacher and elementary school principal now extolling the joys of travel as an inviting 'curriculum.' Traveling off the beaten track with writer/photographer partner and hubby Rick, these accounts reflect zany, cultural and historic adventures. A member in good standing & Vice President of the BC Association of Travel Writers, her stories regularly appear in Senior Living Magazine, Open Road Magazine, In-flight Magazines, community newspapers and occasionally the Vancouver Sun and Province. She is a 2009 Kalama Award winner, acknowledged for stories that reflect the culture and history of Maui, Molokai & Lanai. Contact her at chrsmillikan4@gmail.com
All photos are by Rick & Chris Millikan:
1. Xian's Great Mosque Entryway
2. Xian's Wild Goose Pagoda in the mist
3. Xian's City Wall Gate
4. Xian's Terracotta Soldiers
5. Xian's City Wall Bell Tower
6. Xian's Muslim Mosque
7. Xian's Wild Goose Pagoda Drum Tower
About the author:
A much-traveled freelance writer/photographer living near Vancouver, BC Chris Millikan is a former teacher and elementary school principal now extolling the joys of travel as an inviting 'curriculum.' Traveling off the beaten track with writer/photographer partner and hubby Rick, these accounts reflect zany, cultural and historic adventures. A member in good standing & Vice President of the BC Association of Travel Writers, her stories regularly appear in Senior Living Magazine, Open Road Magazine, in-flight magazines, community newspapers and occasionally the Vancouver Sun and Province. She is a 2009 Kalama Award winner, acknowledged for stories that reflect the culture and history of Maui, Molokai & Lanai. Contact her at chrsmillikan4@gmail.com