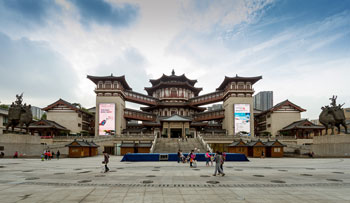 by Brian K. Smith
The historic ancient capital of Xi'an in the centre of China is where the first emperor of China rose to power. Tourists from all over the globe come here to see the Terra-cotta warriors – dug up from a massive tomb that is an active archeology site. It is also the terminus for the famous Silk Road that was a trade route from China to the Mediterranean Sea, when a camel or horse was the everyday method of transportation.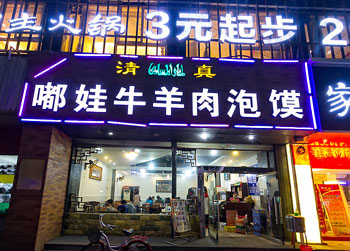 In modern times part of that history still lives on Xi'an. Over the last decade the ancient city wall has been restored back to its splendor of over 600 years ago. Within the city walls lives a large population of Muslim descendants of the Silk Road days of trade. Along with their unique customs also comes their unique food.
In the Muslim quarter of Xi'an there are countless vendors selling BBQ meat, hand made noodles, and many dishes that use mutton or beef with eastern spices as the base. Fortunately their food spreads out across the city in the form of restaurants and kiosk. In the neighborhood near my hotel just a few blocks of walking took me to an amazing Muslim restaurant where the Chef serves a dish called du wah (pita bread soaked in lamb soup). It reminded me of poutine from our French heritage in Canada.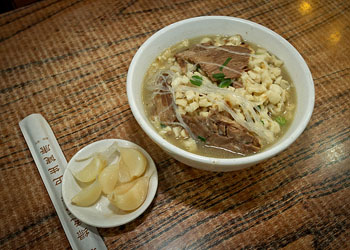 There is something about comfort food that is immediately recognizable – and this dish hit the spot. Made from pita bread, sweet potato noodles, mutton, and broth – rich with flavour and creamy in texture, it instantly makes you feel cozy and warm. Add some pickled garlic and pepper to your taste. The dish goes back to the days of the West Market at the terminus of the Silk Road. Hungry and exhausted traders arriving after months of travel could enjoy this dish in celebration of a long journey's completion. Today a short bus ride from anywhere within the city walls will deliver you to this treat of the past. Add a local beer as your companion to this dish to complete the experience.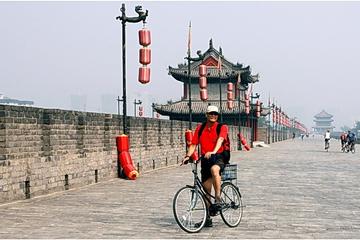 One Day Private Walking Tour in the Old City Area of Xi an
If You Go:
The restaurant is on No.38 Jian Guo Road, Xi'an, Tel:15029052923. Take No.43 or 45 or No. 612 or 300 bus from Drum Tower. Get off at Da Chai Shi bus station, go right till the first crossing, turn right on Jian Guo Road, go straight about two blocks. It is on your right.

Getting there by Air:
Beijing to Xi'an – There are more than 21 return flights a day served by such popular carriers such Air China, China Eastern Airlines, Shanghai Airlines, China Southern Airlines, Sichuan Airlines and Hainan Airlines. The length of flight is approximately two hours.
Shanghai to Xi'an – Served by Air China, China Eastern Airlines, Shanghai Airlines, China Southern Airlines, Sichuan Airlines and Hainan Airlines. More than 18 return flights a day, and its length is approximately 2 hours and 20 minutes.
By Rail:
Beijing to Xi'an – HST (High Speed Train) from Beijing West Railway Station 4 hr 40 min. Ten each direction per day. Arrives at Xi'an North Railway Station
Shanghai – Xi'an – Only regular train travel to Xi'an Railway Station: No. 151, Huancheng Road, Xincheng District, Xi'an, Shaanxi 710005, China.
About the author:
Brian Smith has traveled to more than 41 countries around the world. His favorite destination in the last seven years has been Asia with seven trips to China, including Tibet. He is a seasoned adventurer and is co founder of Adventurocity with his business partner Rick Green. Their motto is " Why take a trip when you can have an adventure". www.adventurocity.com. Brian is a career professional photographer, with a Masters of Photographic Arts (PPOC). Twitter: @fotocraze
Photo credits:
All photos are by Brian K. Smith:
West Gate Plaza – Xi'an China
Restaurant entrance
Du Wah (Pita bread soaked in Lamb Soup)