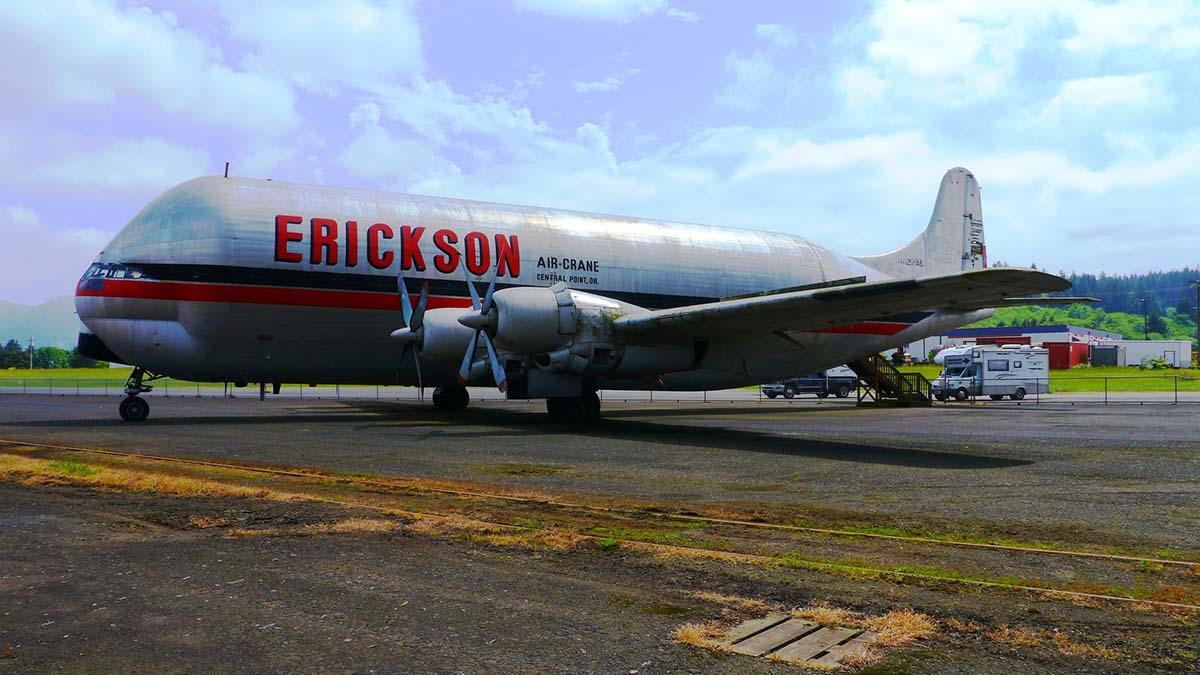 by Mary Charlebois
Tucked into a corner of a seven-acre, blimp- hangar, Steve Schramm's lifetime collection of WWII battle scenes is the newest exhibit at Tillamook Air Museum. A 20'x80' space with three levels, is home to Steve's mesmerizing collection.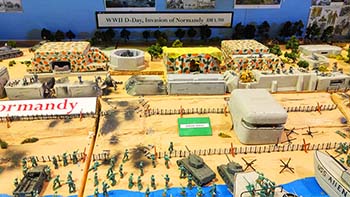 The exhibit is a model lover's nirvana, thousands and thousands of soldiers, sailors, pilots, planes, ships, rockets, hangars, bridges, mountains, trees and much more. Steve has re-created all the European battles in WWII. Each scene is historically correct and to scale. Detailed reader's panels describe the dioramas.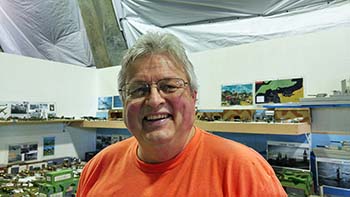 Steve started his hobby at age nine, inspired by WWII movies and books. He learned to make models, then moved on to assembling historically correct and scaled dioramas. His collection grew until his teen years when, as he says, "I took on other interest." Some years passed until he was motivated to begin his modeling hobby again. His own son was the inspiration. They worked together until, you guessed it, his son became a teenager. Today Steve lives in Salem and is a plant facility manager.
Steve had often thought of ways he could share his work with others. It was taking up space in the attic and no one could see it. His goal of honoring WWII veterans and veterans of all wars was realized when he contacted Tillamook Air Museum and they gladly accepted his gift.
Steve's impressive collection is on permanent exhibit at Tillamook Air Museum. Located in Tillamook Oregon, it's the world's tallest, standing, wood building. It was Naval Air Station Tillamook (NAST), during WWII, home to Marines, Navy, WAVES and K-Class Airships – blimps.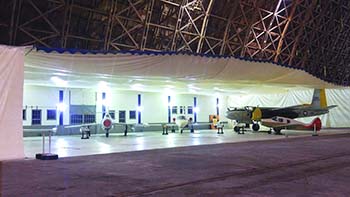 Cavernous doesn't begin to describe Hangar B. Standing in the middle, you're dwarfed. I think I know how ants feel encountering humans. Today hangar B houses vintage aircraft and a museum dedicated to the WWII activities that took place there.
There were two hangars built at NAST. Hangar A burned to the ground in 1992. During the war, both were very active. The airships had a range of 2,000-miles. They could stay aloft for three-days and were perfect for coastal patrol and convoy escort. NAST was home base to Squadron ZP-33 and their eight, K-Class airships. The ships were 252' long x 80' in diameter. Each was filled with 425,000 cubic feet of Helium. NAST was decommissioned in 1948. Today the building houses the Tillamook Air Museum.
The Tillamook Air Museum Exhibit Hall is absorbing and well curated. It contains things you won't see anywhere else. There just aren't that many blimp-hangars around. About 850 Marines, Navy and WAVES were stationed at the airship port during the height of the war. One unique military job fell to WAVES stationed at NAST. They raised and trained carrier pigeons used in the war effort.
The museum and Steve's exhibit, are at 6030 Hangar Road, Tillamook Oregon. Hours are 10 AM to 5 PM daily. Admission ranges from $2.25 – $9.75. Parking, restrooms, drinking water, café and gift shop are on site. For more information – 503-842-1130 or http://www.tillamookair.com.
The air museum is fascinating. You'll have the chance to climb inside gargantuan transport craft, sit in a jet pilot's seat, visit the still intact Helium Room, and see Steve Schramm's lifetime work to honor veterans from all wars especially his father, Arthur Schramm, a veteran of the Korean War.
If You Go:
Tillamook Air Museum is located just off Hwy 101 on the southeast side of Tillamook Oregon. The hangar is visible from the highway. Turn east at the fighter jet on the corner of Hwy 101 and Long Prairie Road.
Where to eat: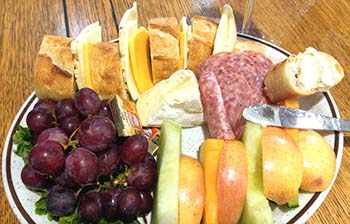 Blue Heron French Cheese Company. This cheese and wine tasting shop has an excellent deli, serving sandwiches, soups, salads, and my favorite, the cheese and fruit plate. It's easily enough for two. Pair it with one of the wine samplers. You can eat outside or at one of the tables scattered around the store. There is a stand-up bar and table seating in the wine tasting room. Located on Hwy 101 on the north side of Tillamook Oregon.
For dessert and some wonderful locally made cheese to take home, stop at the Tillamook Cheese Factory Visitors Center. Cheese tasting, an old-fashioned ice cream parlor, and exhibits of 'how cows work' are agreeable for all ages.
Where to sleep
I suggest a vacation rental if you're staying on the coast. They are plentiful and most are oceanfront or ocean view. Reasonably priced hotels are also plentiful. RV parks and camping are everywhere. Find some good suggestions for all types of lodging at Visit the Oregon Coast.
Where to play: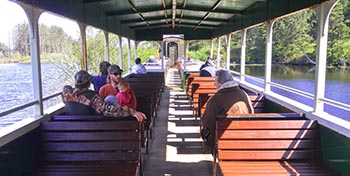 Oregon Coast Scenic Railroad. Take a leisurely round-trip ride along the Tillamook Bay and Estuary. The scenery is captivating, the photo ops are spectacular. A stop in Rockaway Beach, makes time for a stroll around this colorful beach town. Stop into Renee's Tasting Room and Café for a coffee, glass of wine, or sweet treat. Her cozy and delicious spot is just one block south of the train stop. Seating is available in enclosed vintage train cars, gondola cars, and completely open cars. The train is a wonderful family excursion no matter what the weather brings. The warm and friendly crew is eager to share the train's history.
About the author:
Mary Charlebois a freelance travel writer/photographer. Coastal Mendocino California is her home base. City or countryside, settling into local life is Mary's style. Small towns, villages, farms and ranches, discovering the unusual, unexpected, and off-the-beaten-path are her favorite stories. See more of her work on her website MaryGo.
Photo Credits:
Top photo by Rick Obst under Creative Commons Generic license (CC BY 2.0)
All other photos by Mary Charlebois:
Diorama of the Normandy Beach battle
Steve Schramm, creator and curator of Model Room Exhibit
Tillamook Air Museum – full-sized vintage aircraft
Fruit & Cheese Plate, Blue Heron French Cheese, Tillamook Oregon
Oregon Coast Scenic Train crossing the Tillamook Estuary