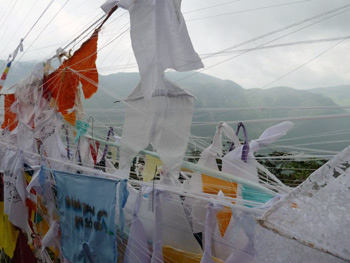 Dalhousie, Sri Lanka
by Helen Moat
The mountain rises out of the rainforest an emerald pyramid. I look at its sheer vertical flanks that stretch upwards on and on until they puncture the sky high above and I wonder: What have I let myself in for?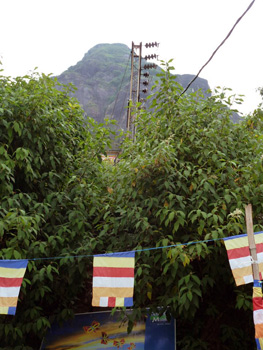 This is Sri Pada, also known as Adam's Peak. It may not have the notoriety of Mount Everest (as the highest mountain in the world) or the elegant beauty of Mount Fuji, neither does its history go back as far as Mount Sinai's, but it is the only mountain in the world to be venerated by four major world religions: by Buddhists, Hindus, Muslims and Christians.
Pilgrims come from all over the world to climb the steep-sided peak and to pay homage to the indentation of a giant footprint on its summit. To Buddhists, it is none other than that of Lord Buddha; to Hindus, Shiva's and to Christians and Muslims alike it belongs to Adam.
I have been taken to this place by my Buddhist Sri Lankan hosts. Dimuthu, who I'd connected with through a British Council education programme, has arranged for me to climb the mountain, something I longed to do on discovering it way back in England.
Last night, Dimuthu's uncle and his family had put me up in their Highland home, fed me, watered me, entertained me and arranged for a driver to negotiate the 5 hours of rough mountain roads. Dimuthu's uncle is also accompanying me on the mountain along with Dimuthu, her father and her two cousins. Failing to climb the mountain is not an option, I realise.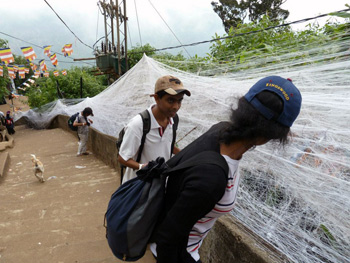 All human life has come to this place across the centuries: rich and poor, kings and paupers, religious leaders and non-believers, young and old, strong and weak, sick and the well, disabled and able-bodied.
Sri Pada's history goes back a long way. It is believed that King Valagambahu discovered the sacred footprint a hundred years before Jesus was born. The first recorded history goes back to 1065AD when King Vijayabahu built shelters along the way. The great monarchs of Sri Lanka's ancient civilisation were ascending Sri Pada a thousand years ago but many believe that pilgrims were climbing Sri Pada long before any recorded history.
Marco Polo climbed the mountain in the fourteenth century. And some believe that Alexander the Great visited the sacred place too. Then of course there is Adam from the beginning of time, thrown out of paradise and made to serve penance on top of the peak; forced to stand upon one leg for a thousand years. That'll teach him.
Back in the present, I'm standing at the foot of Adam's Peak, dressed in cargo trousers, strong footwear and laden down with a rucksack packed with layers of clothing, waterproofs and first-aid. I have my walking sticks at the ready too. I step out with a serious walker's stride.
My Sri Lankan friends, in contrast, are wearing flip-flops, the kind of smart casual clothes you might wear for a stroll down on the promenade, while carrying plastic bags of snacks – or nothing at all. They saunter off past stalls of garish souvenirs and teashops that could indeed grace any seafront. I wonder if my casual friends are really serious about making it to the top. My fears seem to be confirmed when they stop off for a splash in the river.
Later I realise that they were washing themselves in an act of purification before ascending the holy mountain.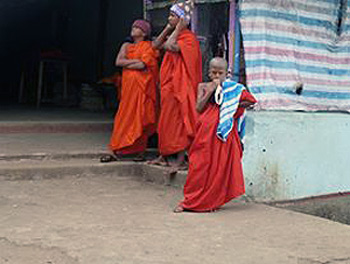 At the entrance to the mountain we stop again. A Buddhist priest blesses us. For us first-timers (all but Dimuthu's father) we are given a white cloth with a good-luck coin wrapped inside. Dimuthu's father ties each wristband on our right arm. A red mark is placed upon our foreheads, giving us Saman's protection, one of the four guardian deities of the mountain.
Soon we reach the steps. The climbing is relentless and my confident stride slows down to a painful crawl as I haul my unfit body up each one. Two teenage girls, taking pity on me, stop and offer me a handful of dried fruit. My Sri Lankan companions, in contrast, are just finding their stride. They take the steps casually with an easy stroll, seemingly oblivious to the steep elevation.
Occasionally Dimuthu's 60 year old father halts to meditate on the wayside, eyes closed and palms held outward in quiet serenity. He seems untroubled by the endless staircase rising up in front of him. I, in contrast, stop frequently, feeling as if my lungs are going to burst. The Sri Lankans wait patiently as I push my unwilling body ever upwards. Amila, Dimuthu's young cousin stays with me when I stop for breath, talking all the while to distract me from my discomfort. When I stop, he stops. When I move again, he moves alongside me. I am grateful.
At one point, Dimuthu's father hands out rolls of string. We tie them to the bottom of a staircase, unrolling them until they run out. The wayside looks like a long white spider's web. Overhead prayer flags flap in the breeze. Apparently string was used by pilgrims in the past so that they would not become lost if the mist came down. The steps become steeper and steeper. I have been in discomfort for hours now, but giving up is not an option. Indeed the very thought of giving up is considered unlucky in the Buddhist tradition.
Amila points out the iron studs in the rock. "Chains were attached to these before the steps were built and pilgrims had to pull themselves up. It was treacherous in wet weather. Many pilgrims fell to their death."
I sense we are approaching the summit. At last the temple can be seen above my head. I can hear the Buddhist monks laughing in the cloud. Then I see their orange robes swirling in the mist. No chanting though – they're pouring tea from a large canister, chatting and joking together. Even Buddhist monks need to have time off. Five thousand steps later and I have reached the summit at 7,362 feet. I'm elated.
Amila and I climb the steps to the shrine of the footprint. He bows down, head to the ground. I close my eyes and reflect on my own thoughts. Then we remove our white strips of cloth from our wrists and tie them to a pole.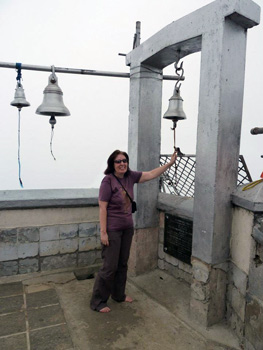 "Make a wish," Amila says.
Dimuthu's father rings the bell twice; the rest of us once: one peel is permitted for every ascent. The sound vibrates across the mountain top. I feel strangely emotional.
Going back down, there's a very elderly lady climbing slowly up with her daughter. I ask how old she is. "Eighty-three," her daughter says. "This is her sixty-fifth ascend." Suddenly I feel rather pathetic.
There are not many pilgrims making their way up in the afternoon heat. Most pilgrims ascend Sri Pada after dark, arriving in time for sunrise. We pass just a handful of smiling, chanting pilgrims, echoing encouraging songs to each other and with us.
Amila teaches me to say, Theruwan saranai: may you be protected by the triple gem (of Lord Buddha, his teachings and his disciples) to the ascending pilgrims. They beam at the pale-faced westerner tripping over their language but thrilled with my attempts they answer back with a smile.
Seven and a half hours after departing Dalhousie, we stumble back into the village and our starting point. My legs are mash.
"You know," Dimuthu says to me. "If your wish comes true, you have to climb Sri Pada again." Now she tells me. I'm not sure now, I want my wish to come true. But I would not have missed out on climbing this sacred mountain. it's an experience that will stay with me for a long time to come.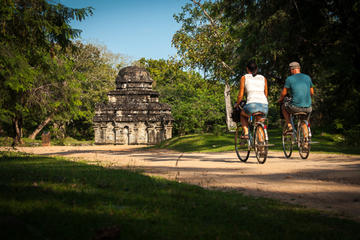 4-Day Essence of Sri Lanka Tour
If You Go Up Adam's Peak:
♦ Where? The mountain is part of the Peak Wilderness area (a protected nature reserve) located in the southern Highlands of Sri Lanka. Most pilgrims and tourists choose the route that starts from the village of Dalhousie.
♦ How to get there? The best way to reach Dalhousie is to take the train to Hatton, followed by a tuk-tuk or taxi. The train journey from Colombo to Hatton is spectacularly beautiful. There are buses that go directly from Colombo, Kandy and Nuwara Eliya. Another option is to hire a car and driver – surprisingly good value for money.
♦ When? Most pilgrims and tourists visit Adam's Peak/Sri Pada between poya day on the 1st December and the Vesak festival in May. Once the monsoon rains begin after that, the mountain can be treacherous, or at least unpleasant in the heavy rain. Most tourists choose to make the ascent after midnight, climbing the mountain in the darkness with the aid of the floodlit pathway. There are a number of good reasons for choosing to climb the mountain at night time: it is cooler, the lit pathway is very atmospheric and vibrant as most pilgrims ascend the path at this time. Once on top, if the skies are clear, you will be treated to a spectacular sunrise and incredible views. In clear conditions, a refraction of the mountain can be seen across the across the valley; a strange and wonderful phenomenon. The disadvantage of ascending the mountain before dawn may mean that you will be caught up in a queue at the top. If you make good time, you will have a very cold and uncomfortable wait at the time with the rest of heaving masses! Alternatively, head up the mountain after breakfast and miss all the crowds. You will have the path more or less to yourself – but you will miss the atmosphere and the sunrise.
♦ Preparation? Bring snacks and plenty of water. There are lots of kiosks on the way up but you will pay tourist prices for food and drink. Bring layers of clothes – particularly if you are making a night time descent. It will be chilly waiting on top for sunrise. Shoes with good grips are advisable; raincoats in case of rain. Walking sticks are a life-saver on the many steps. Training beforehand (unless you have a good level of fitness) is advisable.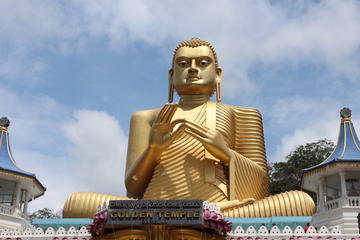 3-Day Sri Lanka Cultural Tour: Sigiriya, Polonnaruwa and Dambulla including Jeep Safari at Minneriya National Park
About the author:
Helen Moat spent her childhood squished between siblings in her Dad's Morris Minor, travelling the length and breadth of Ireland. She's still wandering. Helen was runner-up in 2011 British Guild of Travel Writers Competition and was highly commended in the BBC Wildlife Travel Writing Competition this year. Her writing has been published in The Guardian, Telegraph and Wanderlust magazine as well as online. She blogs at: moathouse-moathouseblogspotcom.blogspot.co.uk
All photos are by Helen Moat:
Prayer Flags
View of the Peak
Web of Thread
Young Monks
Ringing the Bell