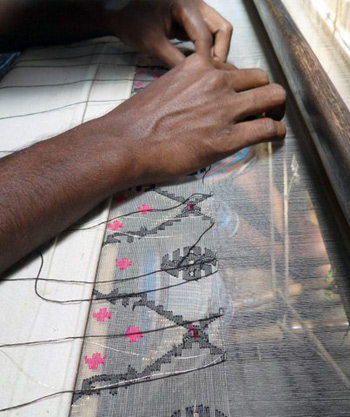 Bangladesh
by Paola Fornari
'They used to say that a Dhaka muslin sari [also spelled saree] should fit in a matchbox,' Mithu says. 'It could be pulled through a wedding ring. The Jamdani sari is an updated version of the muslin one. Fine, but not matchbox-fine. Anyone in South Asia who knows anything about fashion will recognise a Jamdani.'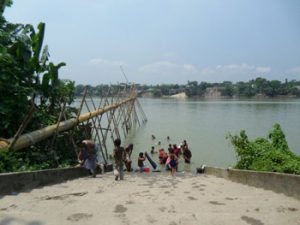 We are weaving our way through the heavy Dhaka traffic towards the eastern suburbs. I heard about Jamdani saris a while ago when I admired a woman wearing one at a reception. I was amazed by the delicate designs woven into the floaty gossamer fabric.
So I hire Mithu to take me to visit a factory. Along the way, he fills me in.
'They've been making muslin here for two thousand years,' Mithu tells me. 'The Jamdani weave is a later development. What distinguishes it are the fine geometric designs, often depicting flowers, or fruit, or spices.'
'What does Jamdani mean?'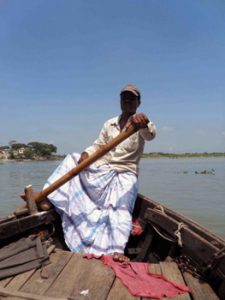 'No-one really knows. Some people say it comes from the Persian jam, meaning flower, and dana, meaning vase. Jamdani became popular during the Mughal period. In the sixteenth century there were looms all over Dhaka. The fabric was used for saris, scarves and handkerchiefs. It was highly prized: traders came from all over Asia and Europe to buy it.'
After an hour the shop-lined tarmac avenues give way to wide dusty dirt roads. Packed buses, scores of people balancing precariously on the roofs, vie for space with heavily laden rickshaws, pulled at the front by wiry men, sweat dripping off their brows, and pushed from the back by young children. The temperature outside is a hundred degrees and rising.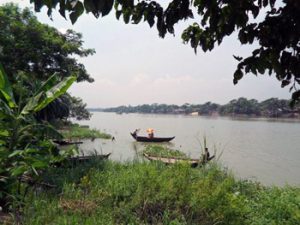 We cross a modern bridge over the huge River Shittalakka, which is a tributary of the mighty Brahmaputra, and turn left into an alleyway. Soon the road is too narrow for the car, so we get out and walk along a brick-paved path skirting the river bank. There are small shops along both sides, selling everything from kapok to bananas and skeins of colourful yarn.
'It's cotton and silk,' Mithu says. 'They dye it here for the factories.'
Soon we hear a clattering noise, which becomes louder as we approach a simple corrugated iron building.
'Sheet factory,' Mithu tells us. We peer through the windows to the dark room inside. One man is supervising the machines. The noise is unbearable—at least for me—so we move on.
'That man will be deaf in ten years,' Mithu says.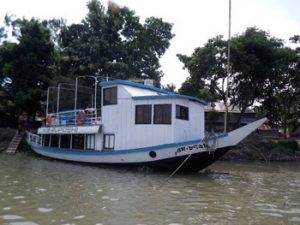 We pass groups of people resting under trees, goats of various shapes, sizes and colours, and the inevitable rickshaws collapsing under the weight of their cargo. Everyone smiles and greets us along our way.
Every now and then there is a break in the line of shops to our left, to allow access to the water, and here, we get a clear view of Dhaka over on the far bank, boats navigating on the wide river, and on our side, groups of people splashing around in the water, taking a bathe and washing their clothes.
The water is murky.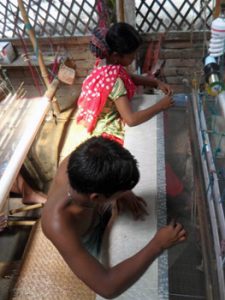 'How clean is it? I ask.
'Not too bad. It's much worse in January and February, when it doesn't rain. In the dry season the water is multicoloured like a rainbow, because of all the dye from the factories upstream. People can't bathe in it.'
A boatman calls to us. 'Want a ride?'
We accept, and step onto his simple craft, which takes us a couple of hundred metres further upstream. We pass a very fancy huge boat, aptly named 'The Ark'.
'That one belongs to the owner of The Daily Star,' Mithu says. The Daily Star is Bangladesh's biggest English Language newspaper. 'He also owns several other companies. He comes here sometimes at the weekends to relax.'
You can see why: the atmosphere here is positively rural compared with Dhaka.
A little further along another, a more modest boat is moored.
'That's our boat, the Riposhi' Mithu tells us, pointing out the Guide Tours logo. 'We take people on all day cruises, or sunset barbecue cruises, to show them how people live along the river.'
We disembark, and walk a short way to a low building with a corrugated iron roof and latticed wooden walls. 'This is the Jamdani factory,' Mithu says.
The owner, a jolly man dressed only in a lungi—a loincloth—stands in front of a low building with a corrugated iron roof and latticed timber walls. He greets us warmly and shows us in.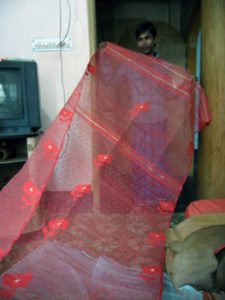 I am immediately surprised by the silence. Seven wooden hand-looms are neatly lined up along the bright room: the only sound is the whir of overhead fans. Fourteen people sit working in pairs, their fingers dancing across the yarn. The colours are delicate, the patterns intricate, and the fabric as light as a butterfly's wings.
'Ask any questions you like; I'll interpret,' Mithu says.
'What are their working hours?'
Mithu talks to the owner and reports back.
'Seven a.m. to nine p.m. They break for three hours each day.'
'And how much do they earn?'
'Depends. The worker on the right is more skilled than the one on the left. He'll make between one thousand five hundred and two thousand taka a week.' That's eighteen to twenty-four US dollars. 'The person on the left gets half. Often, it's a brother-sister team.
Or husband-wife. Or father-son.'
It's mostly men who are on the right, and women and youngsters on the left.
I admire a young boy's work. 'How old is he?'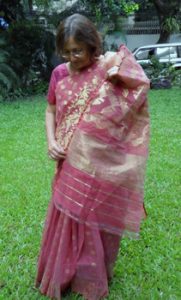 'Fifteen, he says. But he doesn't really know.' He looks twelve.
A 2006 law in Bangladesh prohibits employment of children under fourteen, though from twelve they 'may be engaged in "light work" that does not pose a risk to their mental and physical development and does not interfere with their education'.
This is impossible to enforce. And without the added wage of a working child, many families would not survive.
'How long does it take to make a sari?'
'Two weeks to four months, depending on the intricacy.'
'What do they cost?'
'From two thousand taka to two hundred thousand.' (Twenty-four to two thousand four hundred dollars.)
Once we've seen the factory, the owner invites us into his home, where I am invited to sit down in his living-room. A couple of assistants start bringing saris out of a wardrobe. They aren't matchbox-sized, but they are certainly are folded into very tiny bundles.
One or two are opened out for me to see, and as I begin to ooh and aah, more are unfolded. The colours range from gaudy leaf green and scarlet to delicate off white, and black.
'They make them for Aarong and Aranya. But you'd pay a lot more if you bought them there,' Mithu tells me. Aarong is Bangladesh's most successful handicrafts and textiles store, with several branches across the country, and Aranya is a beautiful clothes shop that uses only fabrics with natural dyes.
After some deliberation and much negotiation, I select a black and a dusty pink.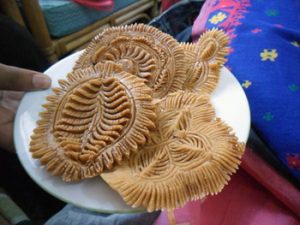 The owner's wife brings us some beautifully sculpted cookies, which are both oily and crispy, oven-hot, and absolutely delicious.
We take our leave, wave at the workers through the latticed walls of the factory, and wander towards the river, where Mithu has invited me to take a break on the Riposhi.
As we rest, sipping sickly sweet tea and munching a cookie, I wonder about the ethics of it all. Two people have spent weeks slogging over my saris. They have sat at their looms from dawn till dusk, with few breaks. Children are there, working. How long will their eyesight survive the close, detailed work they do? Should I be buying from them?
On the other hand, they are working in a congenial environment—much better than the plastics factories in Old Dhaka where I have seen very young children working. It's quiet, clean, and cool. These weavers are highly skilled. They take pride in their work. They live near the factory, and don't have to face Dhaka traffic. And if people like me didn't buy their saris, they wouldn't have a wage at all.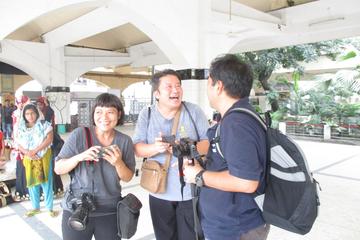 Private Day Tour: Dhaka Photography
If You Go:
♦  For information about Guide tours in Bangladesh, see www.guidetours.com
♦ For information about Aranya and Aarong stores, see www.aarong.com/
♦ For information about travel in Baglasdesh, see travel-in-bangladesh.blogspot.com
About the author:
Paola Fornari was born on an island on Lake Victoria, and was brought up in Tanzania. She has lived in a dozen countries over four continents, speaks five and a half languages, and describes herself as an expatriate sine patria. At present she is living in Bangladesh. An abridged version of this article was published in The Oldie magazine, March 2012
Photo Credits:
All photographs are by Paula Fornari.
Fingers dance across the fabric
Families bathe and wash their clothes in the river
A boatman gives us a ride down the river
View over the river
Guide Tours boat, the Riposhi, where we have a cup of tea
Pair teams, with the more experienced worker on the left
A sari unfolded
Trying out my pink Jamdani sari
The deal is done: cookies to celebrate