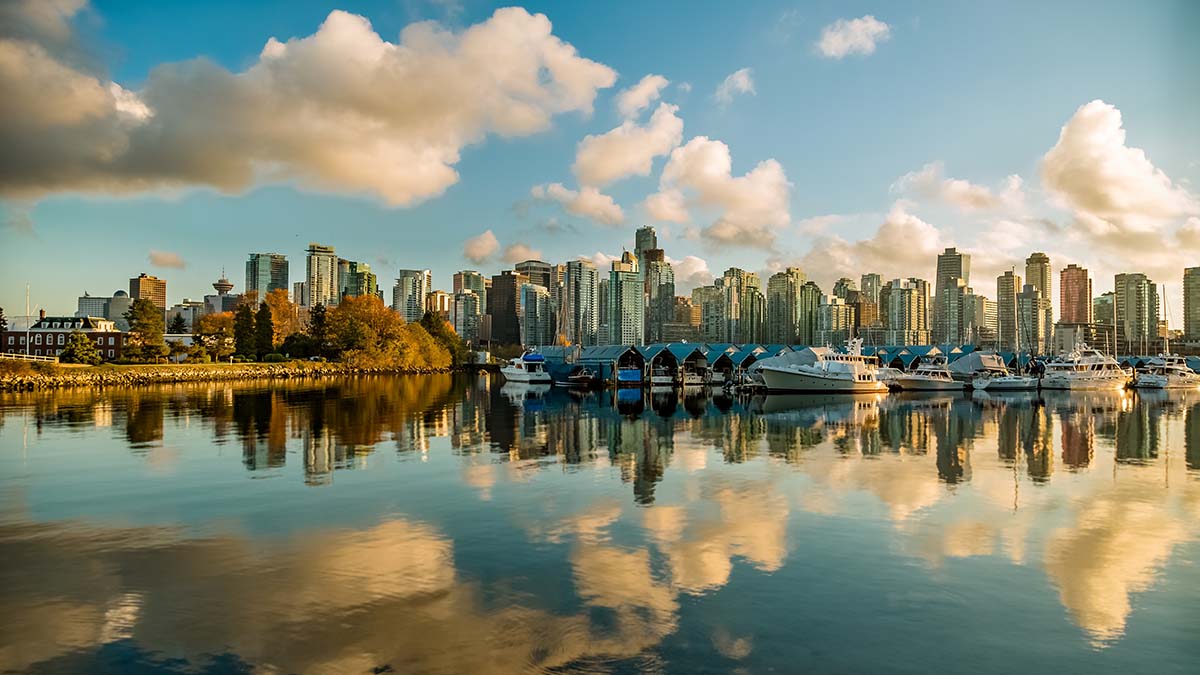 Hosting the World for the 2010 Winter Olympics and Paralympic Games
by W. Ruth Kozak
With its balmy climate, the natural surroundings of sea and panorama of mountains, Vancouver is one of the most beautiful cities in the world and a major tourist destination. As Host City of the 2010 Winter Olympics and Paralympic Games, we Vancouverites will welcome the world this February. I've lived here most of my life and will share with you all the sights and attractions my city has to offer, including Vancouver's colourful history.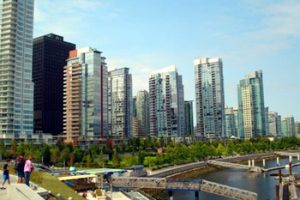 The city area was first settled in 500 BC by Coastal Indians. The Spanish navy explored the area and in 1792 the British naval captain George Vancouver arrived here. When Captain George Vancouver sailed into the inlet he was greeted by the First Nations people who paddled out to meet his ship and welcomed him with a shower of white feathers. Vancouver has always been a city of many cultures, from the First Nations Coast Salish people who originally inhabited this area, the early British and Portuguese sailors who decided to jump ship and stay, the Chinese who arrived, inspired by the gold rush in the '80s, the Japanese who came to fish, to other immigrants such as the Indo-Pakistanis who brought their logging skills; and other cultures including the French, Italian, German, Scandinavian, Ukrainians and Greeks that have given Vancouver its rich cultural heritage.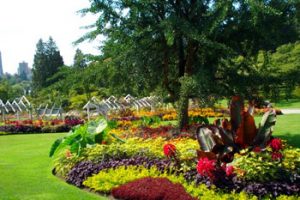 Today's population is 550,000 people who reside within a larger area of two million, forming the Greater Vancouver region. It is the third largest city in Canada.
With it's gorgeous setting, some people call Vancouver "Lotus Land". It's a year-round paradise for sports and outdoor activities with easy access to the North Shore mountains for skiing. You can go golfing and sailing and then take in an opera at the theatre or a sports event at BC Place at night.
Yes, it rains a lot of in Vancouver (on the average 1.117 m. over the 164 wet days annually) so bring your umbrella when you come. But Vancouver boasts some of the most spectacular public gardens in North America such as the VanDusen Botanical Garden on Oak Street (left) and the Nitobe Memorial Garden at UBC. Just across the Lions Gate Bridge on the North Shore you'll find the Capilano and Lynn Canyons where there are forest walks and suspension bridges.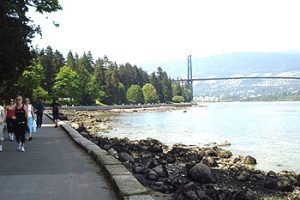 Vancouver has outdoor activities all year round, rain or shine. Locals don't let the rain stop them from going out to enjoy the sights, walking, jogging or cycling. And if you don't like being out in the rain, hunker down in one of the many coffee shops that you'll find in every area of the city, or take in an exhibit at the Vancouver Art Gallery or Museum. Several of the gardens, such as the Dr. Sun Yat Sen Classical Chinese Garden in Chinatown, have covered walkways and pavilions. And the trees in Stanley Park provide a natural umbrella.
Stanley Park (400 hectares) is the soul of the city, slightly bigger than NYC's Central Park, making it the largest urban park in North America All around the park is a seawall with nine kilometers of spectacular waterfront views (above right) and beaches where you can walk, cycle or in-line skate. The Vancouver Aquarium is located in the park as well as Malkin Bowl where outdoor concerts are held during the summer.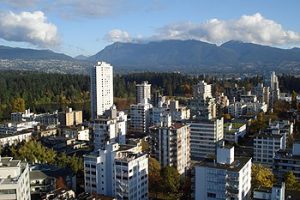 In Vancouver's West End (left), a high density residential as well as business area, you'll find many excellent restaurants and shopping areas as well the Vancouver entertainment hub with theatres and cinemas.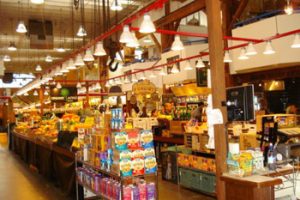 There are several large shopping malls in Vancouver, including Pacific Centre downtown, Oakridge, Metrotown in Burnaby, and Park Royal in West Vancouver. But one of the biggest tourist attractions is the Granville Island Market (right), located across the Granville St. Bridge on Granville Island in False Creek. This was once an industrial area of ironworks and shipyards and it's now a highlight for visitors and locals and includes a moorage for yachts and houseboats. The Market specializes in local BC produce. As well, there are art galleries and craft shops, boutiques, restaurants, pubs and several performance theatres. You can get there by bus or take the little striped Aqua buses that stop all over False Creek and English Bay.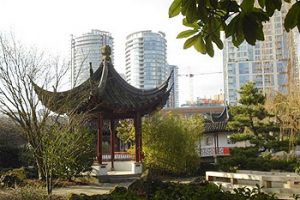 Because of the city's multicultural heritage you'll find ethnic enclaves such as Chinatown and Little India. Vancouver's Chinatown is the third largest in North America after NYC and San Francisco. It's a busy marketplace crammed with shops and restaurants. Be sure and visit the Chinese Cultural Centre and the Dr. Sun Yat Sen Gardens (left) while you're there.
Up at Main and 49th Ave you'll find the Punjabi Market where you can buy exotic merchandise and groceries. In Vancouver's East End, Commercial Drive, once known as "Little Italy" is now one of the city's most bohemian areas where you'll find shops and restaurants including Jamaican, Ethiopian, Mexican and Moroccan as well as Spanish tapas bars and Portuguese and Italian coffee shops, Chinese grocers, and French and Italian bakeries.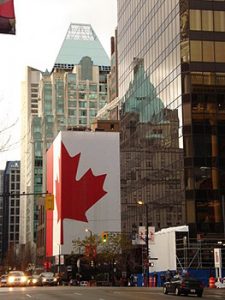 Culturally Vancouver has a lot to offer. Downtown at the Vancouver Art Gallery you can see paintings by BC's beloved artist Emily Carr as well as collections of work by other Canadian or internationally known artists. The Museum of Anthropology at UBC is Canada's largest teaching museum, designed by Vancouver architect Arthur Erikson. It displays aboriginal sculptures, totem poles, and a rich display of First Nations art including works by famous BC artist Bill Reid's Cedar Bear and Sea Wolf.
If you're looking for entertainment the Chan Centre at UBC holds impressive concerts as does the Orpheum Theatre, once the largest theatre on North America's Pacific Coast. This is the permanent home of the Vancouver Symphony Orchestra. The Queen Elizabeth Theatre hosts ballets and theatrical productions. This will be the site of the Aboriginal Pavilion during the 2010 Winter Olympic Games. For sports events, if you come for the Games, you'll be attending GM Place and the Pacific Coliseum or the BC Place Stadium.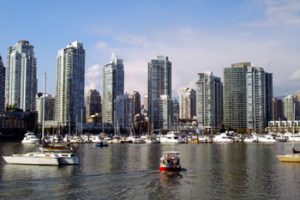 As prestigious and beautiful a city as it is, Vancouver has its 'dark' side too. If you're coming for the Olympics, you can expect higher prices and road restrictions.Security will be tight around the Olympic venues such as the Olympic Village, the Convention Centre, the Richmond Oval and the Vancouver International Airport. In the Downtown East Side area, you can also expect to see Vancouver's growing homeless population. (It's estimated that between 500 – 1200 people sleep on the streets each night, although recently more shelters were opened.) About a quarter of the population here lives below Statistics Canada's low-income level and there is a growing concern regarding the drug trade and crime. Although Vancouver has sometimes been dubbed the 'no fun city', because of strict liquor laws, some of these have been relaxed in time for the influx of thousands of guests coming for the Games. Bylaws prohibiting singing and dancing in restaurants were repealed and bars and nightclubs have had their hours extended (up to 3 a.m. in the Granville Street area downtown).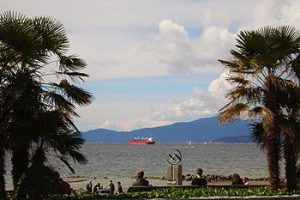 Vancouver is served by the Vancouver International Airport (YVR), the second busiest airport in Canada with the second largest international passenger gateway on the West Coast of North America. The public transit (Translink) include trolleys, buses, a sea-bus service and a sleek Skytrain (monorail) that will take you across town in minutes.
We Vancouverites are proud of our city. How many other cities can claim to have ocean beaches and lofty mountains just minutes away, a huge park in their midst, a striking array of architecture and cultural opportunities and performing arts? And now, we are hosting the biggest show of the year with the 2010 Winter Olympics and Paralympic Games. Come and join us for the fun!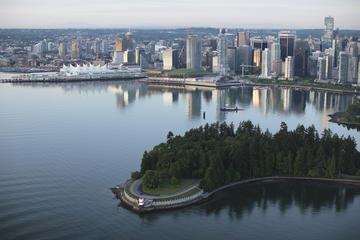 Full Day Best of Vancouver Private City Tour and Alpine Adventure
If You Go:
www.discovervancouver.com
Vancouver Tourist Info Centre:
Downtown Vancouver, Plaza Level 200 Burrard St.
TEL: 604-683-2000
Information about the 2010 Winter Olympics:
www.tourismvancouver.com
www.HelloBC.com
About the author:
W. Ruth Kozak has lived in Vancouver since she was 13 years old so she knows the city well. She is the 'roving reporter' for Planet Eye's "Vancouver Guide" – www.planeteyetraveler.com where you can read all about what's going on in the city.
Photo credits:
First photo of Vancouver by Mike Benna on Unsplash
All other photographs are by W. Ruth Kozak.