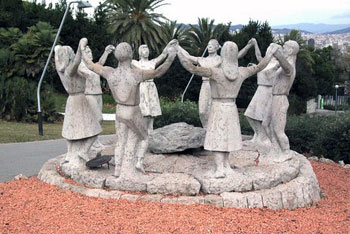 Barcelona, Spain
by Fredricka R. Maister
I was just a college girl majoring in art history when I became smitten with the architectural genius of Antoni Gaudi (1852-1926). Captivated by Gaudi's unconventional, whimsical and gravity-defying architecture, I yearned to visit Barcelona where I could see his creations "in the flesh." This was decades before Barcelona appeared on the radar of hot travel destinations and hordes of tourists waited in round-the-block lines to enter the Church of La Sagrada Familia, Gaudi's crowning achievement.
Sadly, my yearning stayed unrequited for almost 40 years, that is, until this summer when I vacationed for 18 days in Spain, 10 days of which I dedicated to exploring Barcelona. As expected, Gaudi did not disappoint. To finally see, touch and feel the power of Gaudi's work in La Sagrada, Parc Guell, Casa Mila, and Casa Batllo was an awesome experience, punctuated with endless "WOW!" and "Oh my God!" moments.
However, the most memorable highlight of my long-awaited trip to Barcelona to see Gaudi had nothing to do with Gaudi, but with a symbol of Catalan identity and pride: the Sardana, the traditional dance of Catalonia. Catalonia (or Catalunya in Catalan), an autonomous region in northeast Spain with Barcelona as its capital, has its own history, language and culture. Often at odds with Spain's dominant Castilian culture, Catalonia's history has been marked by the loss and recovery of its political and cultural expression as well as the appearance of nationalist movements and political parties advocating for further autonomy or full independence.
Francisco Franco, the fascist dictator who ruled Spain for over 35 years, viewed Catalonia as a threat because of its independent spirit and nationalism. He banned the use of the Catalan language and other Catalan traditions, such as the Sardana. With his death in 1975 and the passage of the Spanish Constitution of 1978, Catalonia regained its political and cultural autonomy.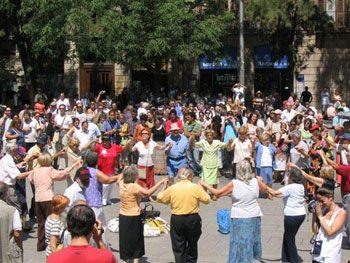 I had read in a guidebook that on Sundays at noon local Barcelonians gather together to dance the Sardana in the square by the Barcelona Cathedral in the Gothic Quarter where my hotel was conveniently located. The Sardana was on my "to-see" list, but I only had one Sunday in Barcelona and I wanted to spend the day hanging out in Gaudi's "must-see" Parc Guell on the other side of town.
I lucked out when I decided to go for a pre-dinner stroll Saturday evening. As soon as I exited my hotel, I heard spirited "brassy" music coming from the square and felt compelled to check out the source.
Several large moving circles of dancers, hands joined together and held high, filled the square. Accompanying them was a small band of musicians assembled on the Cathedral steps. I could not believe my timing: I had stumbled upon the local performance of the Sardana I had wanted to see but would have missed because of my sightseeing schedule. I found a prime "orchestra seat" on a step below the musicians.
I was surprised that the dancers were wearing contemporary casual attire and not traditional folk costumes as I had envisioned. A number of them were wearing espadrilles for comfort and, I assumed, in keeping with their deep sense of national pride, to celebrate the shoe itself as an original Catalan creation.
The circles were comprised of "Sardanistes" of varying ages, the majority of whom appeared to be over 50. In the center of each circle in a heap were the dancers' personal possessions, a symbolic "laying down of life's burdens," as I read somewhere, or more likely, I surmised, given the active crime scene in Barcelona, a way of keeping one's things safe.
Never one to stay still when an opportunity to dance arose, I wanted to join one of the circles. I studied the footwork, which consisted of very small, precise steps—side-to-side moves, points, crossovers, forwards and backwards. It seemed easy enough to follow. However, each time I was sure I got the sequence of steps down, a new sequence would be introduced or there would be a sudden change in tempo or direction. Even when the dancers seemed to abruptly pause I was deceptively lured into thinking that a dance was over, but then it would suddenly resume. I had no choice but to give up my grandiose ambition to be a Sardanista!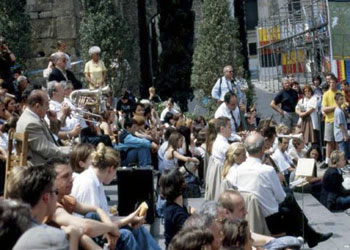 When I wasn't watching the dancers' feet in exasperation, I found myself alternately intrigued by an elderly man in one of the larger circles and two young couples who had formed their own circle on the periphery.
The man, perhaps in his 80s, was small and frail with a proud weathered Catalan face. Even though he did not perform the intricate steps, he moved his lips as if recalling the steps or the count. I wondered about his past. Much of his life had no doubt been lived during Franco's rule. Did he have painful memories of that repressive time? Had he and his family kept the tradition of the Sardana alive or had they been forced to abandon it altogether? And, as I watched him dance, touched by his spirit and commitment to participate despite his physical limitations, how was he feeling in that moment, free to raise his head and hands high in an expression of Catalan solidarity?
The young couples, while just as concentrated and serious about the dance as their older counterparts, seemed to put their "own spin" on the dance with lots of energetic jumping up and down. Was this some new choreography of the post-Franco generation? Had they learned the dance from their families or had they taken Sardana lessons? Was it a social outing or a need to celebrate their Catalan heritage or both that brought the foursome to the square every weekend?
And then there was the "cobla," the traditional woodwind band accompanying the dancers. I watched in amazement as the musician who sat behind me simultaneously played a small flute ("flabiol") with one hand and beat a tiny drum ("tambori") with the other. I later learned that the flabiol and tambori are typical Catalonian instruments. I could only marvel that the sounds from this small ensemble could fill a huge public space and beyond. It was, after all, their music that first beckoned me to the square.
While tourists streamed in and out, I stayed for the entire performance that lasted almost two hours. At one point a Sardanista, who "worked the crowd" to solicit donations for the local Sardana organization, accidentally hit me in the back with her foot. I was fine, but profusely apologetic, she kept coming back to me every fifteen minutes to assure herself that I was okay. After the performance she told me, through her French-speaking friend (I know some French), that I must return the following day (Sunday) at noon for the next Sardana performance.
Before I left for Parc Guell on Sunday, I did return for the encore performance but only stayed a half hour. It was hard to leave the Sardana but Gaudi was waiting for me.
That was not my final encounter with the Sardana. On my last day in Barcelona, while walking in Parc de Montjuic, the mountain overlooking the city, I unexpectedly found myself face-to-face with the Sardana Dance Monument, the famous life-sized sculpture of figures dancing the Sardana by the Catalan artist, Josep Canas. For me the sculpted figures were not anonymous slabs of stone. In my mind's eye, I could see in them the elderly man, the two young couples, my "solicitous friend" and the other Sardanistes who danced for me in front of the Barcelona Cathedral, proud, united and steadfast in their homage to their Catalunya.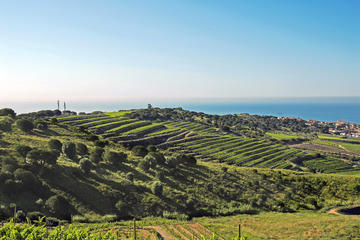 Wine Tasting and Shopping with Lunch from Barcelona
If You Go:
You can see the Sardana dancers on weekends at the Plaza Sant Jaume or in front of the Barcelona Cathedral. Check locally as times and places vary.
About the author:
Fredricka R. Maister is a freelance writer who lives in New York City. She can be contacted at fmaister@yahoo.com.
Photo Credits:
Stone dancers by Joan Aranda; Cobla by Stanley Epstein; Sardana dancers by Catherine Larson; Dancing shoes by Ellen Edelman.