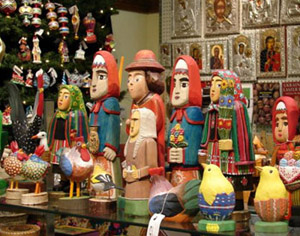 Doing The La De Da
by Sandra Scott
Following Big Daddy down the street playing "Doing the La De Da" on the accordion was just one part of a fun-filled morning I spent in Hamtramck, the city of 25,000 surrounded by metropolitan Detroit. It is just a short distance from the center of Detroit and the cultural center of the Detroit's Polish community.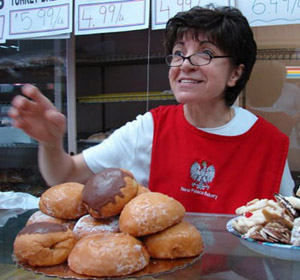 The group tour started at 8 a.m. in the New Palace Bakery. The smell of the fresh baked goods filled the bakery and made my mouth water. Vicky, the owner, offered us Angel Wings, known as chrusciki. They are a favorite served at special holidays and weddings. But every day is special at the New Palace Bakery.
"What is your favorite?" I asked Vicky.
"Here. You have to try a paczki. It is everyone's favorite. Do you want one filled with cream, raspberry or chocolate?"
I selected a puffy cream-filled one topped with chocolate. Yummy. We enjoyed our fresh pastries along with our morning coffee. What a great way to start the day.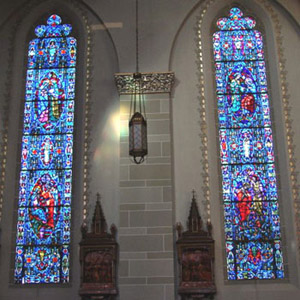 Thus fortified we headed down the street to St. Florian Roman Catholic Church. Amazing that such a small community could be responsible for such a beautiful church. The inside was like a cathedral.
Our guide, Greg Kowalski, explained, "In 1910 the Dodge factory needed workers and the Polish people flooded in. St. Florian was completed in 1928 at a cost of $500,000."
The stained glass windows dominated by the rose window are outstanding. The altar windows depict five famous Polish saints while the others illustrate the life and teachings of Christ. Kowalski went on to say, "No Polish person built a house in Hamtramck unless they could see the steeple of the church."
Even today the steeple is visible from most points in Hamtramck. Hamtramck has retained its small town look and feel. He went on to explain that today Hamtramck is like a little United Nations with people from all over the world living and working together.
On the way to the Polish Art Center we stopped at the Polish Market on Joseph Campau Street. The Polish Market has a plethora of items from Poland along with a large selection of delicious sausages and distinctively Polish baked goods. As the owner explained, "Pierogies are one of the most popular Polish specialties."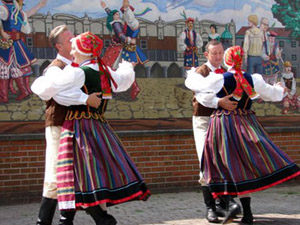 At the Polish Art Center, the owner, Joan Bittner, taught us how to create wycinanki, intricate paper cuttings that are symmetrical designs cut from a single piece of colored paper that has been folded several times. They are then layered with brightly colored paper. The best that could be said was that we tried our best and Joan was a patient teacher. Obviously it takes a great deal of skill, patience and practice to make a beautiful wycinanki.
Just as we were finishing up our wycinankis, Big Daddy arrived with his accordion and off we went down Joseph Campau Street to the Pope's Park. He played the "La De Da" and "Beer Barrel Polka." The sound of the accordion made all the people on the street stop and smile. It is impossible not to feel upbeat when hearing accordion music. The Pope Park was dedicated in 1982 to celebrate the first Polish pope, John Paul II. In front of the wall mural depicting a town square in Krakow, Poland, the Wawel Folk Ensemble filled the park with a swirl of color and happy music as they demonstrated several typical Polish dances.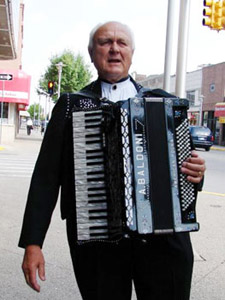 It would have been a powerful end to a great tour but what is a Polish culture tour without food? So Big Daddy, like a pied piper, led us merrily down the street to Polonia, a restaurant that hosted Anthony Bourdain of the Travel Channel's "No Reservations."
Our group walked through the restaurant already filled with lunchtime customers to the kitchen where Janusz Zurowski, the owner, taught us to how to make Polonia's Potato Noodles. Zurowski explained that the potatoes should be cooked with the skins on, then peeled, and let to sit overnight. We took turns grating the potatoes, but they can be mashed until there are no lumps. The potatoes are then kneaded with flour and one egg, and hand rolled into a snake. The potato snake is cut into one-inch diagonal pieces and dropped into boiling water for three minutes. They are removed, rinsed in cold water, and ready to eat. And eat we did! A huge combination platter was heaped with Polish delights. My favorite was the stuffed cabbage. Truly too much of a good thing is wonderful!
On the way out of the restaurant, Big Daddy stopped to play "Happy Birthday" for one of the patrons. Whenever I think of Detroit or hear to word "Polish" I will think of doing the " La De Da" down the streets of Hamtramck.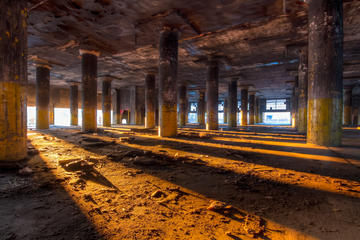 Private Explore Detroit Tour Guide
If You Go:
www.stflorianparish.org
www.polartcenter.com
www.thepolishmarketinc.com
www.polonia-restaurant.net
www.visitdetroit.com
About the author:
Sandra Scott is a retired history teacher and the co-author of two local history books. Scott has been traveling worldwide and writing about her travels since 1990. Her retired husband, John, is her traveling/writing partner. Their travels have taken them to over 100 countries, some several times. Along with several columns, their work has appeared in a variety of publications worldwide. Website: www.sanscott.com
All photos are by Sandra Scott.