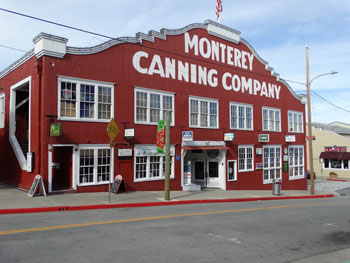 Monterey, California
by Leslie Jones 
My mother tells her intriguing story of spending an entire evening dining with John Steinbeck at the family home up near Monterey in Pacific Grove, CA. A friend of hers invited her up to visit Uncle John for the weekend … little did my mother know who Uncle John was until they arrived. Walking through the garage, there were stacks of his books (in multiple languages) in every direction she turned.
If you head to Monterey's historic Cannery Row in the middle of the week (preferably during the off-season), you might turn a bit nostalgic especially if you are a Steinbeck fan. Visuals from Cannery Row, Sweet Thursday and frequent mentions of Doc Rickett's marine laboratory still remain. These are special characters and places I fell in love with a very long time ago.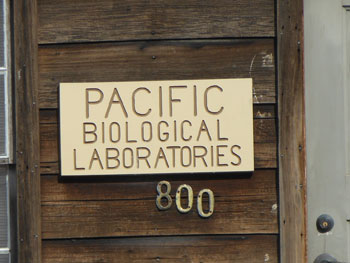 Yes, it too has changed like any popular coastal community which draws large crowds due to its unique history, natural beauty and tourist-pleasing highlights including the Monterey Bay Aquarium. But if you stare out at sea and at the nearby cannery buildings in the early morning, there are still signs of those historic sardine canning days Steinbeck spoke of so eloquently.
It all begins outside of the world-famous Monterey Bay Aquarium and lingers for under a mile along what is known as the Steinbeck Country Walking Tour. Bronze statues, historic buildings depicted in his captivating novels, colorful murals and memorials are all within view.
One of the most popular stops along the way is Ed Rickett's Lab (Doc's Western Biological Laboratories) in Steinbeck's Cannery Row and Sweet Thursday. He moved his marine biology business here from Pacific Grove in 1928. It was in this location where Steinbeck spent many an hour philosophizing with Ricketts. It also became a favorite meeting place for artists, intellectuals and other writers including Big Sur's colorful Henry Miller over the years.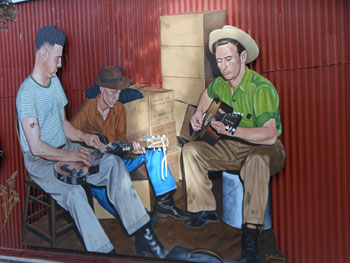 Two larger-than-life size murals based on photographs of the original "Mack and the boys" in his novel Cannery Row (who lived on the fringes of the canning district), are also nearby. Accompanied by quotations from the novel, they were created by local muralist John Cerney and lend a colorful charm to the entire area.
One of the most distinctive architectural artifacts still remaining from Cannery Row's industrial era are a series of enclosed bridges called crossovers. Sixteen of these structures once carried cans packed with sardines across the street from the canning operation to warehouses near the Southern Pacific railroad tracks.
Clearly visible is the Monterey Canning Co. crossover which would have been a familiar sight to Ricketts and Steinbeck. Today, it functions as a pedestrian bridge linking shopping malls located in these former cannery and warehouse buildings.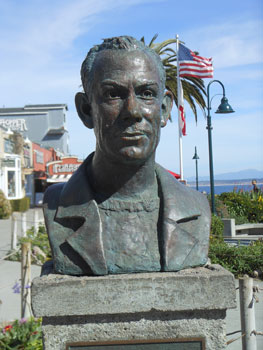 While Steinbeck Plaza has been around for awhile, a new Cannery Row Monument pays tribute to notorious, famous and colorful characters where were vital to the area's evolution. Author Steinbeck sits atop the rock and Ed Ricketts, at the bottom, are surrounded by others who are reminiscent of what Cannery Row was like as a bustling sardine canning district. Four other men huddled together represent entrepreneurs who revived Cannery Row after it had fallen into decline. This is a poignant reminder of the vast history this area represents.
California history is so intriguing and this authentic Steinbeck setting is one of the best reminders of this historic era that you'll find anywhere. Take your time, look beyond the shopping crowds and walk down quiet streets. You'll feel revitalized by what you'll discover and upon heading home, you'll want to read Cannery Row
all over again.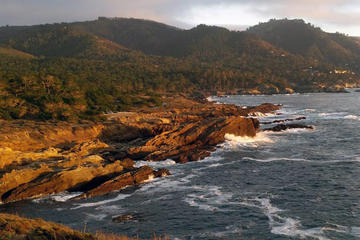 Monterey, Carmel and Big Sur Private Day Trip from San Francisco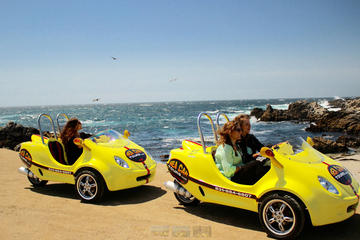 1-Hour Monterey and Cannery Row Sea Car Tour
If You Go:
National Steinbeck Center, Salinas, CA and Pacific Grove Steinbeck Tour, Pacific Grove, CA.
About the author:
Born and raised along California's picturesque Central Coast, Leslie has lived much of her life here and is endlessly intrigued with California history. As a published writer for over 25 years, she has written much about California's historic past. John Steinbeck, Henry Miller and Jack Kerouac are among those who have heavily influenced her ongoing writing career.
All photos are by Leslie Jones or John Hofschroer.