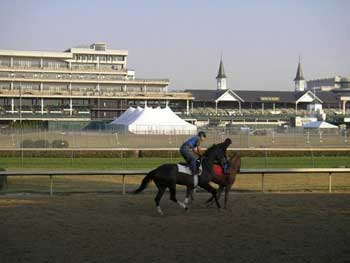 Louisville, Kentucky
by Roy A. Barnes
Kentucky and the city of Louisville are to horses what North Carolina is to NASCAR. I got a chance to see some of the inner workings of Churchill Downs while meeting some very famous world class athletic celebrities of the four-footed kind, then relaxed at a horse racing-themed bar.
See World Class Athletes Up Close and Personal
"Only horses don't have grandmothers like we do."
"Oh don't they just!"
– From the 1967 Australian novel Picnic at Hanging Rock.
And boy does it matter, too, about the grandmothers of the horses! Many people think that it's the stallions that make or break whether a potential horse will be a champion racer. But in order for a filly to be able to even have the chance to breed with one of the high quality stallions, she has to have come from quality lines, too. I learned this from my visit to the 2,000 acre complex of Three Chimneys Horse Farm which is a little over an hour's drive from downtown Louisville in settings that can truly be described as picturesque and pastoral. This farm is home to numerous champions, including Kentucky Derby and Breeders' Cup winners.
The philosophy of ownership is that the fans really count in the sport of horse racing so they've made the place accessible to them. Guests can meet, greet, and pose with some quality horses like the 2008 Kentucky Derby and Preakness Winner Big Brown and Dynaformer (father of deceased Kentucky Derby winner and fan favorite Barbaro). Dynaformer's offspring have won more than 75 million dollars from racing. The Queen of England, movie stars, and politicians have visited this horse farm, but hey, even us commoners can partake in something that the rich and famous have frequented. I was told by our tour guide Jen that most horse farms aren't really accessible to the public. Three Chimneys also does their best to implement "green", eco-friendly practices wherever possible in their operations.
Accessible Celebrities!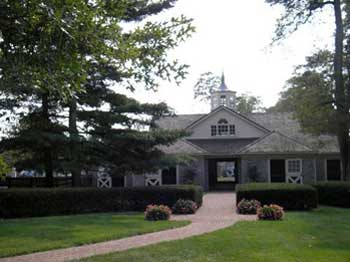 I got to visit Smarty Jones (the 2004 Kentucky Derby and Preakness winner who's currently residing in Pennsylvania). He came up to his stable door. How I wanted to pet him, but I was told that he has a tendency to bite, so I couldn't. He was let out by one of the staff so I could pose with him, though for legal reasons involving the horses' images, visitors can only show their photos offline to others.
I also got to see where the horses are allowed to run around. The stallions were alone in each of their paddocks because of their aggressive nature, including Sky Mesa, who saw us from afar and came up to the fence wanting to be petted, longing for some affection! But again, I was told by Jen not to. It seems that Sky Mesa likes to put on an act, and may bite your arm once you let your guard down!
In case you're wondering how much the stud fee is for Dynaformer, it's currently $150,000, and the breeding is very controlled and videotaped. For Big Brown, the stud fee is $40,000. The stallions can only breed at most 110 times during the breeding season because the ownership doesn't want the market over-saturated. Beeding season takes place from February through mid-June, and not every filly can breed just because money is offered. Three Chimney's Pedigree Specialist screens out many potential mates.
Captivated by History and Tradition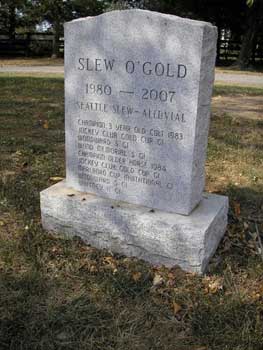 The Kentucky Derby is the longest consecutive running sporting event in America. Since 1875, 136 of these annual horse races have been run at Churchill Downs through 2010. Seeing it on TV all these years didn't prepare me for the draw it would have on me while visiting. I stayed there some four hours, and could've spent much more easily as I took three tours and visited the on site museum. It's one of the few places in the world that I felt glued to because of the ambience, the tradition, and incredible history that makes up the 160 acre complex. I am not usually a fan of guided tours, but I found their guides to be quite engaging.
I arrived early one autumn morning for the hour long Barn and Backside Van Tour, which offers visitors the chance to see the race horses train on the fabled track from the opposite side of the grandstands near the stables, which house more than 1,400 race horses as well as dorms for the employees. This guided tour provides some history and other many interesting facts about the Kentucky Derby and Churchill Downs. In 1937, it only cost 50 cents to watch the race in the infield, yet today to be able to hang out there, it will put you back some $40, even though your chances of seeing any of the race are virtually nil. Each year, some 100,000 people converge there to hang out and say they were a part of history.
Next, I took the 30 minute Historic Guided Walking Tour (which is included with the museum admission price), which allowed guests to go into the main grandstand and take photos of the winner's circle across the track if we wanted to.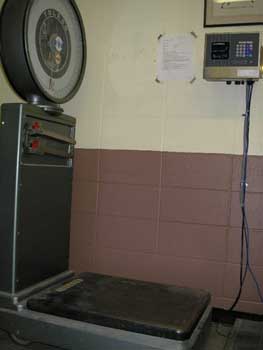 I was about to go into the museum when I heard a 90 minute Behind The Scenes Tour was about to happen. I felt led to take it, and I'm glad I did! Fans get to see such places as the clubhouse and locker room for the male jockeys, as well as find out about how these athletes must all be the same weight for the Kentucky Derby (126 pounds, but 121 if they ride a filly). It's done by adding extra padding until the weight is reached. I also found out that jockeys wear several pairs of goggles around their eyes, so if one pair gets wet or soiled, they can de-layer for a clean one. We also got to go to the press area, Millionaires' Row seating, and the track announcer's booth. Believe me, this 90 minutes goes by too fast!
As for the Kentucky Derby Museum, one can easily spend many hours in this area admiring and learning about horse racing from the two floors of exhibits, including film footage of most of the past Kentucky Derbys. I watched the 1977 Kentucky Derby in the "Time Machine" exhibit. That particular race was the first one I remember watching as a kid, as I saw my favorite race horse of all time Seattle Slew overcome a bad start to win, and then go on to win the Triple Crown, the second to last horse to do so.
I learned at the "Winner's Stable" exhibit that Seattle Slew was bought for a mere $17,500, and this interactive exhibit lets you pick up a phone receiver to hear commentary on him as well as other great Derby champions who have their own sections.
One exhibit not to miss here is the 360 degree theatre presentation called "The Greatest Race" (viewers constantly are turning around in the theater), which highlights the last Kentucky Derby run as well as goes behind the scenes of Derby Day.
Horse-Themed Bourbon Experience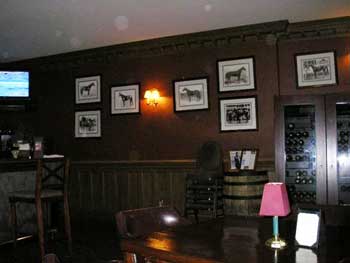 After a day of admiring racing horses, a great place to relax for a drink is the Old Seelbach Bar in downtown Louisville. The Seelbach Bar has many pictures of race horses hanging on its early 1900's restored walls, including some Kentucky Derby winners. Did you know that F. Scott Fitzgerald sipped bourbon here? The hotel itself was a setting for his novel The Great Gatsby, a place where the fictional hometown girl Daisy Buchanan may have actually gotten drunk because of her forthcoming sham wedding to Tom Buchanan!
We really got fast and friendly service one late Sunday afternoon in a rather dark setting with few people surrounding us. One of my friends commented on how she really liked dark settings for bars as I was drinking a bourbon cocktail called an Old Fashioned that was made with Maker's Mark bourbon, a cherry, and some slices of oranges. I was told by the bartender that the Old Fashioned was invented in Louisville.
The bartender gladly gave me extra syrup so my drink was rather fiery in scent and strong in taste, but really sweet, too! I even sampled one of their house specials, a drink that really went down smoothly and had a distinctly fruity taste, for it contained Old Forrester Bourbon, triple sec, Angostura and Reychaud Bitters, plus some Korbel Champagne.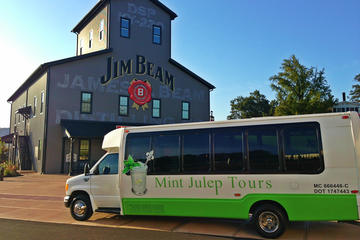 Kentucky Bourbon Distilleries Tour from Louisville
If You Go:
Three Chimneys Horse Farm (about 75 minutes drive from downtown Louisville, Kentucky): 1981 Old Frankfurt Pike, Versailles, Kentucky 40383. Phone: 859-873-7053. Tours by appointment only (currently $10). Website: www.threechimneys.com
Kentucky Derby Museum/Churchill Downs Tours: 704 Central Ave., Louisville, Kentucky 40208. 502-637-1111. Website: www.derbymuseum.org
Old Seelbach Bar at the Seelbach Hilton: 500 Fourth St., Louisville, Kentucky 40202. Phone: 1-800-333-3399. Website: www.seelbachhilton.com
Louisville Tourism Information: www.gotolouisville.com
About the author:
Roy Barnes writes from southeastern Wyoming and is a frequent contributor to Travel Thru History. Note: The writer attended a press trip sponsored by the Louisville Convention and Visitors Bureau, but what he wrote are his own impressions without any scrutiny from the sponsor.
All photos are by Roy Barnes.