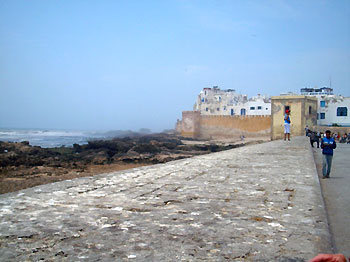 by Inka Piegsa-quischotte
The name alone is pure poetry: Essaouira. Let the syllables roll of your tongue then listen to the sound as it is blown away by the wind. Because, you see, wind there is plenty.
Not for nothing is Essaouria called 'City of the Wind' as well as 'The Moroccan Woodstock'. History, culture, art, crafts, music and a sin fin of water sport — all these things define the Moroccan port town on the Atlantic which has fascinated as diverse personalities as Winston Churchill, Orson Welles and Jimi Hendrix.
It's a straight run from Marrakesh to Essaouira which makes for a great day trip if you are based in Marrakesh. The distance of 105 miles is covered by a nearly ruler straight highway which cuts through shrubs and the desert. This road is no coincidence though, because Essaouira is something of a historical curiosity.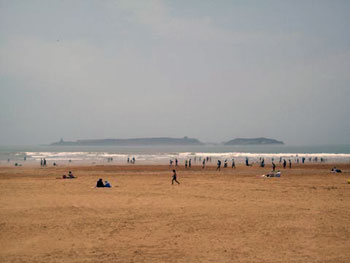 The present city with its much admired walls and Medina is a creation, a purpose built sea port, commissioned by King Mohammed III during the 18th century. He wanted to develop trade with Europe and beyond and to establish a counterbalance to Agadir, whose inhabitants favored a rival of him. For twelve years, the king instructed and oversaw French engineer and architect Theodore Cornut, who designed the modern city, the medina and the international quarters. At the time, Morocco depended heavily on the caravan trade, which brought merchandise from sub-Saharan Africa to Timbuktu, then from there through the desert and over the Atlas mountains to Marrakesh and, finally, making use of the straight road, to the thriving port of Essaouira.
The word 'highway' has to be taken with a pinch of salt though. It's fine for the first few miles out of Marrakesh, but then there are stretches which are so uneven and full of rubble, they make your teeth rattle. Our diver referred to that jokingly as a prime example for a Moroccan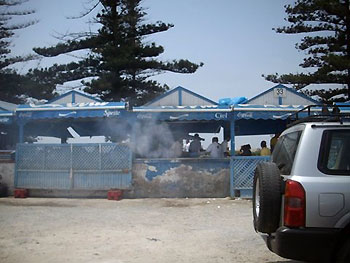 Despite the more recent design which gives Essaouira its present appearance, the city has a long, long history. Excavations have revealed a prehistoric settlement. The Romans left their traces and, most importantly, Essaouira, then called Mogador was already an important port town under Portuguese rule during the 16th century.
The French followed and finally the Moroccans. Although the importance of Essaouira as a sea port has been reduced when the caravan trade ceased, it's still a fishing port. One of the first things to do when arriving, is to go to one of the many shacks along the waterfront which offer the latest catch. You walk along the display, point at what you want, sit down on one of the communal tables and enjoy eating with your fingers and chatting other tourists and locals alike.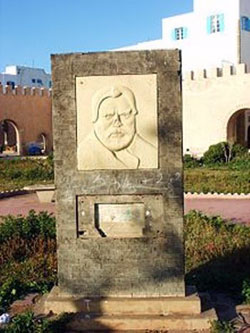 The long stretched island of Mogador protects Essaouira from the strongest Atlantic winds, but there is still plenty around to make the place a paradise for surfers and kite surfers. The wide, white beaches invite to sunbathing, swimming and any other imaginable kind of water sport.
The medina proper is entered through a vast stone gate and then you find yourself in a labyrinth of small alleys, lined with galleries, craft shops of wood carvers, leather shops and tiny cafes. The difference to the hustle, bustle and noise of the medina in Marrakesh is striking. Not only do clocks run slower in Essaouira, they seem to not run at all. Whereas the vendors in Marrakesh run out and shout, sometimes even grab at you, their brothers in Essaouira just sit patiently in their shops, smoke, drink mint tea and generally couldn't care less if you buy anything or not. Everything is slightly run down, paint is peeling, the odd window pane is broken and the ambience of a favorite hippie hang out it once was definitely lingers. I call it the' decadent charm' of Essaouira which, I think, describes the atmosphere.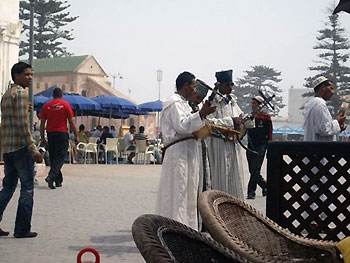 Small wonder that this picturesque, sedate and slightly melancholic city attracted such divers personalities as Churchill, Welles and Hendrix. Orson Welles even got honored with a statue, although his nose is now missing.
Music plays a great part in Essaouira culture. Each June there is the gnaoua music festival which not only attracts performers of traditional Moroccan music but also international, contemporary singers and bands; hence the moniker 'Moroccan Woodstock'.
Imdezan explained
If you miss the festival, you can nevertheless enjoy Moroccan music on a daily basis. As typical as the fish, the imdezan are omnipresent in Essaouira. An imdezan is a group of four Berber musicians, with a lead singer and the others playing their drums and one string fiddle. They walk around the medina, from one café to the other and if you throw them a few dirham, they'll be very happy indeed.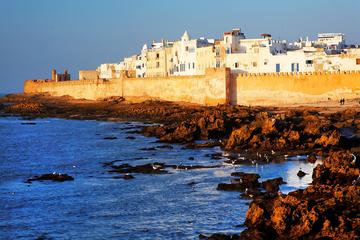 Full-Day Tour to Essaouira – The Ancient Mogador City from Marrakech
If You Go:
The best time to visit is between May and October. Due to the wind it'll never be too hot and this is the time of year when it doesn't rain much.
On your way to Essaouira, stop at one of the cooperatives which produce argan oil products. The argan tree is endemic to Southwestern Morocco and the oil is a luxury item difficult to obtain outside the region. It's used in fabulous crèmes and lotions which you can buy in the cooperative's shops. You can also observe the labor intensive process of extraction the oil from the fruit.
Bring your swim suit and make time for a spot of water sport on the fabulous beach.
If you want to spend more than a few hours, there are a few modern hotels along the beach and small, converted riads within the medina. Consult a list of hotels on www.tripadvisor.com.
About the author:
Inka Piegsa-quischotte is an ex-attorney turned travel writer and novelist. She writes for online travel magazines and has two novels and a travel guide to Galicia/Spain published. She lives between Turkey and Miami.
All photos are by Inka Piegsa-quischotte.