A Must-See Destination
by Rick Neal 
A gust of cool wind blowing through the open bus window jolts me awake to an astonishing vista. Ice-blue slopes of distant glacial peaks resemble an impressionist landscape, while nearby valleys are dappled with rectangular parcels of green and gold farmland. Across the highway a lone eagle hovers over a churning river.
This arresting scene reminds me of the Rocky Mountains near my home in western Canada, but that's not even close to my present location. I'm moving north along the Andean backbone of Ecuador, and I've just crossed the equator.
The elevation yields a temperate climate and spectacular alpine landscapes, but it's not amazing views that that have drawn me here. I've come to experience the legendary highland city of Otavalo, home to one of the largest outdoor markets in all the Americas, where indigenous people have peddled their goods since pre-Incan times. Tomorrow is Saturday, when the daily bazaar spills from the central plaza onto surrounding avenues, occupying over a third of the city. Other travelers have advised me to save my souvenir shopping for Otavalo, and that's exactly what I've come to do.
Within minutes I see the colourful town spilling down a slender valley. Spanish colonial era buildings painted in hues of lemon, lime, and cream line narrow roadways. Two massive extinct volcanoes loom over the city on either side of the valley. Tufts of cloud hide the summit of Volcan Imbabura, but the stark crimson rays of the late afternoon sun light up the jagged green peak of Cotacachi.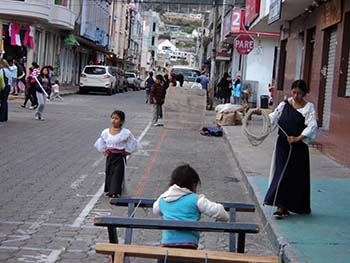 It's nearly dark by the time I exit the bus terminal. The market draws hordes of tourists on weekends so I'm a bit worried about locating a hotel, but I luck out at the first place I try. The Rincon del Viajero, only three blocks from the plaza, has one vacancy left. For US$16, I get a cozy room with baño privado and continental breakfast.
The jovial desk clerk suggests I visit an animal market that is held at the crack of dawn each Saturday morning on Otavalo's outskirts before the big market gets underway. "Unless you need a cow you will probably buy nothing there," he chuckles, "but many tourists find it interesting." I'll need to be up before the birds if I'm going to make that market, so I decide to take a quick meander around town and turn in early.
Plaza de Ponchos, the nucleus of tomorrow's market, is now almost deserted. Only a few locals stroll the roadways made from hexagon-shaped grey bricks and lined with beautifully manicured shrubs. Most of the locals wear traditional indigena clothing. The women are decked out in white embroidered blouses, black wool skirts, and woven multi-coloured headbands with a matching waist sash, while hombres sport blue ponchos, white calf-length pants, and a single braided ponytail.
On Calle Sucre, the main drag, potted purple geraniums spill from wrought iron balconies that hang outside immaculate colonial buildings. Lovers young and old hold hands beneath illuminated palm trees in the Plaza Bolivar. Lit-up houses perched on distant hillsides beneath the Milky Way lead me to wonder if Otavalo was the inspiration for Van Gogh's Starry Night. In less than an hour this settlement's pastoral charm has completely won me over.
At five the next morning I somehow pry myself out of bed. I stumble along Avenida Colon toward the animal market, passing merchants who are already laying out goods and setting up awnings for the big show to come. By the time I reach the city's outskirts, the first rays of morning sunlight are caressing Volcans Imbabura and Cotacachi, which have received an overnight dusting of snow. According to local legend, the two volcanoes are lovers. If there is fresh snow on Mama Cotacachi's summit it means that Papa Imbabura has paid her a connubial visit during the night. I take this as an omen that the day ahead will be productive.
A kilometer west of Otavalo I spot the animal market already well under way in an open field. The racket generated by the animals, not to mention their funky smells, announces their presence. I purchase some llapingachos (fried potato and cheese pancakes) from a vendor and watch a group of exasperated men attempt to coax a massive live hog onto a hanging scale. Other farmers engage in spirited haggling over squealing piglets, indifferent cows, bashful llamas, and cages of cuy, or as they're called in English, guinea pigs.
Guinea pig is considered a delicacy in Ecuador. I knew that before I came here, but I didn't realize the animals they consumed would look just like the lovable critters I owned as a kid. I'm tempted to buy and release them all into the wild but I'm not sure how that would go over with the locals.
It's nearly ten o'clock by the time I get back to el centro. I expect the market to be in full swing, but I'm unprepared for the total sensory assault before me. A mass of human beings several blocks in diameter press against stalls, tents, and awnings. The array of goods is so vast I can hardly take it all in. Many vendors hawk merchandise from blankets laid right on the roads. Hand carved musical instruments, dream catchers, and fake shrunken heads are displayed next to woven mats, purses, and bootleg CDs. And that's just on the first table.
Mobs of turistas seeking that perfect memento go toe to toe with locals searching for pots and pans. They all have one thing in common: they're on a quest for bargains.
After an hour of jostling and ducking under awnings I reach the epicenter. The aptly named Plaza de Ponchos sells mostly textiles, but if not for the concrete umbrellas jutting overhead, it would be indistinguishable from the bedlam on the surrounding roadways.
I need sustenance before I continue so I follow my nose to the zesty smells that emanate from the food stalls a block away. Enormous vats of stews and sopas gurgle atop portable stove tops next to hornados (whole roasted pigs) and mounds of humitas (sweetened corn dumplings). I park myself on a wooden bench and eat crispy fried fish and steaming tostadas washed down with a couple cups of chicha, a fermented corn drink served from a plastic bucket.
Fortified, and maybe a little pie-eyed, I return to the plaza, take a deep breath and dive in. Endless rows of stalls are packed with knitted finger puppets, hammocks, panama hats, furry alpaca rugs, and hand woven tapestries of Andean landscapes. Sellers lure customers with broad smiles and shouts of "Best quality! Best design!" and of course, "Best price!"
To my untrained eye, everything it all looks much the same. I end up doing my entire shopping at one table from a bonita raven-haired señora wearing long strands of sapphire-coloured beads. I came prepared to bargain hard, but thanks to the warming effects of the chicha, and maybe the senora's disarmingly shy smile, I can't get too worked up over a few extra dollars. And for eighty bucks American, maybe a third of what I would pay at home, I pick up a large multihued wool blanket, an alpaca sweater, a couple of leather belts, some tagua nut jewelry, and a cool duffel bag to put it all in.
As I stride back to my hotel with my newly acquired treasure I bask in the gentle rays of el sol. After a few blocks I leave the pandemonium of the market and re-emerge into the serene mountain puebla I arrived in. I gaze up in awe at Papa Imbabura, and feel the bliss that radiates from this extraordinary place.
If You Go:
Getting there
Most tourists arrive by bus from Quito. Buses leave Quito's main terminal every 20 minutes. The two hour ride costs $2.50US. There are also hourly buses departing from the northern highland towns of Ibarra ($1US, 35 minutes) and Tulcan ($4US, three hours).
Around Otavalo
If you want to see where many of the gorgeous textiles in Otavalo's market are created, consider a daytrip to the nearby indigenous weaving villages of Peguche, Agato, and Iluman. It's a short cab ride from Otavalo or local tourist agencies can arrange excursions.
Laguna de San Pablo, Ecuador's largest lake, is an ideal alternative base for weekend jaunts. Several hotels and cabañas in various price categories are located on or near the lake's shoreline. Jet skis, mini golf, and horseback riding are all to be had. It's a short 3.5 km bus or taxi ride from Otavalo.
American Currency  
In order to combat rampant inflation, Ecuador adopted the American dollar as their official currency several years ago. It was a controversial decision, but it makes price haggling at Otavalo's hectic weekend fiesta a bit less challenging.
Places to Stay
Due to Otavalo's popularity there is an abundance of accommodations in all price categories. Basic, clean budget lodging with agua caliente and baño privado can be found for about US$20 per night. Mid-range and higher end hotels can run up to US$100 per night, and offer amenities like cedar floors, mosaic tiles, and skylights. Be sure to reserve in advance if planning a weekend stay. If possible, consider a mid-week visit, when hotels are seldom booked up and prices are more negotiable.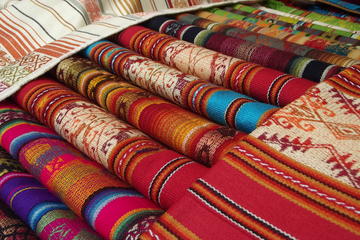 Private Full-Day Trip to Otavalo and Its Surroundings from Quito
About the author:
Rick's travel career began as a college student when he impulsively signed up for an international student exchange program and spent that summer working in Turkey. "Don't go there!" the naysayers said, "it's not safe!" Luckily, Rick ignored their advice and discovered that the outside world is a place of wonder worth exploring. Since then his wanderlust has taken him to Central and South America, England, Vietnam, Morocco, and China, where he spent an unforgettable year teaching English. Rick makes his home in East Vancouver, Canada, where he writes for various travel publications.
Photographs:
Textiles image by DEZALB from Pixabay
Otavalo street by Rick Neal