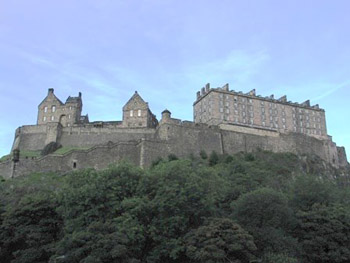 by Andy Hayes
The fun starts in the beginning – or the end – of the year with Edinburgh's Hogmanay, a multi-faceted festival brightening up the long dark nights of winter and welcoming in the New Year. Many modern day traditions for the New Year come from Scotland, including the iconic Auld Lang Syne song, written by Scottish poet Robert Burns. The song is written in Scots, which explains why many find the lyrics to be near-undecipherable.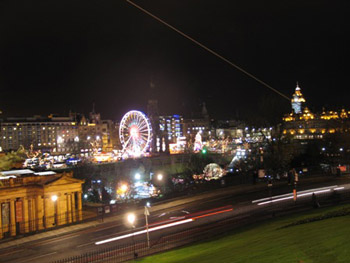 The city events leading up to the huge street party held on December 31 include an authentic German Christmas market set in Princes Street Gardens; this venue offer the opportunity to ice skate or simply sip a hot mulled wine while surveying the beautiful Christmas lights adorning the already magnificent city skyline. Stalls offer freshly made food, ornaments, and other great gifts. The market is surrounded by masses of amusement park rides, filling the cold air with sounds of screams and laughter. A giant Ferris wheel, sitting next to the charming Scott Monument, completes the picture-postcard setting.
June brings us the Edinburgh International Film Festival. One of the higher profile film festivals in Europe, Edinburgh's score tends to focus more on independent and sometimes eccentric European content. From dark Danish themes to English happy-go-lucky tales, each year's lineup includes something for every theater fan. Movies are shown in the city's wonderful films venues, including the Cameo and the Filmhouse. The Cameo welcomes visitors with its bright, old-fashioned signage, and more of these traditional touches can be found inside. Nearby, the Filmhouse is a slightly more modern space but upstairs in the main theatre is a classic screening room fronted by a massive, thick red curtain that is as beautiful as it is functional. Each theatre has a cafe worth visiting on its own, with a full array of drinks and ambience that can be enjoyed either before or after a show. The Filmhouse also has a lengthy menu of fresh, healthy entrees suitable for either lunch or dinner.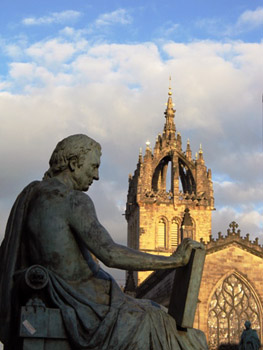 Edinburgh turns into the UK's busiest city in August, when not only does the Edinburgh Fringe Festival roll into town, but also the Jazz and Blues Festival, Art Festival, Military Tattoo, International Festival, Book Festival, and Mela Festival. The streets are filled beyond capacity with tourists watching buskers show off their latest routines. Every room in the city is transformed into a performance venue – from vaults in cellars to school classrooms to caravans parked out on the street. Pubs are open until the wee hours of dawn, restaurants are packed and reservations are impossible to be had. City squares are turned into tent-filled carnivals. This is August in Edinburgh, home to the world's largest arts festival, the Edinburgh Fringe.
The Fringe is obviously the biggest component of the August-madness; established in 1947, the event has grown to include 31,320 performances of 2,088 different shows in 247 different venues in 2008. That is over 130 performances every single hour of every day for the entire month of August – just for the Fringe! Many of Fringe performances are stand-up comedy; indeed, 2008 was the first year to see this category become the majority. Mini-musicals are also popular, featuring song and dance as well choreographed as you would find in a Broadway production. Celebrities often feature in the headlines, including names like Joan Rivers. Dark topics like murder or sex are not taboo; in fact, the most unusual or risqué-orientated events can be sellouts. Navigating this never-ending stream of content is done by perusing the fringe guide, available for free in major fringe venues as well as the fringe box office on the Royal Mile. You can also search the Fringe website (edfringe.com) for shows and book online. It is best to take one of two approaches: either plan ahead and book for the shows you really want, or just wing it and get word-of-mouth suggestions on the best things to see as you go.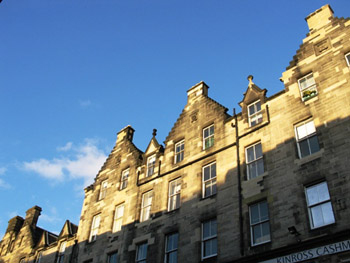 The Scottish capital was the first city to be titled as a UNESCO City of Literature so it is only appropriate that August also make space for a book festival. Writing still features highly in Edinburgh, with resident J.K. Rowling often making the headlines with her world-famous Harry Potter series. The book festival features a number of interesting authors across all genres, but even a non-book lover could enjoy this event due to the setting: the entire festival is set within the grassy knoll at the center of charming Charlotte Square, surrounded on all sides by Georgian townhomes and black iron fences. The center of the square is normally closed to pedestrian access, so this view of the surrounding streets is only available once a year.
The crowning centerpiece of the August events tends to be the Edinburgh Military Tattoo, a mélange of bagpipes, military drums and dancing performers. It is easy to see why this particular experience is so special as the setting is straight from a fairy tale, taking place directly underneath Edinburgh Castle on the Esplanade; highlights of show include fireworks, over-the-top military processions and kilts as far as the eye can see. Tickets sell out for this event almost as soon as they go on sale, so if you have not booked a year in advance then you might be hard pressed for a seat.
The key to Edinburgh's charm is in its balance of big city offerings in a compact city size. It is a rural paradise but also a cosmopolitan capital. There is nothing else like it. And with a revolving calendar of amazing festivals, you'll never be shy of a reason to come for a visit.
For More Information:
Wikipedia explains Hogmany
Hogmany celebrations across Scotland
Official guide to Edinburgh
City Guide to Edinburgh, Scotland
While Edinburgh is full of sights, there is plenty of excitement outside the city center. One great choice is an afternoon in Rosslyn Chapel in the nearby village of Roslin. Accessible by a short 25-minute bus ride, the chapel is open every day of the week and costs only £10 to explore the inside and outside of this medieval relic. It is an unusual survivor, as almost all nearby churches were destroyed in earlier times. Free talks are hosted throughout the day – these explain some of the historical facts of the church, as well as some of the various speculation that has developed with the rise in Roslin's fame due to Dan Brown's novel, The DaVinci Code
. Make your own conclusion as to what is buried in the sealed basement underneath your feet.
Edinburgh Tours Now Available:
3-Hour Private Edinburgh Castle Tour
Rosslyn Chapel and Hadrian's Wall Small Group Day Tour from Edinburgh
Guided Edinburgh Private Walking Tour
Rosslyn Chapel, the Scottish Borders and Glenkinchie Distillery Tour from Edinburgh
Whisky-Tasting Day Trip from Edinburgh
About the author:
Andy Hayes is a freelance travel writer and photographer based in Edinburgh, Scotland. When not out having travel adventures (or dreaming of new ones), he is hitting the walking trails near home. To get in touch or see Andy's other travelogues, visit his website at www.andyhayes.com.
All are photos © Andrew Hayes.