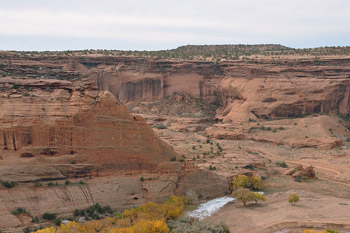 by Jenna Vandenberg
You can tell that thousands of Navajo Indians have walked up this canyon. Years and years of constant steps have worn natural footholds up and down the orange walls. They look as if they've been intricately carved. And in a way, they had been.
"Could you ever get lost up here?" Amanda asked Calvin, our sure-footed Navajo guide.
"No." He answered.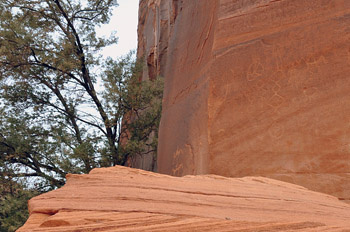 I smiled at the typical mono-syllabic answer, but Amanda and I kept up our lines of questions. When pressed, he finally told us of the time he had been sent out in the middle of the night to find a group of Park Ranchers who'd gotten lost here in Canyon de Chelly (pronounced de Shay). He'd talked them down one cliff and walked them up another. He knows this place by heart, even in the dark.
Calvin isn't exactly a Park Ranger, although he had been one in the past. He is part of a small group of Navajo's who grew up in the Canyon de Chelly valley. When the US National Parks Service wanted to protect and nationalize the park, they did so with the stipulation that Navajos could continue to live here in conjunction with the National Park Service. The only way tourists can go down into the canyon floor is with a Navajo tour guide.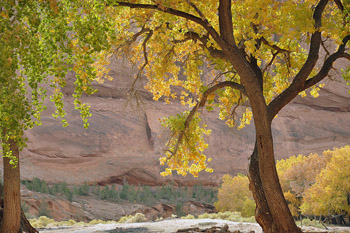 This is a rule that I can get behind, especially after Calvin pulled our 4×4 from the mud and told us about pulling hikers from of flash flood waters. But the guided-only rule isn't just for safety. It's a respect thing. The Navajo's don't want anyone else messing with their land. They've had enough of that. Bitter stories of conquistadors or explorers had made their way through my tours of the Zuni and Acoma pueblos, but Calvin's story of The Long Walk hit me the hardest.
Calvin started talking about fires, Kit Carson, and The Navajo's Long Walk once we reached the top of a cliff and were staring down below. We were sitting on the orange sandstone rocks, overlooking the farms and traditional hogan homes that were tucked around trees in the valley below. It was fall, so those trees were decked out in brilliant yellow and red colors. Gorgeous colors, but reminiscent of fire.
"He burned all this," Calvin said, spreading his arms out across the valley below us. The "he" of Calvin's accusations was Colonel Christopher Carson, better know as Kit Carson.
By the time that Kit Carson strode into the southwest, the US army was knee deep in their so-called "Indian Problem." American settlers wanted land, security, and distance between themselves and Native Americans. Colonel James Carleton and Kit Carson were the ones who were going to solve the "problem."
For Carleton and Carson, Canyon de Chelly was the root of the Navajo problem. The crevices in the sandstone walls and hidden footpaths across the canyon gave the Navaho a distinct home field advantage here. Many had hidden and sought refuge in the canyon during battles in the past. Navajos continued to do so during this "Fearing Time" when the threats and guns of Kit Carson's men could be heard around the canyon walls.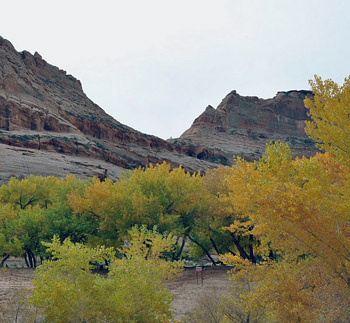 Kit Carson knew how to solve this canyon problem though. Fire. In 1863 his "Scorched Earth Campaign," burned all Navajo property in and around the canyon was burned. Traditional hogan homes, peach trees, and grazing animals were all destroyed. With no crops, little food, and only the charred remains of their homes, Navajo's fled up the walls of Canyon de Chelly. But without canyon protection, they were easy targets for Carleton and Carson's men and the many Ute Indians who were working with the colonels. Navajos spotted were giving a choice to make at gunpoint: surrender or be shot on site. Although a few people escaped, the majority of the tribe surrendered. Kit Carson's plan worked.
Thus began the long walk. Navajos walked past Mt. Taylor where they believe that First Woman threw a turquoise stone to create the southernmost of their four sacred mountains. Navajos walked past the Laguna and Acoma pueblo people, Natives whom were used to mistreatment themselves. Navajos walked past Albuquerque and the Sandia Mountains. Some Navajos were forced to detour north through Santa Fe, where they were marched down the capitol city streets and plazas in a parade of shame. The Navajos then headed towards Texas, stopping in the barren salt flats of eastern New Mexico. Water, firewood and fertile soil were not plentiful here.
Today's I-40 runs roughly along the nearly 500 miles that the Navajo's walked. As seems to be the case with all of history's forced marches, conditions were not good. Elderly people, slow walkers, and women giving birth were shot as they failed to keep up the twelve-mile-a-day pace. The freezing weather, dysentery, raids along the way, and lack of general provisions led to the death of an estimated 1/10th of Navajo Natives during The Long Walk.
Fort Sumner in the Bosque Redondo Reservation would be the Navajo's new home. General Carleton described the area as a paradise for Navajos ("Carletonia," he dubbed it), where the Natives would cast off their "latent longings for murdering and robbing," and become "the happiest and most delightfully located…Indians." Happiness surely did not come the first year, as crops failed in the poor soil. Nor did it come the second year when hundreds of Navajos froze to death as they attempted to plow their useless fields. The four years the Navajos spend at Fort Sumner were marked by death and loneliness, not joyful westernization and utopia.
Conditions were so bad at the Fort that even soldiers recognized things were not going as advertised or planned. In 1867, General Carleton was relieved from his command, and the next year several Navajos were appointed to travel to Washington D.C. They met with President Andrew Johnson, and under the Navajo leadership of Manuelito and Barboncito, negotiations were made that allowed the Navajo's to return back to home. On June 18th, 1868, the Navajos started their long walk back home.
They returned to Mt. Taylor and to Shiprock and to Canyon de Chelly. Inside the canyon, Calvin's great-grandparents and then grandparents re-built their hogans, and re-laid their crops, and found new goats and sheep to herd within the canyon walls. Life began again and The Long Walk was not often discussed. Calvin explained to me that his grandparents did not like to "return to that time of suffering."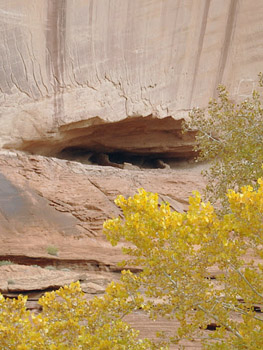 But Calvin knows all his grandma's stories – even the sad ones. According to Navajo tradition, the grandmother chooses one grandchild (out of dozens, in Calvin's case) to keep in the ancestral home and instruct in traditional Navajo ways. So as Calvin's parents and siblings eventually left the enclosed walls of Canyon de Chelly for jobs in Gallup and Phoenix, Calvin stayed behind. He played in the prehistoric cliff dwellings high in the canyon walls and he tended to goats on the valley floor. He hunted skinwalkers and slept in hogans and learned from his grandmother. When he was twelve, the US government discovered that there was an un-schooled child living down in the canyon and officials came to take him to school at Fort Wingate. Upon overhearing that his long hair would be chopped off the next day, Calvin embarked on a mini-long walk of his own, finding his way back to his grandmother and those orange canyon walls. She had breakfast waiting for him.
Calvin did return back to school in the following days (hiding underneath his grandma's bed could only last so long), but his heart and ancestral land are still within Canyon de Chelly. Although he admits to being a snowbird, heading towards warmer Arizona cities in the winter, Calvin still spends most of his time down in Canyon de Chelly. He points out cliff dwelling and ancient rock paintings to travelers, and takes hikers and campers (like Amanda and me) into the canyon. He tells people about The Long Walk and laments that more Navajo kids don't understand the secrets and stories of Canyon de Chelly. "All they know of 'canyon' is it is a hole in the ground," he says.
By the end of our hike, I realized that I'd been wrong about Calvin. I thought that I had to keep asking questions to pry words out of him, but these stories were ones that he had wanted to tell all along. The Long Walk may not be as well known at the Cherokee's Trail of Tears, but Calvin and other Canyon de Chelly guides are in the eager business of sharing their canyon and its tales of the past.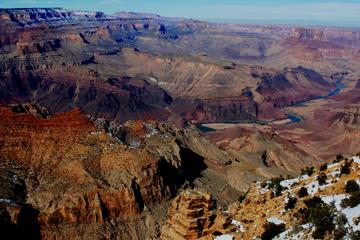 Ancient Spirits of the Canyon from Flagstaff
If You Go:
www.bluedesertguideco.com – To tour Canyon de Chelly with Calvin, contact Amanda and Vino. They can customize tours around Native history, outdoor activities, shopping, or sightseeing.
About the author:
Jenna Vandenberg is a Seattle based writer, runner and teacher. She has taught middle schoolers in China, Norway, and Las Vegas. Although she often gets sidetracked keeping score at baseball games and eating muffalettas in New Orleans, she is currently working on running a race in every state. Follow the quest at runningthroughthisworld.com.
All photographs are by Jenna Vandenberg.